For Kathy Liebert, a Tough Second Day's Task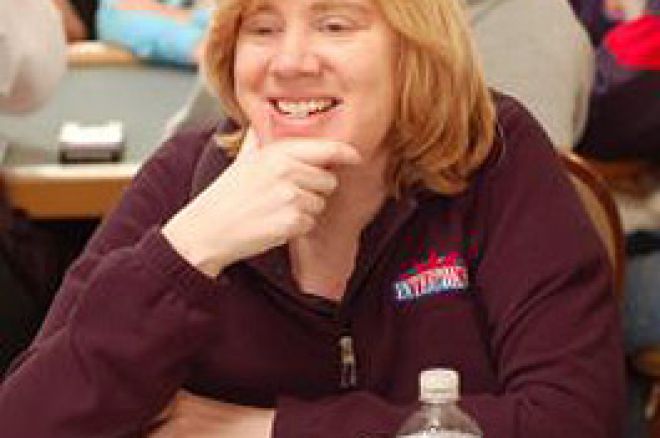 It's always a tough climb to the money, but some hills are sharper than others. Ask Kathy Liebert.
Liebert entered her second day of WSOP Main Event play, the '2-B' session, with only $20,000 in chips. The good news is that it was double her starting stack of $10,000; the bad news is that $20,000 was well below par as the second day's play began. Worse, for Liebert, is that the first level of action brings no improvement. In fact, with the steady drain of the blinds and antes, her chip count goes the other way.
A lot of people are watching, too. Her seat at table 86 is only a yard or so from the rail, a rather obvious reminder of what a wrong move brings. But a lot of players are in the same boat, although other players in similar straits resort to more desperate moves. Liebert watches as Atlanta's Ben Sabrin pushes the rest of his stack to middle with an off-suited A-5, only to discover that the raiser had pocket kings.
Fortune's with Sabrin, however: The ace he need arrives on the flop, and another, for good measure, shows up on the turn. Suddenly Sabrin is over $30,000, and his relief is obvious, though he sees fit to defend his play. "Oh, that was a ballsy call," he congratulates himself, "but I was pot-committed."
Liebert smiles, chats politely, plays on. She loses ground, takes down a small pot, then mixes it up with Sabrin and bets out when the flop brings a rainbow 4-3-8. Sabrin folds it after a moment, joking about "hitting my deuce," another reference to his own life-saving suckout.
The small pot pushes Liebert back over $20,000, and the camera crew filming this departs, figuring she's safe for the moment. "Come back, guys!" she calls as they retreat.
Two tough laydowns chisel away at Liebert's already small stack. On the first, she's re-raised enough by Arkansas's Chris Marohn to put her all-in, and as she slowly ponders the choice, the cameras return. "Now I gotta call, now that they're here, right?" she jokes to the other players.
But she doesn't call. She puts Marohn, who's gone into a stone-faced, sunglass-shielded mode, on an ace after a couple of minutes debate. "Good ace, good ace," she offers as she mucks, fishing for info. Marohn doesn't comply.
As the first of the day's levels nears completion, it happens again. Another player comes over the top of her raise. This one might not set her all-in --- he's also short-stacked --- but the guy is out of his chair and glancing to the exit as players from the other half of the hall begin their first break.
"Are you ready to leave?" Liebert asks.
"I'm ready to leave either way," is the answer. Problem is, this table isn't scheduled to go on break for another half hour. The players marching by have nothing to do with any break, because all that's going to happen at this table is that the next level will start.
Liebert tosses the hand. And gets desperately short of chips in the process.
It's only minutes later that she's finally forced all-in herself for her final $9,500, and discovers that her J-J is badly behind a pair of aces. But the flop is 9-K-10, with no flush draws available, and the beautiful (for Liebert) diamond queen arrives on the turn. Liebert's off life support, for at least another lap or two, and a few minutes her table is broken, with Liebert sent off to a seat within card-flinging distance of the feature stage, where a Devilfish Ulliott look alike awaits. It's a new table and new faces, and she makes a few raises and playbacks and continues her recovery from the felt. Soon her stack is over $30,000, as she takes down another pot when no one calls her pre-flop raise.
The surge continues. The shortest stack at this new table, owned by Chadron, NE's Brett Twiss, is pushed to the middle when Twiss finds A-8. Liebert needs only another $4,000 or so to make the call, and with the blinds and antes already in the pot and her holding J-10 of spades, she does.
Both players hit the flop, but Liebert's help is a jack, Twiss's only an eight. No ace or eight materializes on the turn or the river, so Twiss is out, but he asks Liebert to autograph his registration card as he departs, which she does.
As for Liebert, she's up to $45,000... and still climbing up the hill.