Ladies Lounge: California Dreamin': Upcoming Ladies Events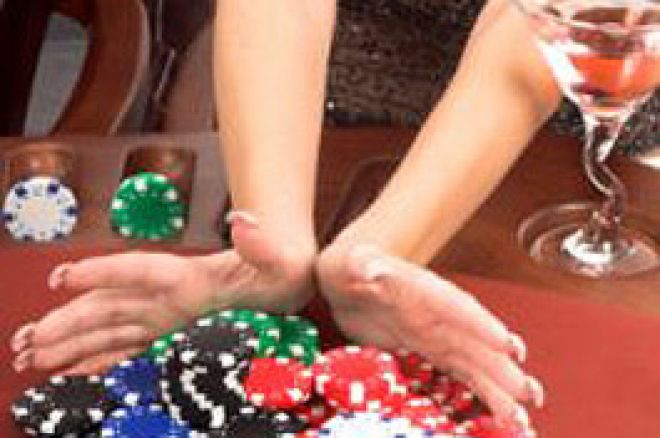 If you're a woman looking for your next poker adventure, California is the place you want to be in August. Both the Bicycle and Commerce Casinos are rolling out the red carpet for the ladies this month.
As part of its Legends of Poker Tournament, the Bicycle scheduled a $100+25 Ladies event on August 19th. Not only will you get a very affordable two days of poker, but the event kicks off with a cocktail party and appetizer buffet. You might also think about playing a few other events while you're there as players with the most all around points will get a chance to playoff for a 2006 Cadillac.
Once you've locked up the bracelet at the Bicycle, it's time to move on to the Commerce. The Commerce Casino is teaming up with the LIPS Tour to offer a total chick (or is the chic) poker experience. The Ladies Poker Dream Weekend: Where Poker Dreams Come True is being held August 26th and 27th. As advertised, it will have a wine tasting, two luncheon buffets, a seminar with WPT galz Linda Johnson and Jan Fisher, and two budget minded NLHE tournaments ($120 and $225).
I say "as advertised" because last year's Dream Weekend had loads of extra surprises. Last year's attendees received a gift of beautiful Mikasa crystal. There were also tons of bounties and special prizes offered up during the events. And my guess is you won't be stuck with an ugly "man's bracelet" if you take home top honors; last year's winners scored Armani statues.
Just a word to the wise: If Linda Johnson and Jan Fisher are in the field this year, watch out. They've been around the ladies event block before. Jan Fisher has two WSOP Ladies Event final tables under her belt. I also got to sit at WSOP bracelet winner Linda Johnson's table during this year's Orleans Open Ladies Event - and damn if she didn't win it all.
Also, because both upcoming events at the Bicycle and Commerce are part of the LIPS Tour, winners will get to represent the host casinos in the LIPS Tour Grand Championship. The LIPS Tour Grand Champion will receive a seat into the 2007 WSOP Ladies Event, the LIPS/WPT Event and five entries into LIPS Tour events for next season.
So, if you're wondering what to do with your poker passion this month, go west young woman.
Ed note: No need to go West to play poker – play poker in your living room at Hollywood Poker