Online Poker Weekend – FTOPS, Ben Roberts, and Shawn Rice Lead the News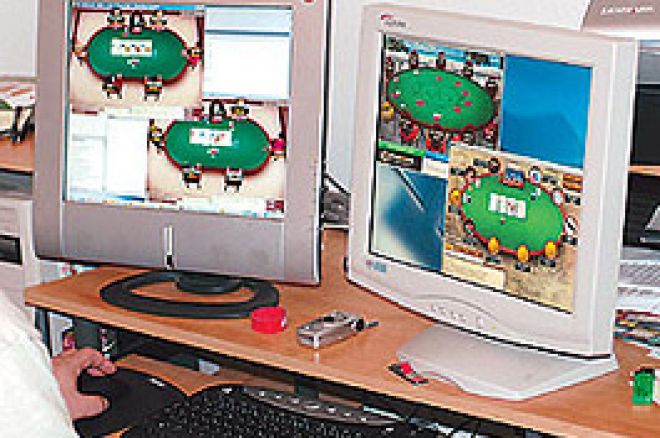 This past weekend's action on the cyber felt was highlighted by the Full Tilt Online Poker Series Main Event, which had such luminaries as John Juanda, Allen Cunningham, and many other top Full Tilt pros. It was UK professional Ben Roberts who won the last longer bet in the FTOPS among the Full Tilt pros, making the final table, and picking up $33,000 for his 6th place finish.
Another top pro made a final table, as the West Texas Man himself, Shawn Rice finished 9th in the Party Poker Million.
All the rooms easily made their guarantees this past week, and in fact PokerStars had just under 6,000 participants in their event, nearly surpassing the guarantee by $200,000.
Full Tilt Poker $400,000 Guaranteed
This event was the last in the Full Tilt Online Poker Series (FTOPS) and it didn't disappoint. There were 1,468 players who ponied up the $500+$35 entry fee and pushed the prizepool to $734,000, almost double the guarantee. As has been the case of late, Full Tilt's big names were out in force, but by the time the final table rolled around only Englishman Ben Roberts remained of the "Red Army". With blinds at 10,000/20,000 (2,500 ante), Ben was under pressure with just over 200,000 in chips, as was TheNogre who had 194,866. Surprisingly it was timkrank who was out first, unlucky with AA versus the QQ of credog – a queen on the flop bringing an unexpected end to timkrank's day. Richrobb1979 was next to go with AQ versus TheNogre with AK, and short stack BlueOctopuz was next when he pushed all-in with AJ and was called by chip leader Phatigue with A3 only to see a 3 on the flop.
Down to 99,000 at one point, Ben fought back to over 300,000 but was eliminated in sixth with A5 versus Phatigue with J4. All-in preflop, Ben could only watch as a Jack peeled off on the flop and extended Phatigue's chiplead to almost 3 million. With the other four players (bmwmcoupe, crownnginger, TheNogre and credog) around the 350,000 mark a bizarre deal was struck. The four 'shortstacks' decided to surrender the first place prize of $161,480 to Phatigue, and split the prizemoney from 2nd-5th amongst themselves - $70,427 apiece. Phatigue quickly agreed, and play continued for the gold jersey. CrownnGinger got the best of it in the all-in fest that followed and claimed the gold jersey for himself when his pocket tens were too good for Phatigue's pocket eights.
Full Tilt Poker $400,000 Guaranteed – Final Results
Phatigue - $161,480
crownnginger - $70,427
bmwmcoupe - $70,427
credog - $70,427
TheNogre - $70,427
Ben Roberts - $33,030
BlueOctopuz - $21,286
richrobb1979 - $15,414
timkrank – $11,010
Party Poker Sunday Million Guaranteed
The Party Poker Sunday Million continued to post healthy numbers, as 5232 entrants pushed the prizepool comfortably beyond the guarantee. When the final table began, players openly wondered where the deal-making feature had disappeared to. The talk was spearheaded by westtexasman aka Shawn Rice, who had chopped in this same tournament just prior to the WSOP. Alas Shawn was eliminated in 9th with JJ vs the QK of Ricsoon. As the flop came down K-K-Q, Shawn - and all talk of potential deals – left with him. Shortstack RayLam was out in 8th, followed by blatc whose AQ ran into the AK or pranoo2005. MarvinGarden was pranoo2005's next victim as he called all-in with KQ only to find pranoo had pocket rockets and pranoo was the runaway chip leader with 10M. Pranoo lost most of the chips to da__icestro, who called pranoo's 5M bet on a flop of 6-9-3, and got a free showdown to win with A2.
Ricsonn was eliminated in fifth when he called all in with KcTs on a board of 2s-9s-9h-Qh-Js. His straight was no good against andrewkole, who held As5s for the nut flush. SofaKingSrry pushed all-in for his last 926,112 and was called by andrewkole and da__icestro. The board showed a jack and a king but andrewkole's pocket tens were good and SofaKingSrry departed in 4th without even showing his hand. Da__icestro held a commanding lead with two-thirds of the chips, and stretched it even further when he eliminated pranoo2005 with AT versus A7. With 6M in chips versus 20M, it wasn't looking good for andrewkole but on a board of 4-5-7-4-4, da__icestro put him all-in holding J7, and andrew quickly called with the case 4. With blinds capped at 75,000/150,000 (4,000 ante), and players almost even with 13M apiece, there was a long battle ahead. At one point, andrewkole had da__icestro all-in with KK versus AQ, but da__icestro spiked an ace to keep the game alive. Da__icestro kept the comeback going and after a two-and-a-half hour marathon, he took first place with AQ versus andrewkole's A9.
Party Poker Sunday Million Guaranteed – Final Results
da__icestro (Philadelphia) $162,192
andrewkole (Wellesley) $88,525
pranoo2005 (Stevenson Ranch) $54,936
SofaKingSrry (Redondo Beach) $44,472
Ricsonn (Colombes) $36,624
MarvinGarden (Los Angeles) $28,776
blatc (Jacksonville) $20,928
RayLam (Drammen) $15,696
westtexasman (Lubbock) $10,464
Okla_State21 (Livonia) $5,232
PokerStars 1 Million Guaranteed
The long-running Poker Stars 1 Million Guaranteed continued to show its popularity as it attracted a record field of 5921 participants. Pkrooster started the final table as chip leader with 3.6M, but N00Z (2.9M) and CardXFactor (2.4M) weren't too far behind. Guayana14 departed first with pocket tens versus SBRounder's kings, and vaike suffered exactly the same fate, although with pocket sevens against CardXFactor. CoronaC-Note also disappeared in similar fashion with tens against BigDaddy007's jacks, which left six players remaining. With all players bar shortstack cherson.27 with between 2 and 3 million in chips, deal talk started but pkrooster didn't want to participate.
Cherson.27 was unlucky to depart with AJ versus pkrooster with A4 – the board of 5-5-3-2-6 gave pkrooster a straight and sent cherson.27 home in sixth. The chips were flying around five-handed, mostly in the direction of CardXFactor, who eliminated pkrooster when pkrooster pushed with Q8 on an 8-high flop, only to run into CardXFactor's pocket queens. With over half the chips in play, CardXFactor quickly began bullying the table and SBRounder initiated deal talks. A deal was made based roughly on chip counts, which gave CardXFactor just over $138,000, and the other three players around the $70,000 mark. CardXFactor quickly eliminated the other three players and added an extra $20,000 to his payday, flopping a 9 with 69 against N00Z's pocket 8's to seal the win.
PokerStars 1 Million Guaranteed – Final Results
CardXFactor (Stockton, CA) $158,889
N00Z (Helsinger, Denmark) $72,997
BigDaddy007 (Escondido, CA) $68,032
SBRounder (Los Altos, CA) $75,000
pkrooster (Thunder Bay, ON, Canada) $36,710.20
cherson.27 (London, ON, Canada) 29,605
CoronaC-Note (California) $23,091.90
vaike (Talinn, Estonia) $17,170.90
guayana14 (Caracas, Venezuela) $10,657.80