Poker Book Review - 'Getting Lucky'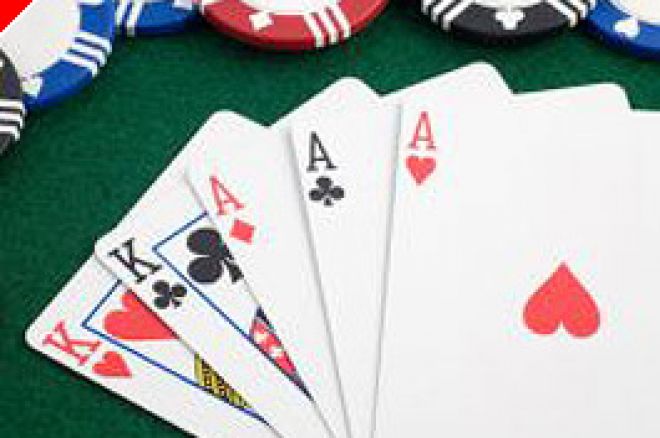 Richard Sparks should really consider dropping such award winning work as writing operas and screenplays. The English writer, who wrote 'Diary Of A Mad Poker Player' back in 2005, has returned with another poker related tome with his new book "Getting Lucky: The Education of a Mad Poker Player" (out now in most bookstores and also available at Amazon.com for $17.95) which actually improves on the original and is a stirring addition to the poker literature world.
In "Diary", Sparks detailed his attempts to qualify for the 2004 World Series of Poker Championship Event through the online route. He hilariously demonstrated the travails of this course throughout the book and, as he failed in his online pursuits, also showed the ramifications of it when he had to part with a prized possession as punishment for his expenditures. While he could have done a sequel regarding his tries to make the 2005 event, Richard instead chose to take a different route completely.
When I interviewed him last year, Richard stated he didn't think there was another poker book within him and he stated much the same in the first few pages of "Getting Lucky". What changed that, and the trail that he took this time, is what makes "Getting Lucky" so enjoyable. Through the book, Sparks delves into far more than his own poker playing and presents a snapshot of the poker world of the 21st century, which is worth the price of admission alone.
While it does begin with the details of the nerve wracking multi-table satellite that he survived (on the very day of the start of the Main Event) to earn his entry into the 2005 event, Sparks actually stays away from talking just about that tournament. After his failure to qualify in 2004, Richard decided to enlist the aid of one of the definitive poker teachers around, 1983 World Champion Tom McEvoy, to make his game better. The education of the "Mad Poker Player" is what forms the backbone of "Getting Lucky" and is the part that should be required reading for all poker players.
With McEvoy's assistance, Sparks improves his game through deep analysis and discussion with his sensei that does border on poker strategy. What I will call "Sparks' Six Rules of Winning Poker" are actually a great approach to the game of poker and work well for those that are looking for a mindset to put themselves in before approaching the tables. While they may sound simple, Richard demonstrates, as the book goes along, that they aren't as easy as they sound!
There are also poignant segments on some of the dangers of the game as well. After getting a suspicion that he was in a game that wasn't on the level (and in a card room, even), Sparks sought out a known poker cheat (I will let you find out who through reading the book) who details the poker world of the 60's, 70's and 80's and finds that, even today, there are the possibilities that some games aren't on the up and up. After going on the PartyPoker Million Cruise in 2005, Richard met players whose stories can be uplifting and saddening at different points. He also demonstrates the dangers of loaning money to players online in what was an oxymoronically riotous and sobering section of the book.
Of course, "Getting Lucky" comes back to the point where the book starts (the 2005 Championship Event) and Sparks acutely details the sorrow and glee of his competition in the tournament (as someone who played in an event this year at this year's World Series - albeit not the Championship Event - I know exactly how he feels). But he also makes an excellent observation as the book draws to a close. "If a 'perfect game' is one in which greater skill will always win over lesser skill," he writes, "then poker is far from being a perfect game…well, this is not a perfect world. We are not perfect people. It is poker's very 'imperfectness' that makes it a perfect analogy for our imperfect lives in this imperfect, uncertain world."
There is something for every poker player to take away from "Getting Lucky". At times philosophical, at times hilarious and at times sad, Richard Sparks has stepped beyond just the poker tables and has captured a snapshot of the poker world of today. I certainly hope that the journeys of the "Mad Poker Player" continue onward and we hear more about them from Richard as they do.
Ed Note: Feel free to 'Get Lucky' at the tables of Paradise Poker. Sign Up Today.