Poker Rooms Finding New Ways to Reach the 'Cool Kids'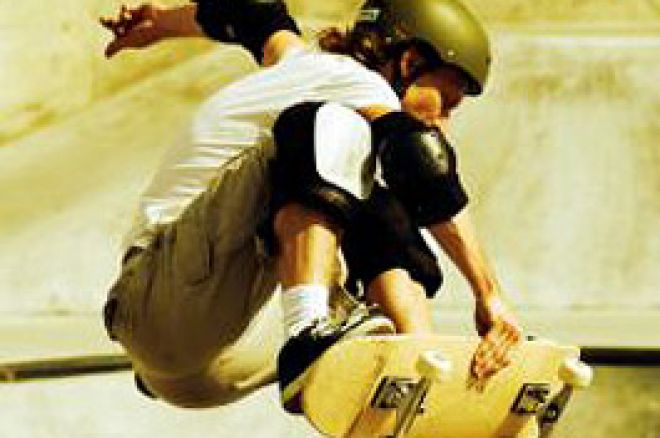 In the last ten years or so, a subculture has exploded that 'mainstream' advertisers have used to reach the middle class 18-25 year old with disposable income. Whether it's called 'extreme sports', 'punk', or 'emo' - lifestyle events have emerged in that age group that have advertisers drooling.
Be it the 'X Games' (an ESPN sponsored action sports festival), or the Warped Tour traveling rock festival, corporate America has embraced these festivals, and the youthful upscale masses that attend them.
When 90's rock festival Lollapalooza was in its early stages, festival organizers did everything they could to make the corporate presence minimal, and make the cool kids feel like they weren't being pushed products, even though they often were. Modern day festival organizers have embraced the corporate dollar, resulting in things like the Warped Tour being the 'Vans Warped Tour'.
These days, no one type of company has promotion dollars to spend quite like online poker rooms do, and some rooms are embracing this 'lifestyle', and trying to build their brand with the young, hip crowd.
Recently, online poker room Bodog had a treat waiting for musicians and crew members after the Warped Tour stop in the Philadelphia area. A 'Poker Palladium' was built, and what Bodog billed as the 'worlds first punk rock poker tournament' was held. Dozens of bands and staff participated in the event, including musicians from bands like The Vincent Black Shadow, who are actually sponsored by Bodog, and record for the Bodog Music label.
Not to be outdone, Party Poker recently held something it called the "PartyPoker.net Big Throwdown". This was a tournament held at the Rio which had six 'extreme sports' professionals from different sports (BMX, skateboarding, snowboarding, etc) participating in a tournament that was being shot for the Outdoor Life Network.
The people that are active in these cultures seem much more accepting than prior generations toward overt gestures at trying to grab their hard-earned disposable cash. Indeed, a trip to the Warped Tour can often feel like 'part rock festival, part trade show', and the kids are only too happy to take the messages along with all the music.
The companies of online poker certainly have a message to send, and we should expect to see more poker presence at these kind of events for years to come.