WSOP Final Table Preview – Can Cunningham Strike Gold?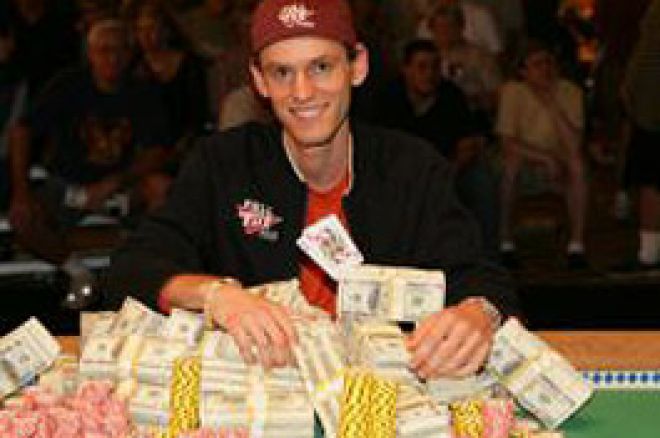 The day we have all been waiting for is upon us. The Final Table of the 2006 World Series of Poker promises to have high drama – if nothing else due to the sheer amount of money these 9 players are competing for. It's not every day you play for 12 million dollars.
Talent Agent Jamie Gold has been the story for the last few days of the main event. Gold, who has been in 'show' business for about 15 years, works, or has worked with actors like James Gandolfini, Lucy Liu, Donnie Wahlberg, and 'Desperate Housewives' star Felicity Huffman. Gold is desperately hoping he can hold on to his chip lead, and close what would be without a doubt the biggest deal of his career. When it comes to sweaters, Gold has one of the best, as none other than 2 time World Champion Johnny Chan has been cited as Gold's poker mentor. Chan has been seen at the tables over the last few days, which is the first time I can remember seeing Chan sweating anyone not named Phil Hellmuth. Gold may also be in business with Chan as well, as his bio indicates he has a TV show in development titled 'The untitled poker show with Johnny Chan, and Chris Moneymaker'.
Chan may have schooled Gold, but no one can deny the recent WSOP success of Allen Cunningham. Allen got a good break late in the tournament, as he was moved to Gold's left, and was able to pick off some of the hyper aggressive Gold's moves, and increase his chip stack to the point of real contention. The poker world is abuzz about Cunningham's chances, but he still must play well, and more importantly – be lucky.
The WSOP over that last few years has been a great source of Cinderella stories, and this year is no exception. Last year, 2nd place finisher Steve Dannenmann didn't even consider himself the best player in his home game, much less the best player at the final table of the world series of poker. This year, we get Douglas Kim, and Rhett Butler – neither of whom have ever cashed in a live poker tournament – ever. Their first cash will be for at least $1.5 million dollars, which is slightly more than my first cash of $155. Butler and Kim are the stuff that online players dreams are made of, and it appears at the end of this final table airing, more of those dreams will surface as viewers hear and see these two players stories.
Another great story of this final table is Erik Friberg. Sure, Erik is a terrific player, but he highlights a fact that is becoming more and more clear in the poker world – Sweden should be considered a top poker nation. Especially if you consider players per capita, Swedish players are as strongly represented as any nation in the world. Three of the top 25 finishers in this years Main Event were Swedes, and Friberg is still flying the Swedish flag at the final table.
With the advancement of online poker, today's final tables are often collections of 'twenty somethings', all bred on fast action, and fast decisions. Usually, there is one guy representing for the 'old school', and this year that man is Richard Lee. Lee, a 55 year old investor from San Antonio, Texas comes into the final table with the third biggest chip stack, and the most experience of anyone at the table – at least in terms of life experience.
The depth of the stacks tell us this should be a final table with a bit of play in it. The short stack, Dan Nassiri has about 15 big blinds to work with, and we have almost two full hours left at the current level (80,000/160,000 ante 20,000). After five full levels of play, there will still be 200 big blinds in play, so this could take a while. Granted, this tournament has played at light speed relative to the blinds, but if the players decide to slow down, they certainly have the chips to do so.
The stage is set, and one would assume even the most experienced of the group will be a little nervous when cards go in the air at 2pm Pacific Time. It's not every day you play for 12 million dollars.