WSOP Updates: And Then There Were Three….Women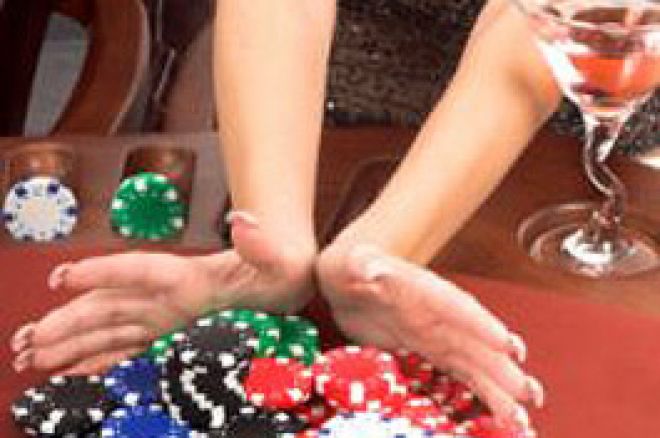 Day Four played down to 135 players last night, far ahead of the original published WSOP schedule and leaving the field with just three women contenders.
If chips are any indication of chances, Annie Duke has the ladies' edge going into Day Five with 918,000 chips. Duke started Day Four with 180,000 chips and put together a strong and consistent climb throughout the day. Duke is the only remaining woman with both a WSOP bracelet and a main event cash to her name. In yet another demonstration of poker's growth, when Annie Duke finished 10th in the 2000 WSOP Championship Event, her near final table finish was worth $52,160. The payouts today will pick up at $47,006 and an 81st place finish will be worth more than Duke's 10th place finish back in 2000.
I talked to Duke about two weeks into the WSOP this year. She was a little frustrated. She had played a number of events and had gone deep in all of them, but did not cash. She was eventually able to put together one minor money finish in the S1000 Stud hi/lo event, but that obviously wasn't the score she was hoping for. If you only have one WSOP event you go deep into the money on, I think Duke picked the right one.
The remaining two women in the field, Suzan "Sabyl" Cohen and Debra Lalor, had the more typical WSOP rollercoaster ride on Day Four. Cohen did grow her stack yesterday from 309,500 to 398,000, but in between that she went as high as 1.6 million chips before falling back to earth. Cohen has taken this all in stride and wrote last night, "I'm still in reasonable shape and plan to kick butt tomorrow."
Cohen has a solid track record of money finishes in traditional major tournaments. But in rec.gambling.poker events, "Sabyl" has been a dominant force, winning the coveted title of BARGE Best All Around Player in 2004 and taking BARGE 2nd Best All Around Player in 2005.
Debra Lalor started Day Four with 555,000 chips and ended it with 372,000 chips. At one point she called all in with her remaining stack of 150,000 chips with 3-2 offsuit on a flop of T-8-3. Her raising opponent had AQ and couldn't improve and Lalor doubled up with bottom pair and worst kicker.
This will be Debra Lalor's first cash in a major NLHE tournament. Lalor, from Sacramento Ca, has three recorded money finishes to her credit. She had a 17th place in the 2003 WPO Ladies Limit Hold' em event. And she's had two final table appearances at tournaments hosted by Garden City Casino; one in Omaha hi/lo event and one in a mixed Limit Hold' em/Omaha event.
Let's hope it's a smooth ride for the gals today.