WSOP Updates - Day Four a Wild Ride for Team PokerNews' Per Erik Loeff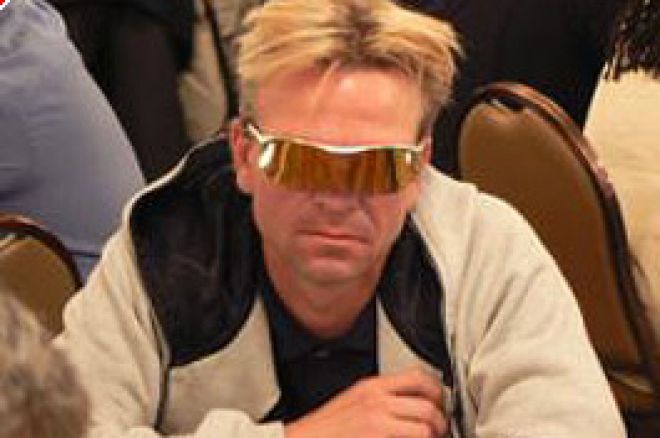 The last remaining member of the Team PokerNews crew, Norway's Per Erik Loeff, remained in the hunt for the $12 million first prize as Day Four action cleared the late-night break. Loeff was at approximately $468,000 chips, down from his peak of $800,000, following a harsh dent to his chips, a tough laydown on the turn that occurred just before the break.
Then came Loeff's hand of the night. With pocket aces, he re-raised a shorter stack's opening bet, then was re-raised all-in by a pair of kings behind. Loeff's aces held up and with the more-than-double-through, he reached $1,000,030 in chips, with only about 90 minutes of play left.
Unfortunately, for Loeff, he had a couple players draw out on him late in the evening, and he finished the night with only 284,000 chips. With the average chip stack being around 650,000, Per has his work cut out for him today. Per went from 17,000 on day to up to 177,000, so here's hoping for Per's sake he can see the type of movement he saw on day two.
While the fatigue and stress on Loeff's face shows, it's hardly an unusual sight as the big money looms. With 135 players remaining and the average chip stack nearing $650,000, the floor has become a series of these huge all-in matchups. The player making the biggest move on the day was Jamie Gold, who topped $3,000,000 in chips as the late-night session began. Gold started the day in 36th place with $387,000 in chips, but had nearly a 2-to-1 margin over several competitors late in the evening.
Several big names remained in the running, including Annie Duke and Humberto Brenes, although David Chiu hit the rail just after Loeff's big hand. For her part, Duke appeared calm and happy, compared to many of the players around who struggled to remain on stride. It also didn't hurt that Duke had amassed $780,000 in chips, to go with her many previous visits to tournament-poker heights.
Another of the tournament's unusual stories stayed alive two seats to Duke's right, in 43-year-old Houston lawyer Isaac "Scott" Lidji. Lidji's good-luck token is a chip lighter looking rather too much like the yellow $1,000 chips predominant in play, and on each side he's taped a tiny picture. One side features his wife, Angela (or "Angel") and the other shows his son, Jack. On Day Three, Lidji received unusual news, that of Angela's successful in vitro implantation. Lidji had his own great news to report, in making the money, and revealed that $5,000 of his winnings was earmarked for the new nursery. At that point he was still shortstacked compared to the field, with about $145,000.
Yet Lidji survived, and had reached $265,000, still below par, but survival with a short stack has been the case for Lidji all along. So what's up now that Lidji's in line for a bigger payday? "New landscaping." And for wife Angel, "new maternity clothes, though she's only one day pregnant."
Long shot Tyler Pendleton also retained chips, despite a hand where he was put on a clock as he pondered his fate "They're being jerks about me taking so long... I had queens and there was a king on the board and it was my entire tournament." But Pendleton's extended family continued to arrive from Texas, producing one of the largest and most faithful fan contingents at the rail, in first from the Amazon Room's doors whenever spectators are allowed to return. Parents Sharon and Ricki and aunt Judy Whitlow had been joined by a second aunt, Patti Langham, and two cousins, Scott Langham and Sherri Hills. Crew Pendleton watched quietly as each hand was dealt, already aware that no matter what Pendleton's fate, his first purchase decision had already been made. "A 2007 Chevrolet!" said Pendleton, grinning.
Ed Note: Win yourself enough at the tables of Everest Poker to buy that 2007 Chevrolet – you can do it.