WSOP Updates – Day Seven – Field Narrows From 28 to 18 Quickly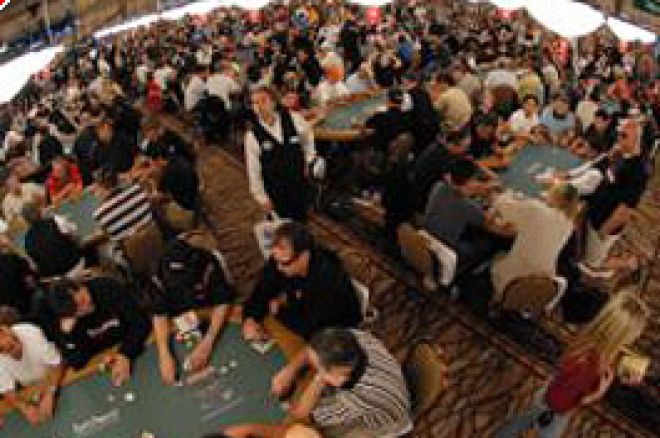 As play enters the four-hour mark for the day, the field has been narrowed from 27 to 18. Play will continue until the final table of 9 players is established. Among the notable bustouts of the day were 21st place finisher Kevin O'Donnell and 20th place finisher Prahlad Friedman.
O'Donnell had a tremendous World Series, making two final tables and cashing six times, including a $494,797 payday for 20th place. Although he does not play many tournaments, he is an incredibly talented poker player. O'Donnell owns a bar in Arizona, and his bar-league games are one aspect he credits with shaping his development as a poker player. He is also close friends with 2005 Main Event champion Joe Hachem and 2005 WSOP Circuit winner Doug Lee – the three could be seen hanging out and discussing poker strategy throughout the duration of the series.
O'Donnell built up a big chip lead early on in the tournament and always seemed to have a huge stack in front of him. Late in day 2, he had the honor of busting 2003 Champion Chris Moneymaker and ended the day as one of the chip leaders. The end came for him, however, when he got all of his money in preflop with KK against Allen Cunningham's AA. O'Donnell, upon seeing the cards, was very gracious in defeat, chuckling and chatting with Cunningham as the board came down and shaking hands with the remaining players. Throughout the series, I asked him questions about what he would do if he won a bracelet –he would always immediately correct me, "When I win a bracelet." He truly believed he was poised to take one down this year, but I believe he will give himself a lot of chances and make at least one final table next year.
Prahlad Friedman was the other big-name bustout. Once again, many casual poker fans may not know Friedman, but he is a legend in the online community and has had notable success playing live as well, winning a bracelet in 2003. Known as Spirit Rock, Mahatma, and a variety of other handles, Friedman has been playing in the biggest online games for a while.
Friedman's end came after he came over the top of a $400,000 raise by Jamie Gold preflop and pushed all-in for $1,700,000. Gold called with an 8d-7c, and Friedman showed the Ah-3s. Gold flopped the nut straight, and Friedman's day was over. He made $494,797 for 20th place.
We here at Pokernews.com will continue to update you on notable bustouts as play progresses throughout the night.