WSOP Updates – Five Hour Work Day Gets the Field to 27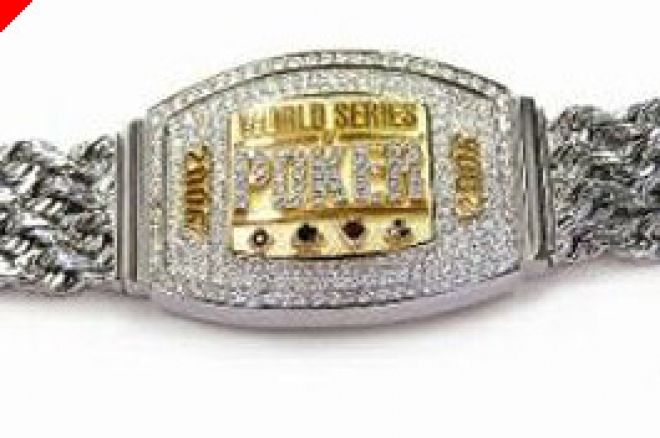 The excitement is beginning to build as the field narrows its way down from the 8,773 that started. With the multiple day ones, and day twos, it feels like weeks since this field began to play down from the nearly 9,000 starters to the inevitable final result of….1.
The story for the last few days has been Jamie 'Ari' Gold. After day six, Gold had almost a two to one chip lead on the second chip leader. You have to go back to 2000, when Chris 'Jesus' Ferguson had the field lapped in a big way en route to winning the world championship to see that kind of a chip lead in a WSOP Main Event.
However, there are 26 other players that aren't ready to give the bracelet to Gold just yet, not to mention the 12 million dollars (or 13.5 million if you believe the screens in the tournament room) that go to the eventual winner of this tournament.
But it was Gold who ran things on the abbreviated day six. Gold ran a combination of big hands, and solid big stack play into 13,000,000 in chips – a mile ahead of # 2 chip leader Erik Friberg, who has about 7.7 million in chips.
Day six was destined to be a short day, as the field had only to lose 18 players to end play today. One of the more charming players left in the field departed today, as Costa Rican Humberto Brenes took his act out the door, but did wind up making $329,865 for his troubles.
One player who made a pretty big move was Allen Cunningham. Allen started with about ½ the average chip stack, but worked his way up into contention at about 3.5 million chips, only to get clipped late, and end the days play at about 2.6 million chips.
The average stack entering day seven play is about 3.3 million chips. While this sounds like a lot, after about 40 minutes of play on day seven, when the blinds go up to level 28 (30,000/60,000 with a 10,000 ante) players will be paying 180,000 chips per orbit, so the shorter stacks are going to make a move sooner rather than later.
Day seven will begin tomorrow at noon, and end when the final nine have been determined. Chip counts, and bustouts, and payouts for Day six are below.
Chip Counts
Jamie Gold $13,000,000
Erik Friberg $7,735,000
David Einhorn $6,905,000
Rhett Butler $6,400,000
Michael Binger $5,725,000
Dan Nassif $5,430,000
William Thorson $3,765,000
Jeffrey Lisandro $3,715,000
Kevin Aaronson $3,670,000
Douglas Kim $3,595,000
Richard Lee $3,275,000
John Magill $3,275,000
Allen Cunningham $2,650,000
Leif Force $2,265,000
Kevin O'Donnell $2,130,000
Prahlad Friedman $1,850,000
Eric Lynch $1,785,000
Lee Kort $1,700,000
Rob Roseman $1,685,000
Fred Goldberg $1,611,000
Dustin Holmes $1,210,000
Sirous Jamshidi $1,190,000
Luke Chung $1,100,000
Paul Wasicka $700,000
Siddharth Jain $675,000
Mark Garner $635,000
Richard Wyrick $570,000
Eliminated players, with their position of finish, and payout.
28th Lowell Kim $329,865
29th Mitch Schock $329,865
30th Cuong Do $329,865
31st Erik Molina $329,865
32nd Dan Schmiech $329,865
33rd Rob Berryman $329,865
34th Andrew Satreibman $329,865
35th Ricki Nielsen $329,865
36th Jose Humberto Brenes $329,865
37th Kyle Bowker $247,399
38th Marc Friedmann $247,399
39th Roberts Betts $247,399
40th Weikai Chang $247,399
41st Mikael Thuritz $247,399
42nd Brian Hansen $247,399
43rd Paul Raeburn $247,399
44th John Lee $247,399
45th Jim Routos $247,399