WSOP Updates - Phil Ivey Survives, Annie Duke Grinds Forward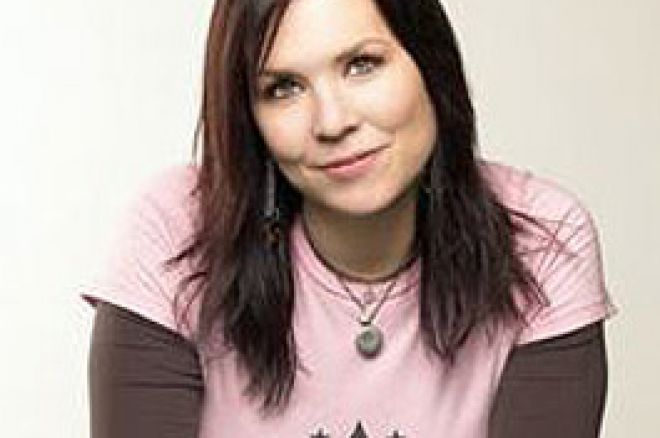 A number of big names continued to grind away as Day Two of the WSOP Main Event worked through the post-dinner session. Phil Ivey, with a little over $16,000 in chips as the day began, did what he could to stay in the hunt... and stay alive he has, gradually working his way up to a still-modest $30,000 as 10:00 p.m. loomed. A few tables away, Annie Duke gained ground despite what she termed as "a little downswing early," and managed to avoid major confrontations while building steadily to the $70,000 mark. Standing up to stretch and check out nearby action, Duke smiles briefly and adds, "and knock on wood it keeps going," as she reaches underneath to rap the table support before returning to her seat.
Duke had had that reminder only moments earlier, when a young Michigan player, Brian Cook, crashed from Duke's table. Cook, who had earlier admitted to being "a little intimidated" by Duke when his own smallish starting stack grew large enough to allow for more creative play, lost his last $25,000 when his pocket aces were cracked by another player who called his pre-flop raise with 10-7, then put Cook all-in after a K-7-7 flop. This came only moments after Cook had lost a sizeable hand with pocket kings in a similar manner.
As Cook rushed off in frustration after his two-out ace failed to appear, the other players discussed his back-to-back, tough-luck hands. And as Duke offered, in the wake of Cook's departure, "He did nothing wrong."
The chip leader at the start of Day 2-A's play, Memphis native Wesley Wilburn, struggled through several hours of action while dropping nearly half of his $122,200 opening stack before a couple of good hands allowed him to surge back to nearly $90,000. Wilburn had this thought on his early-day downward slide: "The first day I could reraise anybody and they'd fold. Today, if I reraise, they come back over the top of me."
Wilburn was at an interesting table adjacent to the ESPN feature area that also contained one of Team PokerNews' players, Per Erik Loef. Loef was serious but cheerful, giving a one-word description for his day's climb from $19,000 to $84,000. "Patience."
Both Wilburn and Loef had celebrity to contend with as well, as at the opposite their end of the table sat Scotty Nguyen. Nguyen, decked out in his usual casino-plus-bling attire, spent as much time watching the action at neighboring tables and making frequent visits to his self-described "better half" as he did in his own seat. That better half, his agent/manager/girlfriend Julie Ratcliff, had scored her own prime vantage point to Nguyen's play, obtaining a seat inside the ESPN studio area when the draw sent Nguyen to the center part of the room shortly after the dinner break. And when a $150,000+ pot built up at the table to Nguyen's side, he was right there to decipher the commotion, before sliding a knee into his own seat to check his cards on the following hand. Hand quickly mucked, he was on the prowl again.