WSOP Updates – John Gale Climbs, Ted Forrest And Robert Varkonyi Fall
Earl Burton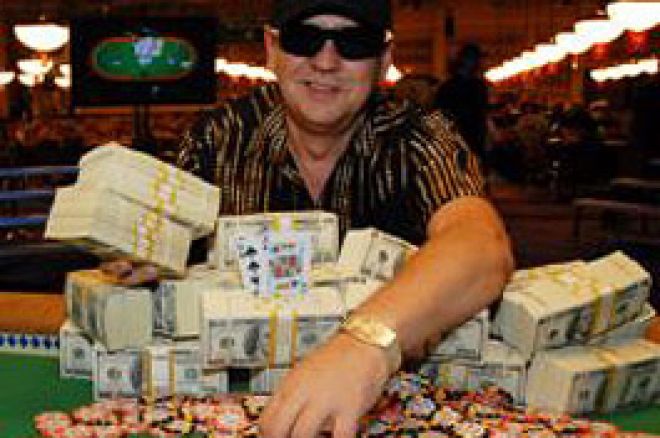 As afternoon fades into evening, the poker action is continuing in the Amazon Room at the Rio and, as John Gale noted to me, "The players are dropping quickly, aren't they?" Gentleman John is indeed correct as half of the cavernous poker arena is now covered by the players in Day Two, Part Two and there are more than a few notable moves being made.
John Gale has used the last level (with blinds at 75 and 300/600 blinds) to move his stack up considerably. It looks as though he took most of them of Charlie Sewell, who is beneath what he started the day at. Gale, at one point, was powering through his table as he took three consecutive hands in a row without once having to turn up a hand. The 2006 bracelet winner and WPT champion currently sits around 100K in chips and seems to be feeling pretty good about things at this point. He did note, as we spoke, that "there's a long way to go, but I'm doing OK right now."
One of our PokerNews friends, Tony D, has been kind of spinning his wheels over the last two hours. He is right around where he ended the last hour, but got a serious scare when heads up in a hand. With a board that read 10-3-Q-K-8, he faced a 10K bet and, after deliberating for some time, made the call. Both players turned up K-Q, which prompted Tony to say, "You scared the **** out of me!" and the table burst into laughter.
On a bit of a downslide are both Robert Varkonyi and Ted Forrest. Forrest was unable to get things going at his table and, since a recent table move, was still trying to get his game in gear. Varkonyi also has fallen some as the level has moved along; he will be moving soon, however, so that may bring a change in fortune for the 2002 World Champion.
I also was able to witness my first "F-bomb" violation of the tournament. At the start of action each day, the players are informed that the ten minute penalty is in effect for an utterance of the infamous word and that the pre-tournament warning is the only warning that will be given. At a table that contained professionals Paul Wolfe, Josh Arieh and model Joanna Krupa, a player (under his breath) spoke the offending word, but apparently not quietly enough. The dealer heard him and called the floor over, who administered the penalty with just over twelve minutes to go in the level. As the player was sitting at only around 15K in chips, this could effectively end his tournament if the poker gods don't help him in the next round.
It is unfortunate that this happens in any tournament, much less the World Series. Perhaps it is time to truly look at this rule and allow for context usages but still hold the same penalty for aggressive usage of the word. Since we're all adults and this isn't a cathedral, it needs to be examined in depth. Hopefully for the player involved, it won't be the last action he makes at the World Series.