WSOP Updates – Sweating the Line - The WSOP Spectator's Experience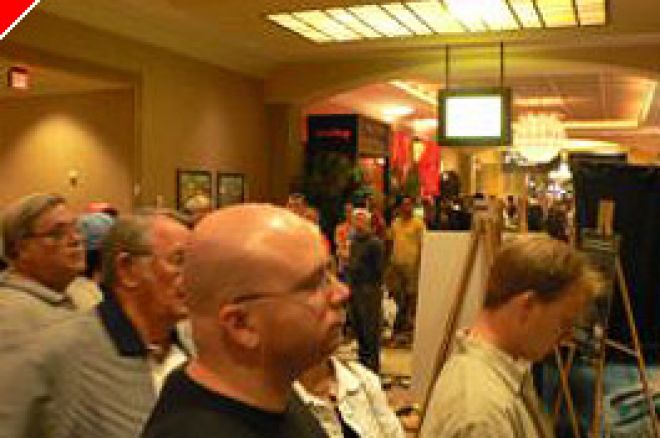 The hottest spot to get into in Vegas this week isn't at Tao, Ghost Bar, Rain, or any of the clubs for that matter. Stretching across the four entrances to the Amazon room are four lines that each go over 100 people deep. For spectators that come to visit the WSOP, they are learning quickly that getting inside to sneak a peek at the action is remarkably difficult.
"We've been waiting about an hour," says Chris Webb, with two of his friends. "We came from Seattle for a chance to watch this, and the line hasn't moved at all. About 50 people have just given up, but we're determined to get in there."
Another person chimes in, "I came from Texas for the chance to get a picture with Hellmuth, Chris Ferguson, and Daniel Negreanu!" These determined fans will have to wait until the next break in play to get in though; Harrah's can only let a few dozen spectators into the room per break, and many are destined to leave unhappy.
A security guard on duty tells me, "People have been doing crazy stuff to try to get in all week. Someone offered me $150 today to let him walk around for 10 minutes!"
There is, of course, a more serious issue than disappointing the rabid fanboy, however. Leroy Osborne of Annville, Pennsylvania, tells me he has been waiting for 3 hours to catch a glimpse of his son. Another woman in line tells me she flew all the way from London to support her boyfriend. "I'm so proud of him and I want to support him," she tells me, "but I can't even get in to say hello."
One woman tells me tearfully, "My son is in the event; He was so excited and happy to get in, and I wanted to watch him like I used to when he was a kid playing little league. I wanted to come out and support him, but I don't even know if he's still in the tournament."
If last year is any indication, room for spectators should get better as the field narrows. However, for those trying to watch loved ones or famous names in the first few days, the wait may be a challenging experience.