WSOP Updates - Meet 'The Student,' Rob Lederer (no relation)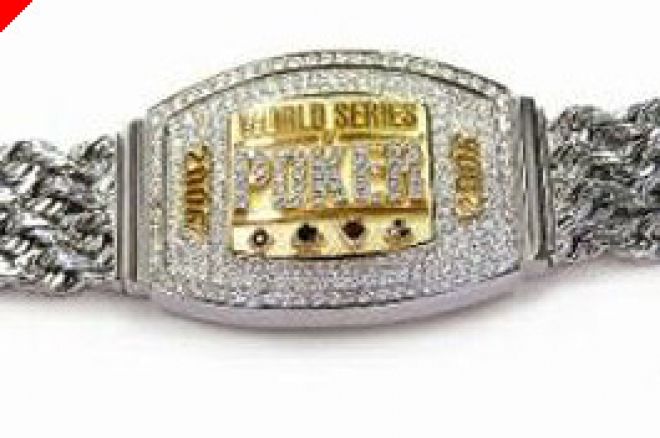 As I walk around the room on day 2A, table 134 is clearly the table to watch. Aaron 'Gamble AB' Bartley sits in the 1 seat, with over 50,000 in chips, Jeff Madsen resides in the 3 seat with a little less than 10,000, and an unknown sits sandwiched in the 2 seat, having them covered with a massive 142,000 chips.
The three players, who are all in their 20's, seem to be having a great time. Bartley asks them about women, and Madsen says he has been asked if he is single at least 20 times in the past two days (Ladies – he is). Bartley also says he's single, and pulls me closer. "Tell the women reading out there that I'm available. My interests include not cooking for myself, and not cleaning up after myself. Very sexy."
The unknown player in seat 2 tells the group he's just been engaged, and points to his fiancée. She is among a group of fans watch his every move, sporting simple blue shirts with the words "Team Lederer" ironed on. It turns out they're not rooting for Howard – they are the family of Rob Lederer, who currently sits in the top 10 in chips and is causing fits for Bartley and Madsen. How do I recognize this totally unknown player?
I first had the pleasure of meeting Rob's parents at the end of day 1, when two Long Islanders walked up to me, seeing my press badge, and asked, "Do you know how many chips our son has?"
"Sorry folks," I responded, "There are still about 6,000 people left in the tournament and it's impossible for us to keep chip counts for all of them, so unless your son is someone famous, probably not."
"How can you not have chip counts? He's a Lederer!" his father exclaimed.
"Really?" I asked, intrigued. "So he's related to Howard and Annie?"
"No," his mom told me, "But his last name is Lederer, how can they not have him?" they responded, incredulous.
They proceeded to hound me and ask me for Rob's chip counts, which I promised on my mother's grave that I didn't have, but I would get as soon as possible.
Fast-forward to today. When I sit down next to Jeff Madsen, he tells me, "I had some bad luck, dude. I ran a set into a flush and lost a ton of chips."
"You can write he doubled up through Rob Lederer, though," says the kid next to Madsen. Suddenly, something clicks. "You're Rob Lederer?" I ask. "Yeah, says the skinny 20-something occupying the seat next to Madsen." I tell the story of Rob's overzealous parents to the table and Madsen and Bartley laugh, pointing over to the rail. I see "Team Lederer" waving happily at me and it all clicks.
"Sorry for my parents, they can get a little enthusiastic sometimes," says a sheepish Rob.
I go over to interview Lederer's parents, and tell them to give me some information on his poker background. "He got a 1570 on his SAT's, write that!" yells his father exuberantly. "He graduated from Brown in applied mathematics, put that too," says his mother with pride. I slowly edge away towards the younger members of Team Lederer and meet Rob's lovely fiancée, whom he just proposed to within the last month.
"Rob has been playing online poker for a while now. He won his seat on Poker Stars and he plays regularly on Party Poker," she tells me. "He started a class in Brown on Math and Poker, too. That's why we call him 'The Student.' That, and because Howard is 'The Professor.' He just graduated last semester." They turn around and show "The Student" emblazoned across the backs of their t-shirts.
"Rob's been playing poker ever since he was in grade school. He's really active in the twoplustwo forums, he posts under the name KramerTM. He likes to play the 2/5 No Limit game and he also plays a lot of multi-table tournaments. He treated poker kind of like a part-time job in college. He tries to put in about 20 hours a week," she tells me.
It's clear that Rob's supporters have a lot of love for him, and with good reason; I talk to him and he is a wonderfully pleasant guy. Madsen and Bartley tell me he's been a pleasure to have at the tables, but don't let his gentle demeanor beguile you from his poker skill - "The Student" has been schooling his opposition all day.