European Poker Tour - Barcelona - Day 2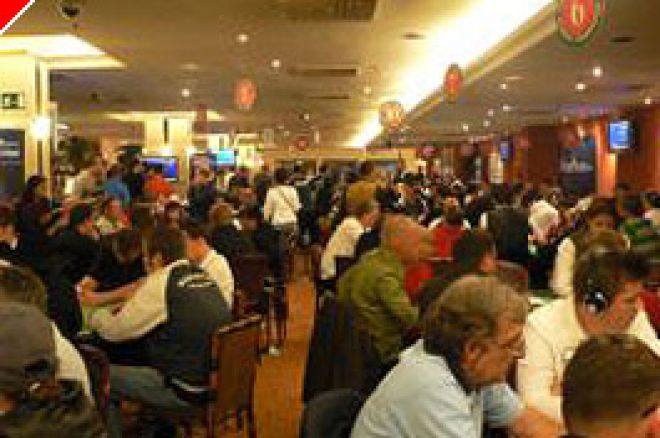 The exits were going to be at a dizzying pace on day two of the European Poker Tour's Barcelona Open. To lose the 153 players required to get to the final table, we would have to lose one player about every three minutes. This assumes basically playing 100% of the available time between the 5pm start time, and the mandatory closing time of the casino of 5am (allowing for breaks).
A number of marquee players were still in the field at the beginning of day two, but not too may of them near the top of the leader board. Still in the field at the start of day two were Phil Ivey, Gus Hansen, Humberto Brenes, Andy Black, Johnny Lodden, Jeff Lisandro, Juha Helppi, and many others.
The players must have gotten the memo about the fast paced of exits needed today to make the final table, because from the first hand, chips were flying across tables, and players were standing up and exiting so fast, that it seemed many bodies simply turned into empty chairs in the blink of an eye.
Players were filing out of the tournament room as quickly as you could imagine, and early on it seemed we might make that 3 minute per elimination deadline. Some notable early exits included Humberto Brenes, Andy Black (who made a real charge early, only to make nearly as hasty an exit), and Juha Helppi.
Day one 'B' Chip leader Ilari Sahamies nearly busted early on, as his fast and loose play caught up to him. Less than one hour into play, I glanced at his stack, and estimated it in the range of 40,000-45,000, down from 109,000 in only about 45 minutes of play.
One of the real movers on day two was David Plastik. You might remember David had 'one foot in the cab' yesterday, when he needed a runner-runner finish to quadruple up, and go from zero to hero in the flip of a couple cards. David started the day with 18,000 chips, but had run that up to nearly 100,000 in the early going.
The bubble finally burst around 11:30pm local time, in the most painful way possible for this years bubble boy, Hubert Attali. Hubert did the thing all poker players love – and hate – to do, he got all his money in the middle with pocket Aces. All was going ok, until the turn gave Attali's opponent a flush draw. The flush hit, and that meant money for the 45 remaining players. Attali was not pleased, and you could see a mixture of sympathy, and joy in his former tablemates' eyes. They were all €6,900 richer, but every poker player has been on the other end of those Aces at one time or another.
The forty five players left in the money were competing for the biggest EPT prize pool not at the Monte Carlo Grand Final. The payouts are.
1st €691,000
2nd €371,000
3rd €184,300
4th €161,300
5th €138,200
6th €115,200
7th €92,200
8th €69,100
9th €46,100
10-12th €25,400
13-15th €20,750
16-18th €16,250
19-27th €11,500
28-36th €9,200
37-45th €6,900
Ilari Samarhies had a crazy day two. He started the day second in chips, and by the end of level three, he was down to about an average stack. Ilari rode a below average stack through the bubble, but he couldn't get past those pesky deuces. Getting all his money in with Queens, Ilari was very pleased to see his opponent, Sweden's Joakim Geigert turn over pocket deuces. The flop did not bring the miracle 2 outer, but the turn did. Ilari flung his cards across the table in disgust, and made his way to the exit quickly, picking up 9,200 Euro for his 30th place finish.
The frenetic action came to a grinding halt when they got to 24 players, and everyone redrew for seats. At this point, play seemed to tighten up, and it seemed like every time a player was all in he survived, and doubled up. Instead of losing a player every 3 minutes, we lost two in a 30 minute span, and it was looking highly unlikely that we would get to our final table number in time.
The 'I felt it' award goes to Bjorn Eric Glenne, who opened a pot for 25,000, then called a 55,000 re-raise before the flop. On a flop of 6 3 7, Bjorn was first to act, and moved in. Angel Blanco called in a flash with pocket Aces. Bjorn flips over 6 5 for middle pair, and a gutshot. The turn is a four, and Angel nearly flips over the table as his Aces are cracked by 6 5, and he is eliminated in 22nd place.
The pot of day was played out between Phil Ivey and David Layani. Ivey opened the pot for $40k with blinds at $5,000/$10,000. David Re-Raised to 100k. Phil took a long time but called. The flop was Q 6 2. Ivey checked, and David bet 100k. Ivey called. The turn was a 10, and Phil checked, and David bet out another 120,000. Phil took a long time, and called. The river was another Q, and David moved all in. Phil called in a flash, and David turned over pocket Aces, while Phil had flopped a set of sixes, and played it to perfection. The resulting pot was nearly 1 million chips, and I think Noah Boeken, who was at the same table, said it best when he said 'ok, tournament over'. Ivey was up from his reported day low of 3,000 chips to nearly a million.
Play was stopped with 13 players left. Indeed, we did not make the 'three minute per elimination' deadline, and play will resume at 3:30 tomorrow local time. The players will play down to the final table of eight, take a short break, and then play the final table all the way out until we have a champion. The updated chip counts below are now official. See you tomorrow.
EPT Barcelona Open – End of Day Two Chip Counts.
Jeffrey Lisandro 1,002,300
Bjorn Erik Glenne 955,400
Phil Ivey 827,800
David Daneshgar 397,100
David Gregory 245,800
Joakim Geigert 331,100
David Layani 218,600
Noah Boeken 190,600
Teemu Lahtinen 166,400
Robin Keston 152,200
Kristian Ulriksen 130,200
Jonathan Dull 113,000
Gusten Sjoberg 74,600