European Poker Tour – London – Day One 'B'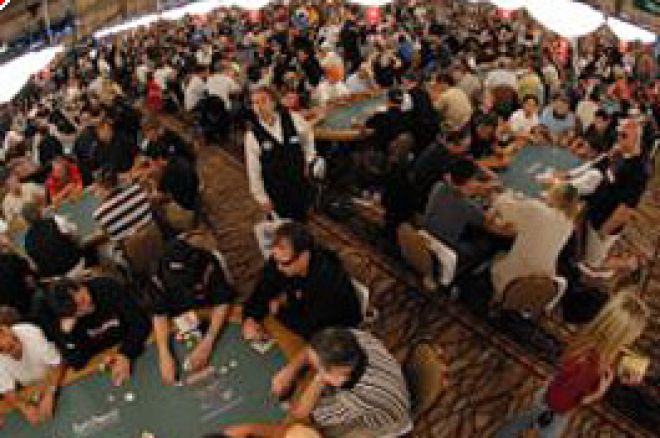 Day One 'B' of the London EPT event started, and one thing had noticeably changed from the setup yesterday. They had to make room for the TV stage, so they 'killed' one of the rooms that held 5 or 6 tables yesterday. To make up for this, casino officials also killed some of the casino floor, and put tables there. This made for much more room for everyone (including the players) for the most part, and the vibe was a bit more relaxed.
Bigger names highlighted the action on day one 'B', as Barry Greenstein was over from America to play in his first EPT tournament. Gus Hansen was on hand, as were Joe Hachem, John Gale. Top internet players Betrand 'ElkY' Grosspellier, Steve 'Ackbleh' Day, and Carl 'Colson10' Olson were on hand to play.
The play seemed looser and a bit faster from the starting gun today, as one player, Mats Iremark was eliminated right off the bat when his "nut" flush ran into a straight flush.
One of the early movers on this day was Vanessa Rousso. Vanessa got a guy who was essentially drawing dead to double her up, and she was one of the early chip leaders, with about 33,000 chips when the blinds were still 75/150. Immediately after the dinner break, Vanessa got a little lucky when she called off about 25% of her stack with top pair, only to discover her opponent having an over pair. Vanessa rivered trips, and her stack grew to just under 40,000, clearly one of the biggest stacks in the room.
Barry Greenstein did not fare as well on this day, as the 'Robin Hood of Poker' was short stacked from very early on. Shortly after the dinner break, I saw Barry doing singing a copy of his book for the guy who busted him out, and Barry was off into the London night.
The 'what a great flop…whoops' award goes to Paul 'ActionJack' Jackson, who really liked the flop of 3 10 10 with his pocket threes. He couldn't believe he was getting action on the flop, and eventually all the money went in. His opponent turned over pocket 10s, and ActionJack was all out of action, and out the door.
The 'it ain't over til its over award goes to Katja Thater. Katya got all her money in on the turn with pocket aces on a board of 6 10 4….7. Her opponent had turned a set of sevens, hitting one of his two outs. Katja stood up, and lamented "I can't believe how lucky you are" to her opponent. She was in the middle of the next sentence when an ace fell on the river. Katja was silent and stunned as her opponent passed her about 20,000 chips, and she was up to around 40,000.
Gus Hansen was playing a very interesting strategy for the first 3 or 4 levels. I would estimate that Gus was not at the table for about 50% of the hands. The good news about this strategy is you never lose a hand. Gus is known for doing things his way, but I don't see this strategy paying off in the long term.
Joe Hachem made in interesting move to effectively end his evening. With the blinds at 200/400, Hachem made it 1,200 to go. A late position player made it 4,000. The action came back around to Hachem, and he moved all in. The player took a while, but called with A K. Hachem immediately said 'good call', and showed A 9. The flop brought no help, and Joe was down to about 2,500. The very next hand, Joe moved in with Q J of Hearts, and was called by A Q. That was it for Joe, and he had the rest of the evening to himself.
The payouts were also announced today. The money is definitely focused at the top, with the winner getting £500,000 (just under $950,000), or just under 36% of the announced £1,393,000 prize pool. The worst any player can do is £4,000, or just under $8,000. The top 32 places get paid. The payouts are.
1st £500,000
2nd £285,900
3rd £168,600
4th £110,000
5th £58,600
6th £44,000
7th £36,600
8th £29,300
9th £10,000
10th £10,000
11th £10,000
12th £10,000
13th £10,000
14th £10,000
15th £10,000
16th £10,000
17th £6,000
18th £6,000
19th £6,000
20th £6,000
21st £6,000
22nd £6,000
23rd £6,000
24th £6,000
25th £4,000
26th £4,000
27th £4,000
28th £4,000
29th £4,000
30th £4,000
31st £4,000
32nd £4,000
About midway into level 4, Gus Hansen sat down to play his stack, which at that point was down to about 9,500. By the end of level 6, Gus had it up well over 30,000. Maybe his strategy will work after all.
As the play snuck into the wee hours of the morning, Chad Brown won a huge pot with Aces versus Queens to climb to among the chip leaders.
Vanessa Ruosso's magic ride came to an end when her A K ran into A Q. A flop of A Q 10 had her calling for a jack, but it was not to be for Vanessa, and she was eliminated with about 45 minutes to go in the evening.
The story of the evening was Chad Brown and his magical revue of Aces. With about 45 minutes to go in the evening, Chad took out Gus Hansen's A Q with his second set of pocket aces in about 90 minutes. Then, less than 10 minutes later, Chad took another player out with Aces against A 10 of spades. The aces that all held made Chad the clear chip leader for the day, with over 120,000 chips.
Day One 'B' played down faster than Day One 'A', and when play was halted we were down to 49 players. Below are the final chip counts for all players entering today's play.
Final Chip counts entering Day Two
Chad Brown 127,800
Johnny Lodden 126,700
Dean Sanders 117,600
Emad Tahtouh 110,300
Michael Abecassis 87,200
Barny Boatman 87,100
Arshad Hussain 86,600
Daniel Needleman 84,600
Torben Snejbjerg 83,100
Rehne Pedersen 78,500
Michael Muldoon 73,900
Don Odea 71,800
Jules Kuusik 65,800
S j Rutter 61,500
Sid Harris 61,000
Shannon Shorr 60,200
Andrew Black 60,000
Ivar Rivenaes 60,000
Simon Zach 58,900
Ross Boatman 56,500
Priyanand Hallan 55,800
Tim Flanders 55,500
John Kabbaj 54,100
Jonas Molander 53,300
Alan Glover 53,100
Tom Parker-Bowles 52,100
Samir Shakhtoor 51,700
Damien Lemercier 50,700
Pasi Heinanen 49,600
Erich Kollmann 46,800
Ferenc Bartha 46,200
Alli Mallu 46,100
Ashley Hayles 46,000
David Finney 42,800
Phil Ivey 42,200
Conny Hillbom 41,400
Ryan Fonda 41,000
Katja Thater 40,900
Andrew Bradshaw 38,900
Barkatul Hassan Mohammed 37,800
Chris Hinton 37,200
Jeffrey Rogers 37,200
Adrian Creagh 37,000
George Mckeever 36,900
Alon Huberman 36,800
David Smith 36,800
Anders Jenson 36,200
Isabelle Mercier 36,000
Vik Kanwar 35,200
Andrew Robl 33,700
Samuel Hapak 33,100
Mick Cook 32,900
Michael Ellis 32,800
Victoria Coren 32,000
Oscar Schweinebarth 31,900
K. Graczyk 30,400
Steve Wilsdon 29,500
Kristian Kjondal 29,400
Christopher Convery 28,800
Ram Vaswani 28,300
Femminella Tommaso 28,100
John Persson 27,600
Jeff Buffenbarger 26,900
Joseph Rafferty 26,800
Frank Bastow 25,700
Will Davis 25,300
Alan T M Betson 25,100
Brendan Walls 25,000
Jan Sjavik 24,400
James Akenhead 23,900
Timothy Vance 21,200
M Green 20,900
Joseph Campbell 20,400
Gary Chatterton 20,100
Kevin Parkes 19,800
Lalit Khajuria 19,600
Hans Eskilsson 19,100
Jani Saari 17,500
Neil Channing 17,400
David Bokor 17,300
S Elorfi 17,300
Halldor Sverrison 16,700
Adam Heller 15,800
Peter Hendriks 15,700
Peter Hedlund 15,600
Ricki Nielsen 15,100
Robin Alexis Keston 14,700
William Fitzpatrick 14,500
Frank Callaghan 14,200
J Kimber 14,100
George Bennett 12,900
Michael Wernick 12,600
Frank Pini 12,500
Stefan Oberholzer 12,200
Carl Olson 11,500
Dennis Skaarup 11,100
Vivi Saethren 10,600
David Bergren 10,300
Anthony Adderley 9,600
Lenda Nygren 9,400
Tom Sambrook 8,900
Bengt Sonnert 7,900
Anthony Chessa 7,800