European Poker Tour London – Day Two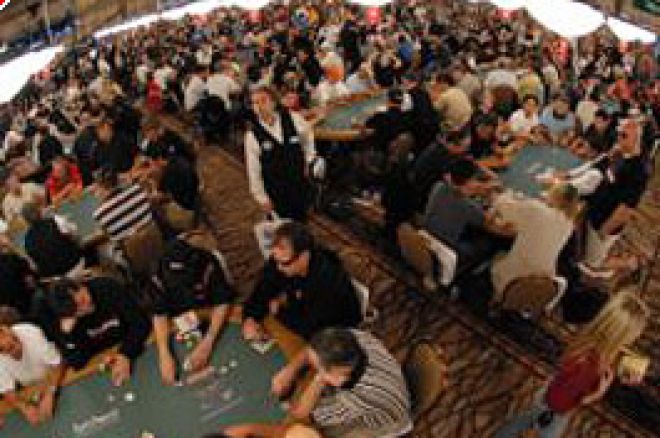 Much like Saturdays on the PGA Tour, today was 'moving day' for the 103 players left in the field at the 'Vic' in London. 95 of these players would move out, only 8 move on to the final table.
I walked through the casino on my way to see the first hand dealt (I had just heard the announcement to shuffle up and deal maybe 90 seconds earlier), I was passed by Phil Ivey. I thought Phil was sneaking a last minute bathroom trip in before the first hand, when I looked over at his seat, and saw no chips. Ivey was eliminated on the first hand, actually before some players on other tables had been dealt cards. Ivey had found A K on the first hand, and the player next to him had K K. No Ace for Phil, and we were down to 102 players before many had even sat down.
Poker Stars gave us all a beautiful pie chart with the country of origin of 398 of the players that entered the event. I found it a great statement about how poker had changed in Europe, and how far the EPT had come. When I played in the first EPT Deauville, I commented that about 60% of the field were Americans. For this EPT London, only 11% of the players were from the U.S. In fact, there were more Swedes than Americans here, and only 3 fewer Norwegians than Americans.
So, off we were, and as you might expect on moving day, many of the players moved out the door very early on. We had lost ¼ of the field by the first break, and it seemed this kind of pace would continue.
The early mover of day two was an Australian named Emad Tahtou. Emad had started the day with 110,000 chips, good enough for fourth in the chip counts, but with day one 'A' chip leader Johnny Lodden on his right, you sort of though there might be fireworks at table 1. Indeed, by the end of the first level of play today, Emad had 235,000 chips, and had the entire field covered 2 to 1, save one player. Johnny Lodden was headed the other direction, and was down to about 45,000 from his initial stack of 127,000 in about the same amount of time.
Also moving chips early was day one 'b' chip leader Chad Brown. Chad was up to 220,000 in what seemed like right away, and indeed continued his hot play, and was the first player over 300,000.
But it wasn't long until another player joined him at over 300,000 as Peter Hedlund won a huge pot with Aces over Kings to get above 300,000. Not to be outdone, Jonas Molander got about 160,000 in a few hands later, and hit a two outer against Ram Vaswani to get to over 320,000 chips.
Players were dropping like flies through the dinner break, but we hit a wall at about 45 players. The play slowed down significantly, and we went from maybe being done by midnight, to maybe wondering if we could order breakfast in.
One player that was making his move when the tournament was on the bubble was Player of the Year candidate Shannon Shorr. Shannon really started to push the action, and is the star of this years 'No Fear of the Bubble' moment. On the bubble, and with blinds of 2,000/4,000 Shannon makes it 12,000 to go. The player in the big blind raises it to 22,000. Shannon, without missing a beat says 'I'm all in' The stacks were close, so its not clear whether it would have eliminated the other player, but after thinking, and griping, the other player folds. Shannon flips over 9 4 offsuit with a look like 'Don't mess with me, buddy' on his face. The look on the other guys face was worth £4,000.
At 10:36 local time, the bubble burst. Donnacha O'Dea thought for a long, long time before calling an early position players raise with 99. This raise put O'Dea all in, and he flop of three spades left him with one out (the 9 of clubs) to prevent him from being the bubble boy. The 9 of clubs did not come, and all of the remaining players were at least £4,000 richer.
Shannon Shorr's bubble finally burst when he lost a coin flip, and finished 22nd.
It really became the Chad Brown show after the bubble burst. Chad was busting players, hitting hands, and raking in the chips. At one point with 16 players left, Chad had about 20% of the chips in play, and was the clear leader.
Hanging in there, but growing very short were the last two women in the field, Isabelle Mercier, and local favorite Vicky Coren. Isabelle finally gave way when her A 7 walked into the Q Q of Jonas Molander. Isabelle finished in 16th place, and picked up £10,000 for her efforts.
When play was halted for the night, we were down to 12 players. The chip leader is Chad Brown, but the field has tightened up. Official chip counts are below. We return in 12 hours to play down until we have a champion. See you tomorrow.
EPT London – Day Two – Chip Counts
Chad Brown – 611,000
Peter Hedlund – 523,000
Emad Tahtouh – 504,000
Mike Muldoon – 422,000
Ashley Hayles – 324,000
Jan Slavik – 296,000
Michel Abessis – 277,500
Vicky Coren – 222,500
Jonas Molander – 222,000
Sid Harris – 213,000
Jules Kusik – 196,000
Oscar Schweinebank – 173,000