European Poker Tour – London – Final Day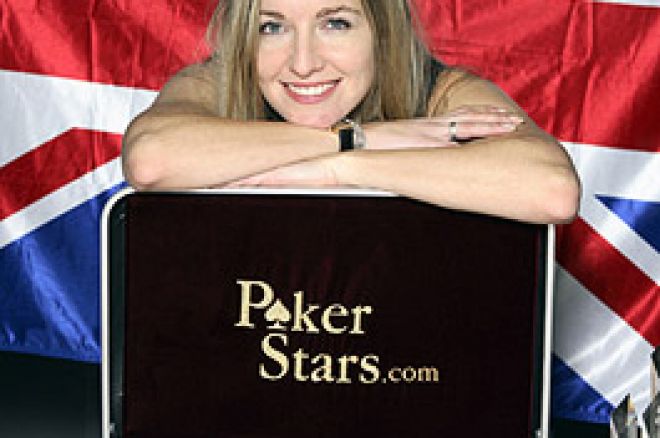 Everyone was in their seats at 3pm on Sunday at the Grosvenor Victoria Casino in London, and when the night was over, one person was going to be nearly one million dollars richer, and an EPT champion.
We had twelve players left when play began, and the chip counts looked like this.
Chad Brown – 611,000
Peter Hedlund – 523,000
Emad Tahtouh – 504,000
Mike Muldoon – 422,000
Ashley Hayles – 324,000
Jan Slavik – 296,000
Michel Abessis – 277,500
Vicky Coren – 222,500
Jonas Molander – 222,000
Sid Harris – 213,000
Jules Kusik – 196,000
Oscar Schweinebank – 173,000
These players were playing for a lot of dough, but the payouts were especially steep toward the top. Even 9th place got only £6,000 more than the person who finished 32nd. But the winner got nearly one million dollars. The payouts for the remaining players were:
1st £500,000
2nd £285,900
3rd £168,600
4th £110,000
5th £58,600
6th £44,000
7th £36,600
8th £29,300
9th – 12th £10,000
Much like day two, where Phil Ivey was out before many people were ready to play, we lost our first player in the first 5 minutes of play. Jonas Molander was crippled, and put his remaining chips in with Q 6. Michael Muldoon had 9 9, and it held up.
It took a while to eliminate our next player, but it was big hand versus big hand, as Michael Abecassis's two Kings were no match for Vicky Coren's A K when an Ace spiked on the turn. Michael was free to go back to Paris, and had £10,000 to take with him, which will buy a nice dinner in Paris.
We were on the 'TV Bubble', and it took a while to eliminate our last non TV participant. Finally, after Emad Tahtouh made a raise on the button sufficient to put either of the blinds all in, Oscar Schweinebank thought for a long time, but finally called, and showed 5 5. It was looking like Oscar would double up until a queen hit the river, and Oscar was out in 9th place.
When they sat down for the TV table, the seating, and chips were.
Seat 1 – Chad Brown – 759,000 chips
Seat 2 – Emad Tahtouh – 680,000
Seat 3 – Sid Harris – 270,000
Seat 4 – Michael Muldoon – 570,000
Seat 5 – Jan Slavik – 460,000
Seat 6 – Peter Hedlund – 380,000
Seat 7 – Jules Kuusik – 240,000
Seat 8 – Vicky Coren – 600,000
Within the first few hands, we had lost or first player. Vicky Coren opened a pot from early position, and Sid Harris moved in. Vicky called with J J, and Sid flipped over pocket nines. The flop and turn were no help, and a river Jack sent Sid out into the London night. Sid Harris, 8th place - £29,300.
Next came what has to be the move of the tournament. Chad Brown put a move on Swede Peter Hedlund that was one of the better ones I've seen in a while. Peter Hedlund opened with a raise, and Chad Brown called from the small blind. The flop came 8s Kc 9s, and Peter bet out 50,000. Chad Brown called. The turn was the 5 of diamonds, and Peter Hedlund bet out 120,000, which Chad Brown took a long time, but then called. The river was the 8 of hearts. Chad Brown bet out 170,000 of his remaining 300,000, and Hedlund fired the cards across the table, saying 'take it' after showing A 3 of spades for a busted flush. Chad Brown showed Hedlund Q J for a busted straight draw, and the second best hand. You could see it in Hedlunds eyes – he was toast. He spent the next five minutes talking about the hand, and pounded all his chips in three hands later with K Q from first position, only to be called by AK, and sent to the rail in 7th place. Peter got £36,600 for his efforts.
Speaking of ill timed moves, Jules Kuusik was the next to go. After Michael Muldoon opened the pot for a raise, Jules came over the top all in with A 5. Michael called with A J, and the board of 4 10 J J made the river brought hope of a split pot, but the river was no help, and Jules was our second straight Swede to go. The card clubs of Stockholm have some money coming their way.
Nearly an hour passed before our next ill advised move. Chad Brown, who has been the chip leader or close to it for three days, ran into some trouble, and then out the door. First, Chad lost a coin flip against Jan Slavik, when Jan Slavik flopped a set of sixes. That left Chad really short stacked, and he moved all his chips in shortly thereafter, and once again it was Jan Slavik that had his number. Chad moved in with the Q 8 of spades, and Jan woke up with a pair of nines. Jan called, and Chad was out the door, with girlfriend Vanessa Rousso in tow. Chad Brown, 5th place - £58,600.
Now down to four, the tournament broke for dinner. At the dinner break, the chip counts were
Emad Tahtouh 1,82 million
Jan Slavik – 1.24 million
Michael Muldoon – 570,000
Vicky Coren – 370,000
Next to go was Michael Muldoon. Michael moved from late position with 77, and was called by Vicky Coren with A 10 of hearts. An Ace on the flop pretty much sealed his fate, and the Ace on the river was completely uncalled for. Michael Muldoon, 4th place - £110,000.
Three handed presented a very interesting dynamic. You had two very chatty players with big personalities in Vicky Coren, and Emad Tahtouh, who had been talking in every hand they played pretty much all night. Contrasting this was the stoic presence of Jan Slavik, who I didn't see utter one word other than 'raise' or 'call' most of the night.
Coren is a TV host, and popular poker writer in the U.K., and her and Emad had real chemistry most of the night. Things like 'get a room' were overheard in the audience as the players traded barbs, and smiles as the chips flew around the table. All the while Jan Slavik sat patiently, waiting for his moment to pounce.
The hand of the tournament was played out between Vicky Coren and Jan Slavik not long after three handed play began. Jan opened with a raise, and Vicky Coren made it 250k from the small blind. Jan called the re-raise, and off we went to the flop. The flop was 10 10 9. Vicky moved all in, and Jan literally took five minutes to think until the clock was called on him. As Thomas Kremser counted the clock down from 10, Jan Slavik called with about 3 seconds to go. Jan showed 3 3 for an incredibly bold call. Vicky said 'good call' and sheepishly turned over A J. But this is poker, and the Jack on the turn made Vicky the best hand, and when a harmless river fell, Vicky has captured about 2 million chips, and Jan Slavik was out the door. Jan Slavik, 3rd place - £168,600.
The TV producers were probably drooling over the possibility of a long heads up match with the two ebullient personalities chatting back and forth. The fact that they were essentially dead even in chips when heads up play began also made a long match possible.
But heads up play only lasted two hands. On the first hand, Vicky called all of Emad's bets on every street for about ½ of her chips. At the end, the board read 5 8 10 2 9. Emad flipped over J 8 for a pair of Eights. Vicky had flopped top pair, and called it down all the way to the river with Q 10.
This put Vicky firmly in the lead, and it didn't take long to finish. On a flop of 3 4 5, Emad moved in for his last chips, and Vicky called having flopped the nuts with 6 7. Emad was drawing at a chop with 6 8, but no seven came, and Vicky Coren, in her home casino, became the first woman champion of the EPT.
Runner Up – Emad Thatouh - £285,900
Champion – Vicky Coren - £500,000
The Vic put on a great tournament, and I thank them, and the staff of Poker Stars for all their help. See you soon.