The Lady is a Champ - Interview with Mary Jones, Part One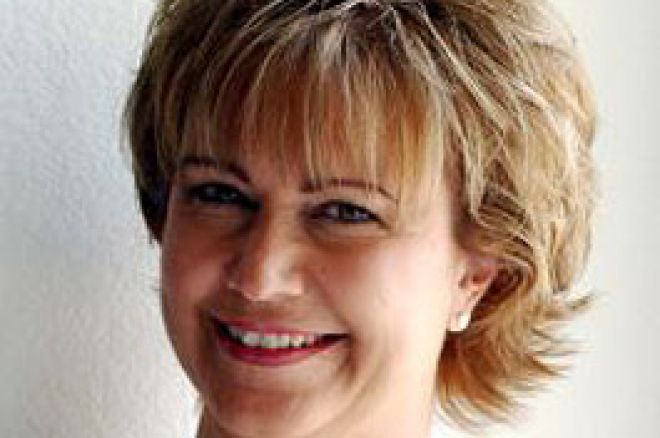 Out of nowhere, to glory and fame. In two short years, Mary Jones went from taking her first baby steps in casino cardrooms to winning the biggest women's event in poker history, the 2006 WSOP Ladies Event. Jones triumphed over a field of 1,128 entrants, almost double the previous year's players, and survived --- indeed, thrived --- at one of the wildest final tables in recent memory, one missed in large part by the TV coverage on hand. The event turned when a suckout allowed the all-in Jones to reel in chip leader Shawnee Barton during heads-up action, and a second fortunate river (a modest 6, pairing one of Jones's hole cards) allowed Jones to finally close the door. It's how championships are often decided. Jones collected $236,094 for the victory.
It wasn't a win easily foreseen. The 40-something Jones (not 56, as stated by AP), a relative latecomer to big poker tournaments, had already snared two modest 'name tournament' cashes in 2005: a 9th place in the 2005 WSOP Circuit LIPS [Ladies International Poker Series] event for $688; and a 22nd place in the WPT Season 4 Mirage Poker Showdown, worth $2,638. In addition, Jones had done quite well in the smaller tournaments run at many Vegas casinos, instilling her with every poker player's basic needs when entering tournaments --- hope and confidence. Still, the WSOP Ladies Event first prize represented more than 80 times her previous largest cash, or, in poker terms, a whole new league. Heady stuff indeed, for any poker player, man or woman.
The story behind Mary Jones --- sometimes erroneously referred to as 'Mary Jones Meyer' --- is also entertaining. Tutored by husband Bob Meyer, a former Harrah's executive and current pool designer whose work is sought after throughout Las Vegas, her own climb to glory demonstrates again that it's all about giving one's self a chance to win... and at that point, anything can happen. For Mary, it's already been a life-changing event. After much debate, she's now resigned her executive phone-company position (with Embarq, a Sprint spinoff) to pursue her poker dreams, and with a sizeable bankroll and solid business skills to fall back on, she's better positioned than most. She's also able to devote more time and energy to another of her passions, her work with the National Museum of Women in the Arts [NMWA]. Jones, previously an NMWA official, highlights a similarity between the NMWA and poker: in both cases, there's much more talent from and within women than people realize --- just there, waiting to be showcased.
Pokernews.com recently caught up with the very personable Jones as she vacationed in New Jersey. In an informal, enjoyable discussion, Jones shared her thoughts on her triumph and new poker celebrity, women in poker, her future plans, and much more.
Pokernews.com: Mary, it's been several weeks since your breakthrough win. To date, what's been the single biggest change in your life?
Mary Jones: Well, it's been the change in my career. For the last couple of years, I've always wanted to play poker for a living. I'd been playing for a little bit of money, not much, but now, I'm lucky enough to have the chance. It took a lot of thought, but in the end I've decided to resign from Embarq.
PN: And one clarification... is it 'Mary Jones' or 'Mary Jones Meyer'?
MJ: 'Mary Jones.' It's a long story. (*laughing*) It has to do with the paperwork, but it's technically still 'Mary Jones.' So, short and sweet.
PN: Everything indicates that the Ladies' Event final table was a wild affair with you quite willing to mix it up. Is that a fair assessment?
MJ: You know what? Umm, YES. (*harder laughing*) From the very first hand it was clear that there was going to be a lot of action at that table, even before they moved us up to the main [ESPN] area. Right away, on the very first hand, we had a big battle. It was clear there would be fireworks. And once we got down to the final few it was totally aggressive. It's hours and hours of play and TV doesn't capture that --- however, our final table did have a lot of action.
PN: Later on, there was another key hand...
MJ: You mean the one with the ten?
PN: Yes.
MJ: You know, at that point in the hand, I was already in there. And still, I believed that I'd been catching a lot of cards, and I was running well, and that I was going to catch there. Now, Shawnee had king and nine of diamonds, and I had the ace of spades and the ten of diamonds. The blinds were $6,000/$12,000. Shawnee raised it to $66,000, I re-raised it to $150,000 and Shawnee called. I thought I was pretty strong and that I was ahead in the hand. The flop was [9s – 7h – 2h], and that gave Shawnee the pair of nines. She checked it, and I thought I was still ahead, so I bet another $200,000, and then she pushed all in. But I still thought that flop had missed her, and that I was still ahead in the hand, so I called. Then I got the ten on the river. Granted, there's an element of luck in the game, but I thought I was ahead there. I thought she was bluffing.
PN: Before that, what was the key moment when you knew you would make a deep run?
MJ: Actually, it happened early on, way back at the start of Day One. I had a pair of sevens and won a huge hand against big slick, and from that point on, I could just feel it. When that happened, it was like, 'You know what? STOP. There's something going on here.' I had other big hands early, like pocket kings, but I didn't make much on those hands. But the one with the sevens, when I knew my opponent was bluffing and I busted her, I could just feel it. After that I knew it was going to be special. I just knew I was going to win it.
PN: Who did you view as your toughest final-table opponents?
MJ: I would have said... Laurie [Scott], she was aggressive and I knew she was going to be trouble. She was definitely playing hard. And then, of course, Shawnee, Shawnee Barton, she had all the chips and the aggression.
PN: What players, female or male, do you most respect, fear, or admire?
MJ: That one's easy. At the top of the list is certainly Doyle Brunson. He's such a gentleman. Plus, the way that he plays, the way he conducts himself --- and everything he's done... he's just so far ahead of everyone else. I'm not sure 'fear' is the right word, but respect, certainly.
Stay Tuned for Part Two of our interview with Mary tomorrow, where she discusses Jennifer Tilly, Joe Hachem, and why she would rather face man at the poker table than women...any day.