The Lady is a Champ - Interview with Mary Jones, Part Two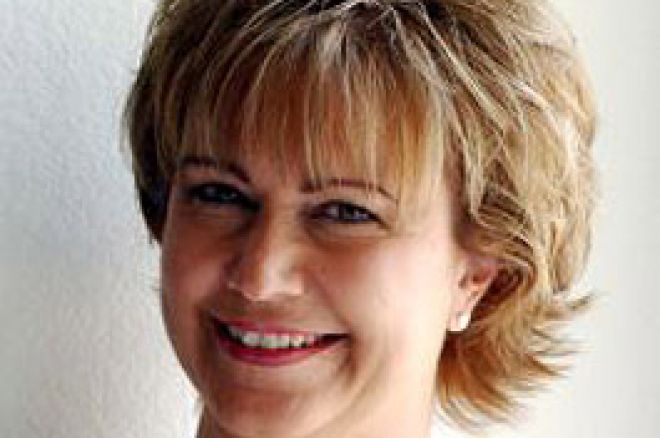 In Part One of our interview, we heard how about Mary's tournament, and some of the hands, and factors that got her to the final table. In today's part two, mary discusses how her life has changed, and what is next for the current Woman's WSOP champion.
PokerNews.com: Ummm, 'Jennifer Tilly.' Is it odd to follow a Hollywood celebrity in winning the Ladies' Event bracelet?
Mary Jones: You know, that's not the first time I've been asked that. You know how you wait until just before the tournament starts or the break ends and you go back in, before you're allowed to take your seats? Well, Jennifer and Phil [Laak] and Bob [Mary's husband, Bob Meyer] and I were all standing together, and so we had the chance to talk about all sorts of things --- different things, not poker, not acting, just pleasant things, about how when we were kids we all had to baby-sit and things like that, just the greatest natural conversation. It was so nice! After a little bit Phil started looking around, and he said, 'I've got to walk around and look for something --- do you mind walking and talking?' So, the four of us worked through the crowds, laughing and talking, just having a blast.
PN: How about the changes that a breakthrough win entails?
MJ: I've talked with a couple of the previous winners, and yet it's not really as much about that as it's about meeting your own challenges. Everyone has been so warm and welcoming. Just at the winner's ceremony, for instance, (2005 WSOP Main Event Champion) Joe Hachem was playing in another tournament just a few tables away. And he got up and walked over, and he wasn't playing to the cameras or anything, and he congratulated me and said, 'Welcome to the club.' I was so surprised that he did that, leaving his own tournament like that. He didn't have to do that. Later on, at the special Corum ceremony (Corum designed the beautiful bracelet unique to the women's event), I had the chance to meet Joe's two sons and to tell Joe just how much that moment meant to me.
PN: Did you play in the Main Event?
MJ: I did. It was a blast. I had so much fun. And, you know, I played really well. The person that knocked me out said he felt really bad about it, but overall, I was happy with how I played. That player, he said, 'I'm tired, I wanna go home, I'm done,' and I had pocket queens, but then he caught his flush. 'You dog!' I thought. But it was such a great time.
PN: Immediately after winning, you said, 'I definitely owe this tournament to my husband and his training.' Let's talk about that --- how did all it all start?
MJ: Well, growing up, I was in a card-playing family, playing gin and pinochle and all that, so I had that background. And then, when I'd be on the road with the job, we'd play poker for fun --- we'd play for nickels and dimes --- and we'd give it back so no one got hurt. Then, after I met Bob, and he started teaching me about pot odds and the finer points of the game, I went to the casino and played $1/2 and won $20 my first time out, and it was like, 'we've created a monster.' You know, with the rake and all, it's very hard to win at that level. And then I played in those small local tournaments --- you know, like $43 to enter and you can buy more chips real cheap, and I did well in those. At that point, it was like, 'We've really created a monster.' And of course, we played a lot at home. Again, playing those small events really helped me learn about pot odds, and that was so important.
PN: So who has the bragging rights these days, you or Bob?
MJ: Oh, gosh, you're going to get me in trouble. (*Laughs*) You know what, Bob is so supportive; it's just been wonderful. Let's just say that it was a real team effort. As a matter of fact, when it was time for the award ceremony, I asked Jeffrey [Pollack] --- I'd never won a bracelet before, so I didn't know if it was something that could be done --- if Bob could put the bracelet on my wrist. And so when the moment came, and they gave the bracelet to Bob, he had the biggest grin. It really was the two of us that won it.
PN: Who was Mary Jones, before poker, before meeting Bob Meyer?
MJ: I grew up in Dallas and spent many years there. I started working to help put myself through school, and the work went so well I had to ask myself, 'Is this what I'm supposed to be doing?' I mean, I worked for several phone companies (including Sprint and AT&T) and we worked with the United Nations, among our other clients. So that taught me a lot about doing important work and about communicating, about diplomacy.
PN: About that prize, almost $250,000. Have you made any special plans or purchases?
MJ: No. In a way it was great that the [New Jersey] vacation came when it did, but as for the money, that's going to be my working capital for playing poker. It's my bankroll.
PN: You went deep in two smaller 2005 events. What other successes have you had?
MJ: Well, I've done very well in a lot of those smaller tournaments, but most of those don't make the news. The rebuy tournaments, it's like a hundred bucks to play poker, so that's a great time. And, I do play some cash games, like at the Bellagio. With the win, I'll be able to do a lot more of that now, sort of living my dream. Before it was squeezing in play on the weekends, but now I have the chance to play more.
PN: Describe Mary Jones the poker player, in terms of style.
MJ: Ah, style. You know, for the first couple of levels, I tend to play a little bit more conservatively. It's not a sprint, it's a marathon. And after that, well I open it up a little bit. Later on, I think it's safe to say that I attack. When it gets down to the last four or five tables... if I'm in the hand and someone comes in there with me, then we're going to mix it up. The final table? I'll be on the attack.
PN: Who would you rather face at the table, women or men?
MJ: Actually, I'd rather face men. I think men are more focused on the pot odds and the fundamentals, whereas the women are more focused on reading their opponents. Women tend to be more intuitive players. Not all of them, but most. But to be truly great, you have to put the two together.
PN: Could you share your thoughts on the growth and success of women in poker?
MJ: I think it's been awesome, and I don't think people realize just how quickly women have become successful in poker. That is definitely the growth market; people don't realize just how many women there are who play poker, how good they are at it, and they're going to win championships.
PN: The plusses (and maybe minuses) of 'women only' events?
MJ: They're so much fun. Women love to gab, and there's so much to talk about at the poker table. Women can talk about just about anything. Whereas with men at the table, the men tend to be more open about what they talk about when there are women around then without.
PN: The WSOP Main Event. When do you think a woman will win it? And who?
MJ: When? Well, virtually any time. There are certainly women capable of winning, but a part of it is just the numbers. Women are like three, four, five percent of the entrants. As for who will win? Well, me, of course. (*laughs*) But Jennifer Harman, she's certainly at the top of that list. She's played in the big cash games and she knows what to do. And Kathy Liebert, she's so tough, and she works at it so hard. So those are the two that I'd put at the top.
Ed Note: Do you own a Mac? You can play online anytime you want at Pokerroom.com