Online Poker Weekend: 'luchador420' Dominates Stars Sunday Million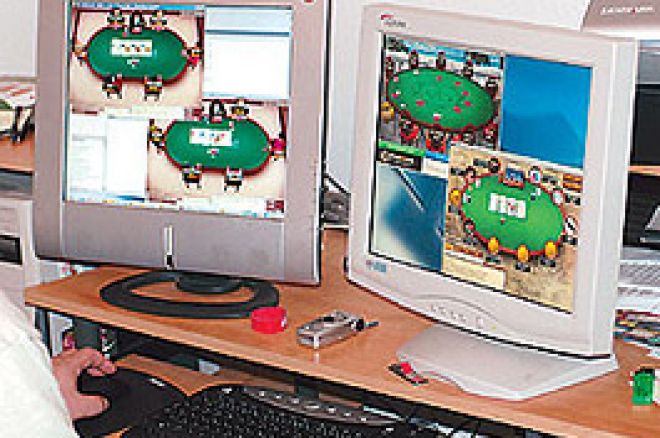 Sundays in September? Perhaps because of the start of the NFL's regular season, attendance was down a few percent in three of the night's four biggest events, with small overlays occurring at both the Ultimate Bet and Party Poker tourneys. A couple of online poker's biggest names made the final tables this weekend, as Carl 'Colson10' Olson finished 7th in the Full Tilt $200,000 Guaranteed, and Jordan 'imsolucky0' Morgan finished 8th in the Ultimate Bet $200,000 tournament. The evening's highlight was a final-table romp by 'luchador420' in the Stars Sunday Million, which will now be on hiatus until that site's WCOOP schedule concludes.
Poker Stars Sunday Million
The Poker Stars Sunday Million again offered the week's highest online purse, as 5,375 players translated to a total prize pool of $1,075,000. The top 750 places paid. 'luchador420' led the way to the final table, having over $3,000,000 in chips (and a lead of over a million) when the last table began, and soon pushed that well over $4M, more than double second place.
A huge hand occurred when luchador420's pocket kings avoided a suckout from the A-K of 'sideshowgil,' which pushed luchador420 well over $6M in chips. 'Yankees31' and 'STNCOLDKILLR' held second and third at the time, but each trailed by nearly $4M in chips. STNCOLDKILLR ended up making a push into a strong second position, knocking out 'arzCARDSfan' in fifth when both players hit two pairs, tens up, but KILLR's better kicker (J) triumphed. Soon after, Yankees31 departed, leaving 'HelmetSky' alive in third, but pushed nearly to the felt.
Though HelmetSky doubled through once, luchador420 scored another knockout when his A-J sent HelmetSky's A-10 out in third, on a J-Q-5-5-Q board. And even STNCOLDKILLR proved no match for luchador420, who ended up never being seriously challenged for the final-table lead. On the event's last hand, STNCOLDKILLR was forced to push with a suited 10-9 (clubs), which luchaodr420 then called with his own suited holdings (K-4, hearts). Neither player scared the flush or paired the 5-3-Q-3-7 board, and luchador420 had the $165,000 first prize.
The final table results, with screen names and prize payouts:
1st ($165,012.50): luchador420
2nd ($90,837.50): STNCOLDKILLR
3rd ($53,750): HelmetSky
4th ($43,000): Yankees31
5th ($33,325): arzCARDZfan
6th ($26,875): nailman1
7th ($20,962.50): sideshowgil
8th ($15,587.50): Valsky
9th ($9,675): Telefonkiosk
Party Poker Sunday Million Guaranteed
For the first time in several weeks, entrants for the Party Poker fell short of the 5,000 needed to cover the guarantee, though with 4,885 entrants on hand, the overlay was a smallish 2%. 600 players cashed.
player 'jaydog76' led the way to the final ten with almost $5 million in chips, but this one was well-balanced, with all but one of the other players having at least $1.5 million. Soon enough, 'vgame' took the lead as two of the shortest stacks departed.
And then, as happened two weeks prior, the players at the Party Million final table settled for an eight-way chop based on chip count, meaning that there wasn't much final-table action at all. 'puyablaze,' who claimed a top-100 finish in the recently completed WSOP, lobbied hard for the deal, and each of the players agreed to Party's standard computation amounts in something under two minutes.
The final table's finishers (top eight spots based on Party's custom chip-count payout computation):
*1st ($105,192.93): vgame
*2nd ($97,728.08): jaydog76
*3rd ($59,594.49): puyablaze
*4th ($50,353.68): jadogo
*5th ($35,500): BLESS72
*6th ($28,000): ClockedBarn
*7th ($21,500): foldy123
*8th ($16,000): rclark105111
9th ($11,000): msgnus
10th ($6,200): SlowPlayin7
* --- eight-way deal to split remaining prize money
Full Tilt $200,000 Guarantee
Entries were down at the other three major online events, but not at Full Tilt --- the $200K Guarantee attracted 1,217 players. 117 players cashed, and not a "red' name was among the batch; in fact, the deepest-running of the name players was Stuart Paterson, well down the ladder in 280th place. 'deanoll' held the lead as the final table started, with just under $800,000 in chips, but this final table was, as with Party's, well-balanced. 'GiveMeUrCh1ps' was the first player to reach a million in chips, knocking out colson10 in a big early hand. GiveMeUrCh1ps, deanoll, and 'G6Dragon' traded the final-table lead several times, but 'number1PEN,' short-stacked member of the final four, won an all-in race with pocket sevens to get back in the hunt. At that point, it seemed as though deanoll had established control, first winning several pots, then knocking out G6Dragon in fourth.
But a balanced table usually means several changes of the lead, and it happened here when GiveMeUrCh1ps knocked out number1PEN to surge in front for the head-to-head matchup against deanoll. And this one didn't last long. One hand after succeeding with a huge bluff (flashing a worthless 9-4), GiveMeUrCh1ps pushed all in holding pocket tens, and induced the call from deanoll, who held the Q-J of diamonds. The board came 9-6-K-5-5, with no flush even close to hitting, and the match was over.
1st ($53,548): GiveMeUrCh1ps
2nd ($34,076): deanoll
3rd ($25,070.20): number1PEN
4th ($19,776.25): G6Dragon
5th ($15,212.50): GB2005
6th ($10,953): Lefta
7th ($7,302): colson10
8th ($5,476.50): MrTimCaum
9th ($3,894.40): lovejoybsalt
Ultimate Bet $200,000 Guaranteed
893 players signed up for Ultimate Bet's $200K event, meaning the tournament offered over $20,000 in overlay, distributed across the 90 players who made the cash. 'ArmyDrill rode a couple of suckouts to the lead as the final table began, but this one became a waiting game as several short stacks fought to stave off elimination. The three biggest stacks (ArmyDrill, 'itsmebackoff' and 'josh prager') separated themselves from the pack for much of the early final-table action.
'CertifiedStar' joined the leaders' party after a key double-through when his aces held up against ArmyDrill's A-K, with 'BKiCe' and 'beluga' the other two once-short players that made extended final-table runs. josh prager finally eliminated ArmyDrill in a A-8 vs. K-10 matchup when neither player found any help, but josh prager himself was the next to be eliminated, with beluga following soon after in fourth.
By this time, itsmebackoff was the first player to top a million in chips, and his total had reached 1.3 million by the time three-handed play began. CertifiedStar made a huge double-through, however, on a hand when itsmebackoff's open-ended straight draw failed to connect. A few minutes later, CertifiedStar had taken the dominant, 1.3M chip stack lead, and kept the pressure on, whittling the other two stacks away. itsmebackoff went out in third when his 88 fell to BKiCe's paired queen. On the final hand, CertifiedStar's A-K held up easily over BKiCe's A-J when both an A and K hit the board.
1st ($45,000): CertifiedStar
2nd ($27,000): BKiCe
3rd ($18,500): itsmebackoff
4th ($13,000): beluga
5th ($11,000): josh prager
6th ($9,000): ArmyDrill
7th ($7,000): yellowhat
8th ($5,000): imsolucky0
9th ($3,500): WiscoMurray
10th ($2,000): phatsorider