WCOOP #9, $500+30 Pot-Limit Hold'em: 'uncforte' Denies 'remen' for Title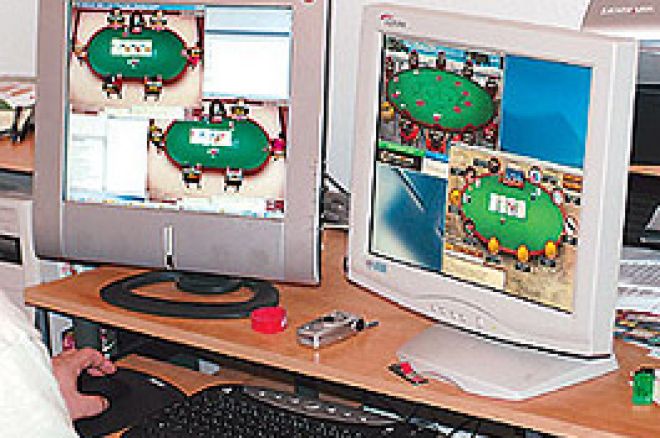 Pot-Limit Hold'em made its first appearance during Poker Stars' World Championship of Online Poker on Saturday. Event #9, one of two WCOOP events running on the day, offered a $400,000 prize-pool guarantee. 1,095 players made the $500+30 buy-in, ensuring that this event's actual prize pool ($547,500) continued the WCOOP's perfect run of rendering meaningless the pre-tourney guarantees.
It took nine hours for the field to be whittled to its final nine. Brookline, MA's 'uncforte' notched back-to-back knockouts of the 11th- and 10th-place finishers to open up a big gap over an otherwise tightly packed field; uncforte began the last table's action with about $840,000, about twice the nearest competitors, 'remen' and 'InSpiritu.'
uncforte ran his knockout string to three by eliminating 'eirivi' in ninth place. eirivi, relatively short-stacked at $160,000 in chips re-raised uncforte all-in, holding A-K. uncforte, however, had pocket kings, and the board produced a full house of its own, sevens full of tens. eirivi's played board stayed behind the uncforte's made sevens full of kings, and eirivi was the first final-table contestant sent to the rail.
uncforte's knockout streak ended when the shortest stack at the table. Only two hands later, 'Claret1' pushed his last $70,000 in behind A-Q, and received the call from remen, who owned A-J. This time the underdog hand pulled the upset, as a jack flopped and no other help cards arrived. Claret1's bad-beat exit mean that seven players remained.
The rapid exits would continue, although a dozen or so hands would elapse until the next elimination, that of 'myteduck' in seventh. The hand saw all the chips go in pre-flop, the last of myteduck's $225,000 versus a matching amount from InSpiritu, in comfirtabke second place, over $550,000, before the hand. The hand itself was another classic race where the overcards pulled out the win --- myteduck started with pocket tens, Inspiritu a suited A-K, and an ace on the flop decided it.
And only a few hands later, the field narrowed again. Player 'EC10' was in sixth, short-stacked at about $160,000; EC10 raised from the small blind, was re-raised by remen from the big blind, and pushed his remaining few chips in. Rightly so --- his A-K was ahead of remen's A-T, but the board came 8-2-J-9-7 for the rivered straight... and the knockout.
The immediate beneficiary of all the knockouts? Besides uncforte, who had consolidated his lead and moved over a million chips, it had to be 'derkderka,' who started the final table in the cellar (with barely $60,000 remaining), who survived an all-in chop, made one other double-through, and stole enough blinds and antes to survive and back up the leaderboard as deeper stacks were knocked out. derkderka lasted all the way to fifth, when his final $80,000 went in behind A-T, but this time he ran up against the A-K of 'trollguttn.' The board read 7-6-4-6-9, with trollguttn's king staying ahead as the second kicker.
The break saw the four remaining players --- in order, uncforte, InSpiritu, remen and trollguttn --- pause to consider a deal. The four examined Poker Stars' standard chip-count computations, but the two shortest stacks, remen and trollguttn, wanted several thousand more each than the formula indicated... and play resumed. The severely short-stacked trollguttn had cause for regret almost immediately, when his A-Q ran afoul of leader uncforte's A-K. The chips went in pre-flop, the board came 2-6-5-T-9, and three players were left.
Another abbreviated deal discussion took place, but the remaining short stack, remen, still wanted more than the computations indicated. Again play continued, and this time it worked out better, as remen doubled through with K-K against uncforte's A-9, a hand worth more than a million chips, that vaulted remen all the way to the lead.
Ten hands later came the event's key showdown. Again it was uncforte and remen, who had moved out a narrow, $100,000-chip lead. Both players raised and re-raised pre-flop until uncforte was all-in, and remen nearly so. uncforte proffered J-J, but remen showed Q-Q, a dominating hand made even more so by the 9-8-5. But uncforte's two-out jack arrived on the turn, and a river four meant nothing. The beat put uncforte into a dominating lead, and remen on the ropes.
Amazingly, remen staged another comeback, doubling through InSpiritu once and uncforte twice, to climb back into the hunt. It was Inspiritu, who only moments before had seemed assured of at least runner-up money, that left the table in third. After a lengthy battle that lasted several dozen hands, Inspiritu had become the endangered short stack, with $235,000 remaining. Holding A-7, Inspiritu made the opening raise, was reraised by uncforte (who held pocket jacks) and made the all-in re-raise for his list $15,000. The flop was A-K-J, pairing Inspiritu's ace but giving uncforte the almost unbeatable set, and the 'almost' disappeared as the 4-5 turn/river arrived.
Head-to-head, remen and uncforte again talked deal, and this time they found common ground. Leader uncforte sweetened remen's chip-count proportion only slightly, and the two played on for the remaining $10,000 and the championship bracelet. Could remen mount another comeback? It seemed as though he could, as after several hands of small-level fencing, remen doubled through on a hand where uncforte doubted his own read. remen limped in and uncforte checked the big blind. The flop was 4-6-J, and remen check-called uncforte's small $20,000 raise. Both players checked the turn when a king appeared, but an eight on the river brought fireworks, and a final all-in re-raise from remen.
Uncforte used much of his time bank, asking "75?" But he then made the call, having had 8-8 all along, rivering the set. But remen, indeed, had the 7-5 for the straight and the double-through coming back to almost even in chips.
The bracelet battle could have continued for quite some time; it lasted exactly one hand. This time the action came after a flop of Q-4-2. Both players, it turned out, had flopped top pair, but uncforte's other card was an ace, remen's only a jack. The turn and river were a six and eight, respectively, and this battle was in the books. After the deal, unforte claimed over $105,000 and the bracelet with the win.
WCOOP – Event #9 - $530 Pot-Limit Hold'em. Final Results.
1st: ($105,329*): uncforte
2nd ($80,000*): remen
3rd ($43,854.75): InSpiritu
4th ($32,850): trollguttn
5th ($27,375): derkderka
6th ($21,900): EC10
7th ($16,698.75): myteduck
8th ($12,318.75): Claret1
9th ($7,938.75): eirivi
*Final dollar totals based on two-way deal for remaining prize money