WCOOP #15, $530 Pot-Limit Omaha: 'Trabelsi' Surges Past Brenes to Victory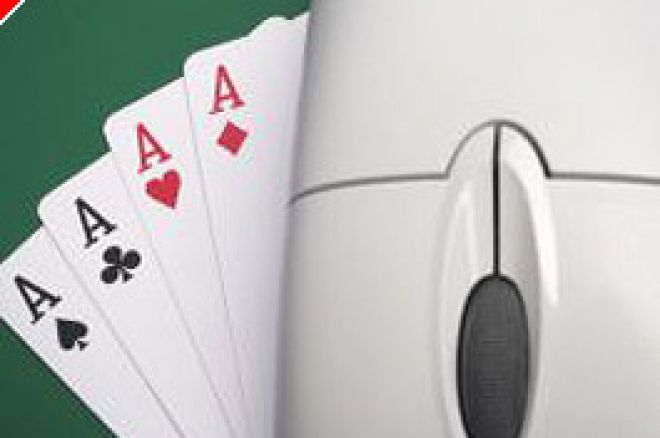 Poker Stars' record-setting fifth annual World Championship of Online Poker made its final venture into the realm of pot-limit Omaha (high-hand only, not hi/lo) on Friday, with its $500+30 Event #15. 867 runners were on hand, and the prize pool swelled to $433,500, once again leaving the pre-event guarantee ($300,000) to gather dust. 120 places paid, with first place scheduled to pull in over $93,000.
'HaffaHaffa' took down a huge pot to knock out 'sapperjuu' in tenth and surge into the lead as the final table began. However, the field was tightly packed, and several players were within easy reach of HaffaHaffa's $350,000 in chips. Among them were 'trollguttn,' who already had a fourth-place showing in Event #9 of this year's WCOOP, and Team Poker Stars member Humberto Brenes ('Humberto B.'), who came to the last table seventh in chips, but with a still-playable $170,000 stack.
'KILLER ACE,' the original short stack, evaded elimination after doubling through 'Trabelsi,' who before losing to KILLER ACE's starting aces had surged into the lead. The hand brought KILLER ACE back into the hunt, pulled Trabelsi back to the pack, and made the event anyone's game. With blinds of $3,000/$6,000, the big battles were pending, too.
Brenes won the first of those huge matchups, in the process sending 'LuckyLady519' off in ninth. LuckyLady had $149,000 at hand's start, Brenes $177,000, and after a 3s-9s-Qh flop, all the money went in. LuckyLady displayed As-6c-8s-Jc, for the nut flush draw, while Brenes showed Kh-Td-Qd-Jd, for top pair (queens) and a wrap draw to a king-high straight. Brenes needed to fade an ace or one of the remaining clubs on the final two cards, and did so --- the turn was the heart five, the river the diamond four. Brenes moved to nearly $330,000 with win, solidly in the hunt.
trollguttn won the next major collision, climbing to nearly $600,000 and taking a sizeable lead while knocking out 'DONKAFIDE' in eighth. DONKAFIDE called trollguttn's opening raise, then re-raised trollguttn all-in after a 2s-4h-7s flop. trollguttn called and showed 6s-Ah-3c-5c, for a huge draw to a straight, while DONKAFIDE had As-Kc-4c-Js, for top pair and a gutshot straight draw that really wasn't there. The river was the ace of clubs, which made trollguttn's straight but gave DONKAFIDE a few outs to a winning full house. Those hopes, though, went for naught; the river was the three of diamonds, improving trollguttn's already-good straight and ending DONKAFIDE's night. DONKAFIDE was also the last remaining U.S. player; six of the remaining seven (excepting Brenes) were Europeans.
The next big hand saw a survival, not a knockout. This time Brenes and Trabelsi locked horns, and all the money went in after a Kh-Jd-2d flop. Brenes, who had Trabelsi covered by about $90,000, had 8d-Ad-4c-6c for the nut-flush draw, while Trabelsi, with Jc-Jh-7c-8s, had trip jacks. The turn was a four of hearts, improving Brenes to two pair, but the river four of diamonds made both players' hands, Brenes the flush and Trabelsi the winning full house. Trabelsi went from all-in to the tournament lead on the hand, while Brenes dropped into the cellar. Brenes, though, wasn't done clawing; within a dozen hands he'd climbed back over $200,000 and out of the cellar.
Trabelsi picked up the next knockout, sending KILLER ACE out in seventh. Unable to claim any large pots during seven-handed action, KILLER ACE re-raised all-in before the flop behind a pair of kings (4d-Kc-8d-Kh), in a battle of the blinds. Trabelsi made the call and turned out to have been on a steal, showing 8h-Qh-5c-Js. The board, though, ran cruel to KILLER ACE, showing 2s 4h 3h 5h 8c and making two pairs (eights and fives) for Trabelsi. KILLER ACE didn't improve on his kings and departed in seventh.
Then came another Brenes surge. First, he won a $330,000 pot from trollguttn when his K-high straight bested trollguttn's jacks and nines; then, Brenes returned the favor to Trabelsi, when the board paired on the river and made a winning fours-over-sevens full house, reeling in trollguttn's flopped straight. The wins moved Brenes over $665,000 and into first, by $200,000 over Trabelsi and HaffaHaffa. Two hands later Brenes and HaffaHaffa chopped the biggest pot of the event, at $967,000, when both players made an A-high straight, and after that the event went into an extended stretch where no major hands were played. trollguttn had been unable to make headway, and became one of three relatively short stacks, along with 'starsky' and 'MailMan99.' Those three played tight, looking for the double-up hand, while the three leaders picked up blinds and looked for the knockout.
MailMan99 fell first, losing his final $37,000 when his 5c-3d-Kd-Kc fell to Trabelsi's Td-6d-8h-5h, who again reeled in a better starting hand when the board arrived 7s-5d-Th Js-Qh. Trabelsi's two pairs again reeled in kings that went unimproved, and five players were left in the hunt. Soon after, trollguttn, also down to the brink, tripled through with his last $53,000 against Brenes and Trabelsi, catching a river king to make a better two pairs (against Trabelsi) to stay in the hunt.
trollguttn's survival would cost starsky some money. starsky, with less than $200,000 ended up after a Th-8h-Ts against Trabelsi after Trabelsi check-raised starsky's post-flop attempt at buying the pot; starsky already had more than half his chips in the pot and felt committed to the hand. starsky had Kh-3s-7h-8s, and was well behind 6d-Js-Tc-Kc, which had connected for trip tens. The turn and river went Qd-4c, leaving both players' hands unchanged, and the field was done to four.
trollguttn managed a double-through soon after, pulling himself back into contention, but the pending story was Trabelsi, who would win three huge, consecutive hands, control entering heads-up play. With the blinds at $8,000/$16,000 Trabelsi made an opening raise to $48,000, was re-raised by HaffaHaffa to $152,000,and made the call. The flop came 2c-9d-4c. HaffaHaffa bet the pot ($312,000) and Trabelsi made the all-in raise for only $20,000 more. After HaffaHaffa's call, Trabelsi showed 9h Qc Ac 4h for two pair and the flush draw, while HaffaHaffa displayed Ad-Tc-As-Qh, and needed help. Help came, but it was better for Trabelsi: the nine of clubs made Trabelsi's full house. HaffaHaffa needed an ace on the river, but the eight of clubs fell instead. The pot was worth almost a million chips, and gave Trabelsi a sizeable lead.
Down to $57,000, HaffaHaffa went all-in against Trabelsi on the next hand. This time HaffaHaffa's 6d-Td-7s-8s couldn't run down Trabelsi's Qc-5h-4s-Qs, when the board arrived 7c-3c-Jh-As-5c. Trabelsi's queens stayed ahead of HaffaHaffa's fives, and the field was down to three.
And then two. This time trollguttn made the pot-sized raise after a Tc-3c-7h flop, was re-raised by Trabelsi, and called for the last of his $308,000. trollguttn showed 6c-5s-5d-Ac for nut-flush and gutshot-straight draws, while Trabelsi, with Th-Td-Jh-Jd, had again flopped trip tens. trollguttn had plenty of outs to improve, but the turn was a queen of diamonds, the river a jack of diamonds that changed Trabelsi's winning hand to trip jacks. Either way it was enough, and with over $1.4 million and only Brenes' $760,000 against him, trollguttn had the inside track to the win.
The battle lasted more than 20 hands, with Brenes taking down two $288,000 pots in the span to pull within $240,000. Trebelsi reopened the gap shortly after, winning a $360,000 pot behind a pair of hole-card queens that made two pair and stood up over Brenes' mucked hand. And on the very next hand, the final battle unfolded.
On that hand, Trabelsi posted the small blind ($10,000), Brenes the big blind ($20,000). Trebelsi open-raised to $60,000 and Brenes called. The flop came Js-7c-8c, Brenes checked, Trabelsi bet $120,000 and Brenes check-raised to $480,000, trying to steal the pot... at the wrong moment. Trabelsi made the re-raise to $840,000 and Brenes,now committed, made the all-in call; Trabelsi showed Jd-9d-Tc-6h for the flopped straight, while Brenes was way behind with 6d-6s-As-Kd and in need of runner-runner help. The turn, though, was the ten of clubs, missing Brenes again and sealing the win for Trabelsi. The diamond queen on the river improved Trabelsi's straight, but the champion had already been decided: Trabelsi claimed $93,853 and the WCOOP Event #15 bracelet.
WCOOP – Event #15 - $530 Pot-Limit Omaha. Final Results.
1st: ($93,852.75): Trabelsi
2nd ($58,089): Humberto B.
3rd ($36,847.50): trollguttn
4th ($27,093.75): HaffaHaffa
5th ($22,325.25): starsky
6th ($17,990.25): Mailman99
7th: ($13,872): KILLER ACE
8th: ($9,970.50): DONKAFIDE
9th: ($6,502.50): LuckyLady519