WCOOP #14, $530 7-Card Stud Hi/Lo: Kyle 'kwob20' Bowker Wins Second Title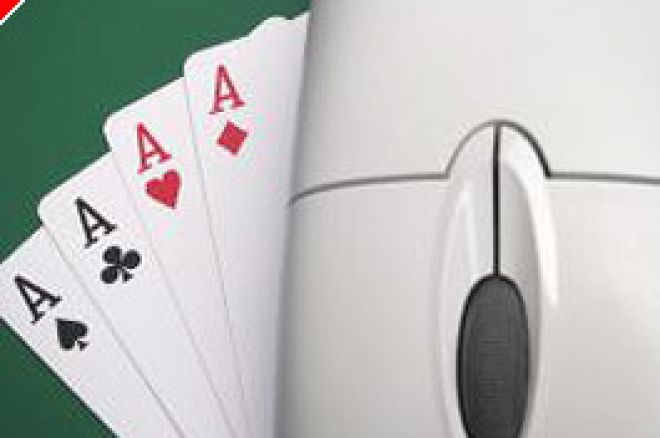 Well into its second week, the fifth annual World Championship of Online Poker at Poker Stars, returned to one of the old stalwarts of poker on Thursday night. Event #14 was the $500+30 buy-in 7-Card Stud Hi/Lo event, and the big names of the Poker Stars lineup were out in force, in preparation for the WCOOP's huge weekend wrap-up. Among the recognizable stars who not only played but cashed were Greg 'Fossilman' Raymer, in 19th, Humberto Brenes ('Humberto B.') in 34th, Barry Greenstein ('barryg1') in 38th, and Tom McEvoy in 71st, just inside the bubble of the 72 players who made the money.
Big money it was, too. The 581 entrants combined for a $290,500 prize pool, once again leaving the original guarantee ($200,000) as a faint memory, as with all of this year's WCOOP tournaments. But the recognizable names weren't the only familiar sight; no fewer than three of the eight final-table participants were making their second trip into the big money in the '06 WCOOP: Kyle 'kwob20' Bowker (who won Event #5, also a hi/lo event), and two veteran Europeans, 'Evelyn' and 'doidovarrido.' Each, however, trailed Italy's 'TroppoBravo' to the final eight, as TroppoBravo reached that point with over $400,000 in chips.
First to be sent to the rail was 'fooge,' who with doidovarrido was one of the shortest stacks as the final table began. Down to $24,000, with a $1,500 ante, fooge and 'PokerJ2006' capped the betting after their starting three-card, then watched the rest of the sequences play out. fooge showed 5c-Kc-Ks-Jh-6h-2c-Qc, never improving on his starting pair of kings, nor was he ever ahead, as PokerJ2006 showed 5h-Ah-As-6s-5d-Jc-Qd, for the better, two-pairs high, and neither player made the low.
One hand after sliding past TroppoBravo and into the lead, Evelyn notched the second knockout. This time it was PokerJ2006 who exited after dropping most of his chips on a couple of second-best hands. The same held true on the knockout hand. PokerJ2006 started with $70,000 in chips, 'nutspp' raised to $10,000, showing the five of spades over kwob20's forced $3,000 bring-in with the club deuce. Evelyn called the $10,000, showing the three of hearts, and PokerJ2006, advertising a high-hand start with the king of clubs, raised to $20,000. kwob20 and nutspp folded, but Evelyn again made the call. On fourth street Evelyn caught the king, for K-3, while PokerJ2006 found a ten, for K-T, and bet again, with Evelyn again calling. On fifth street, Evelyn found an ace, and bet out for $20,000, but staring at the trouble card, but PokerJ2006 was in too deep to keep from calling out his remaining chips and hoping. But the card had paired Evelyn's hole ace, and PokerJ2006 never caught up. The final sequences were (Ac-8d)-3h-Ks-Ah-5h-
, for a pair of aces for high and an 8-high for a qualifying low, while PokerJ2006 bricked out. His final sequence of (Ad-Kd)-Kc-Td-5c-7c-
meant a pair of kings for high, no low at all, and a seventh-place exit.
doidovarrido had evaded elimination early on, but ended up in sixth place a few hands later in a small pot that also saw 'MOJOEX1' exit in fifth. Both doidovarrido and MOJOEX1 were down to the felt, with $11,000 and $42,000, respectively, and TroppoBravo picked up the knockout in a hand where none of the three could complete a low. The sequences were (6s-8c)-5h-Th-2s-Jh-
for doidovarrido, (2c-Ac)-5c-Js-2h-Kh-
for MOJOEX1, and (4c-Kd)-3c-4d-Ah-7s-
for TroppoBravo; the river seven for TroppoBravo made a winning two pairs and the high-hand-only scoop.
With four players remaining, it looked to be a two-horse race. A few hands later, TroppoBravo had retaken the lead with $682,000, Evelyn was just behind at $628,000, and kwob20 ($73,000) and nutspp ($69,000) were on the edge. The two short stacks mixed it up on the next big pot, which saw the chips all in by fifth street. kwob20's card sequence ran (6d-5c)-7c-3d-Ts-6h-
, missing the straight but ended up with a solid 7-6-5-3-2 and a pair of sixes for high, while nutspp missed any bit of help on the late streets, finishing with (7d-5d)-4c-Jd-Kh-Td-
, for nothing more than king high.
The hand started a rush for kwob20, who won six of the next ten hands outright (four in sizeable pots) to jump all the way to the lead. The key hand was a pot of nearly $400,000 in which kwob20 made a full house, queens over sixes, all in the first five cards, while Evelyn showed a pair of fours with a king after fifth, bet it, was raised, and made the calls on the final two streets before mucking to kwob20's massive hand.
It wasn't the only big pot Evelyn would drop in this segment of the action, and he would be denied a WCOOP bracelet despite his second strong showing of the fortnight. Evelyn was knocked all the way down under $40,000, managed to claw back over $160,000, but then found nothing until being eliminated after an additional 15 hands. TroppoBravo claimed the honors, as Evelyn defended with a (9-9)-K start against TroppoBravo's low cards, and TroppoBravo not only completed the low, but reeled in Evelyn for high by pairing a pocket ace as Evelyn's hand ran out, unimproved. The final sequences were (9d-9c)-Kd-6s-2c-4d-
for Evelyn, never helping the starting nines, while TroppoBravo found (As-6c)-8c-7d-5s-Ah-
, for a pair of aces and an unneeded seven-low.
kwob20 held the commanding lead as he and TroppoBravo began their head-to-head battle, with a $1,040,000 to $413,000 edge. Still, it was clear the players would mix it up; within three hands the two had chopped a pair of $400,000 pots. Then, TroppoBravo took down a huge pot that brought the match back to even, when he rivered a nine for a high hand of trip nines and took down the $608,000 pot, as kwob20 mucked.
It was the last pot over $200,000 that TroppoBravo would claim. kwob20 took down a $340,000, high-only pot with kings and fours; forced a river fold from TroppoBravo with bets backing up cards of 2s-4d-7s-Jc; and quickly swept in another $300,000 after slow-playing trip nines (a pair showing) after Troppobravo represented more than his pair of eights, then hit a third eight on the river that still left his hand second-best. A huge scooped pot for $528,000 followed only minutes later. On that one, a diamond five on fourth street gave kwob20 hidden trips, while TroppoBravo made queens and fours on the board and pushed. TroppoBravo missed the boat, but kwob20 didn't, catching a six for a fives-over-sixes full boat that sent TroppoBravo under $175,000 in chips.
The end came in another five hands. TroppoBravo started 2s-7d-4s-3c, and pushed hard despite kwob20's showing ace (A-J), trying to complete the low and freeroll for the scoop. The fifth low card never arrived, as TroppoBravo finished K-Q-K for a pair of kings, and kwob20 had the second ace under, all the time. kwob20's final sequence read A-7-A-J-Q-8-T, and the pair of aces was enough: kwob20, a.k.a. Kyle Bowker, had become the first player ever to win two WCOOP events in the same year.
WCOOP – Event #14 - $530 7-Card Stud Hi/Lo. Final Results.
1st: ($68,267.50): kwob20
2nd ($40,089): TroppoBravo
3rd ($25,302.55): Eve;yn
4th ($18,127.20): nutspp
5th ($14,757.40): MOJOEX1
6th ($11,736.20): doidovarrido
7th: ($8,773.10): PokerJ2006
8th: (5,839.05): fooge