Doyle's Room Offers VIP Status to Abandoned U.S. Online Poker Players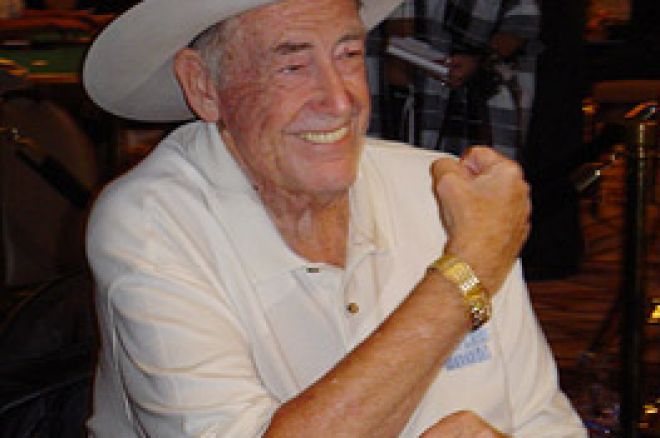 As expected, the departure of several major sites from the U.S.-serving online poker market has opened up the door for other sites, scrambling to capture newly available market share. Contrary to some of the most pessimistic expectations, several rooms are not only continuing to provide sign-up and reload bonuses to U.S. players, but are offering new and interesting promotions to Americans in an attempt to bring those players onboard.
Doyle's Room, flagship brand of the Doyle Brunson Poker Network, is among the sites trying to attract these players as they search for new sites. On Wednesday, Doyle's Room, announced that they will honor the 'VIP' status of players who earned that through similar programs at Party Poker, Paradise, Pacific, or any of the major online rooms no longer serving the U.S. They haven't stopped there, deciding to extend that offer to players wishing to transfer that status from any other major room, U.S.-facing or not.
Doyle's Room emphasizes player loyalty in its marketing efforts, and the room recently issued a personal statement from Doyle Brunson affirming that depositors' monies are guaranteed by none other than Brunson himself. Additional site benefits include weekly bounty tourneys, freerolls, and a player-rewards program including authentic Brunson memorabilia and qualifiers to major, televised poker events.
Players looking to transfer or gain VIP status at Doyle's Room must contact e-mail support at the site to take advantage of the offer; additional information on the offer is available from the same source.
Doyle's Room is among the largest and most recognized sites on the Tribeca Poker Network, which itself is already among the top ten poker networks in overall player volume, and may soon move into the top five; Tribeca will be adding the poker sites from the smaller Tain Poker Network (Expekt, Parbet, more) into its extensive brand lineup, in a merger-type agreement announced last week.