European Poker Tour - Dublin - Day One 'A'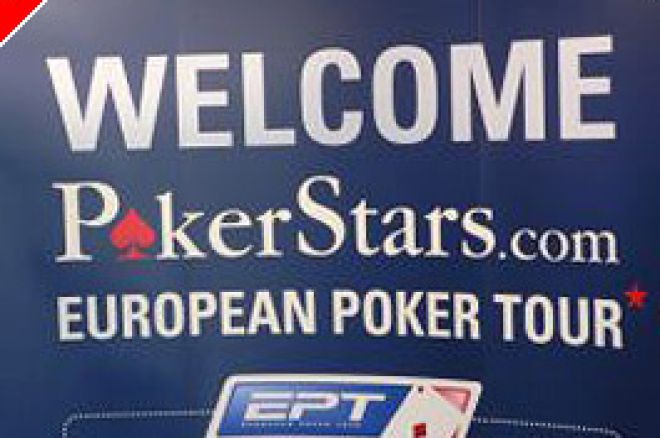 Hoping the luck of the Irish would be on their side, 195 Players were ready for action this afternoon to begin Day One 'A' of the European Poker Tour Stop at Dublin.
The Regency Hotel is the host of the tournament. Refreshingly, the tournament room is huge, which leaves players (and media) plenty of room to circulate. Also refreshing is the fact that there is no smoking allowed in the tournament room. So, unlike a couple EPT stops, you don't leave the tournament room smelling like an ashtray.
Tournament officials had implemented a new system, called 'CardRoom Magic', which manages the entire tournament from beginning to end. The system even has a voice that announces the new blind levels, when breaks are, etc. The system is apparently gaining widespread use throughout Europe, and has the blessing of the British Gaming Control Board.
The majority of the big names are scheduled to play tomorrow on Day 1 B, but some of them decided to come down to the poker room early, just to 'have a look'. Ram Vaswani was playing Chinese Poker with a friend in the corner. Greg Raymer was playing some freerolls - just to give poker players the pleasure to be able to say that they had played at the same table as a former WSOP Champion. Raymer also gave some tips to his tablemates. "I wish I had played a sit & go with him. I would have raised him with 2-7 and then showed it to him" says a young man watching from the corner.
One thing I found interesting as I walked by the cash games, is it seemed if a player got up, and missed a big blind, he or she didn't have to post to get right back into the game – they call it "player joins the table as a guest". There is no time charge here in Ireland, and it seemed to be the rake was running at about 5%, which, depending on where the player was from, was either met with delight, or dismay.
I saw one player at the 2/5 No Limit table with only about €35 left in front of him (the buy in was €500) . I looked at him quizzically, and he said he had just had his Aces cracked the hand before, and was ready to go after he dumped his last few chips. Three hours later, I walked by again, and he had €1,800 in front of him, claming he had never re-bought in. A couple players at the table verified his tale, as he sat with the world's biggest grin on his face – you gotta love No Limit Hold 'em.
The hand of the day involved Marc Goodwin. After calling a players all in for 7,200 chips, the player behind Marc re-raised 13,000 more all in. About 2 minutes of deliberation later, Marc decides to call with 6 6. The original all in player flips over 3h 4h. The re-raiser, however shows Q Q, and Goodwin is in trouble.
But, there are five more cards to come, and if you follow tournaments, you probably know what's coming. The flop is 7 8 10, and Marc picks up a few outs. The turn is another 7, but the river is a 6, and Marc wins a 47,000 chip pot, making him one of the monster stacks at that time. Goodwin managed to wield that stack like a hammer, and finished the day second in chips with 98,200.
Day one 'A' finished with 49 of the original 195 players still standing. The chip leader is Norway's Jonas Helness, with top European players Paul Testud, Roy 'The Boy' Brindley, and Andy Black lurking near the top. Norwegian wunderkind Johnny Lodden finished the day on about 45,000 chips, slightly above average.
Chip Counts are below. Day 1 B will start Friday at 2:00pm local time, and the list of big names playing is a mile long. See you tomorrow.
Chip Count for Day 1 A:
JONAS HELNESS 117,400
MARC GOODWIN 98,200
KEVIN BREESEY 83,900
TESTUD PAUL 77,100
ROY BRINDLEY 71,600
STUART FOX 69,800
ANDY BLACK 69,000
JOAKIM HAMMAR 66,500
DAVID CLAYTON 61,100
JIM KERRIGAN 57,500
NICK SLADE 52,600
AZOD PIROOTI 50,100
JEFF GALZA 50,000
FERGAL MCKEEVER 49,200
EOIN OLIM 47,100
JOHNNY LODDEN 44,900
RAVI U 44,600
TRIGAS MAXIMILIANUS 41,800
CHRISTOPHER STALIE 40,900
KATJA THALER 39,500
ROUE NILOLAISEN 38,000
JIM REID 37,200
MARTIN KENOR 37,000
JIMMY DAHLAVIST 35,700
JONATHAN LEWIS 35,100
JEPPE JUML 32,700
NIKLAS WALLGREN 32,000
MARC F 31,800
ANDREAS VILSON 30,700
NADIYBRIKALJA 29,700
REYAAZ MULLA 29,100
RAY COBURN 25,400
SASMA ROSEWOOD 24,400
BOSCH OLIVER 22,400
ROBERT TAYLOR 22,200
MICHAEL RABENSRIFNER 21,600
DANNY RYAN 19,400
DANIEL WADMAN 19,300
ADRIAN WALSHE 16,500
IAN MCTAVISH 12,800
CHRISTOPHER SANESSON 12,500
ROI ELMALIAH 12,000
MARCUS DEIFGEN 11,100
DAVID ATRABIN 9,800
GEORGE GEARY 8,700
G ANDASON 8,400
HEINING THOMAS 8,200
JOHN STORAKERS 7,600
PASCAL PERRAUCT 5,300