EPT Dublin Final Report – De Wolfe Dominates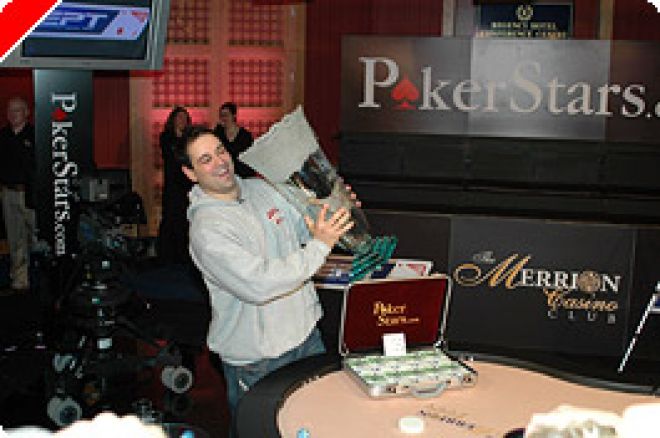 The final table was upon us in Dublin, as the Poker Stars European Poker Tour event was drawing to a close. The only thing still to be determined was the small matter of seeing who would be walking home €554,300 richer.
When play began, the seat assignments and chip counts were:
Seat 1 - Rob Yong (England) 365,000
Seat 2 - William Thorsson (Sweden) 773,500
Seat 3 - George McKeever (Ireland) 194,000
Seat 4 - Patrick Bueno (France) 140,000
Seat 5 - Gavin Simms (Ireland) 442,000
Seat 6 - Nick Slade (England) 269,000
Seat 7 - Roland de Wolfe (England) 1,352,000
Seat 8 - David Tavernier (France) 360,500
The first man to go was Frenchman Patrick Bueno, who has been playing poker for eight years and has several final table appearances in both Europe and the US. Patrick went all-in with Kh-6h against William Thorsson's Ac-Js. A flop of 7d-9c-Qc, and a 5h on the turn left Patrick with some hope, but his time was running out. The river was a not-so-bueno Jack, which sent the construction company owner back to France, with €52,470 to pay for some more 'materials'.
Shortly thereafter, Rob Yong doubled up with Ad-Kc against Roland's Qh-Qd, when a King hit on the turn, making Yong's stack a bit more healthy.
Our next victim was Nick Slade, an acquisitions broker from Preston that has a 3rd place finish under his belt at the Bellagio Cup II. This semi-professional golfer had to quit his favorite sport because of family commitments and then started playing poker more seriously. He made the wrong move at the wrong time when pushed all his chips to the middle of the table with only Jd-9s against the Ah-Qs of Roland. A flop of Qc-Ad-9h left Nick with very few outs, but when he couldn't make any acquisitions for his hand on the turn or the river, he said goodbye to his final table fellows. He then said "I never thought he had anything" referring to DeWolfe "at least 20 times in a row"… Nick finished 7th with €70,210 in his pocket for the ride home.
Rob Yong was out next, when his A-K got clipped by Roland's A-J. Ac-2s-6c on the flop, 7h on the turn and a painful Jack on the river crushed Yong's hopes. Yong, a former blackjack player who says he was barred from casinos because his 'system was too effective' now had €88,690 that he couldn't play blackjack with. Rob has this 6th place finish to go along with his 2nd place finish at the Midlands Meltdown in the U.K.
With five left, the players went on dinner break. George McKeever, the lone Irish survivor, didn't like what they were serving for dessert, however, as fresh back from the dinner break, George raised all in with Kh-Qd against Roland, who called with pocket 8s. The board came 10 high, and George had €112,710 for his 5th place finish to help him with the cab fare home. George also had made an EPT final table in season one, and this finish put him in 6th position of the EPT's 'All Time Money List' with $674,334 in total winnings. George has been playing for a long time, and actually finished 7th in the Main Event of the 1999 WSOP for $125,775.
The next player to go was Gavin Simms. Gavin and Roland got all the money in the middle with Gavin showing a modest Jd-7d. The good news for Gavin is that Roland was only holding pocket sixes, so the race was on. The race was over quickly, as a third six on the flop put Gavin in miracle land, and no miracles came for him. Gavin Simms had €138,580 for his 4th place finish, which is his biggest cash ever. His biggest cash prior to this was his 59th place at the $25,000 World Poker Tour Championship in April, where he won $44,000.
With three left, De Wolfe had pulled away from the other two, and you got a sense it was only a matter of time.
Roland De Wolfe 2,400,000
William Thorson 800,000
David Tavernier 720,000
The next elimination happened fairly quickly, as Roland with 7s-7c put William all in, and William showed Ah-10d. The board brought no help for William, and he left us in third place, picking up €184,780. Thorson is one of the biggest cash game players on the Internet, and finished 13th at this year's WSOP Main Event, picking up a nice $907,128 payout for that finish.
Now down to heads up, and with Roland having a massive chip lead, it didn't take long until the last hand was upon us. With a board showing A 10 5 5, David made a move at the pot with only Q J, Roland called in a flash with 4 5, and when the river brought no help, it was all over. Roland had won a reported €554,300 for first, and David €314,120 for second, though a deal that was apparently struck when they were down to three probably altered those numbers a bit.
De Wolfe had enjoyed several modest cashes before winning the WPT Paris last year, and picking up $599,600. Since that win, he has been on fire. He came 3rd at the WPT Five-Star World Poker Classic in Las Vegas for another $1,025,205 late last year. De Wolfe, a former journalist, celebrated by buying the press room three bottles of champagne, declaring that he used to be a 'poor reporter' and allowing the media to share in his win a tiny bit.
The EPT take a bit of a break now, as the next stage of the tour is set for 17 – 20 January in Copenhagen, Denmark. See you soon.