Online Poker and Live Poker Meet: The 'ePoker Room' is Here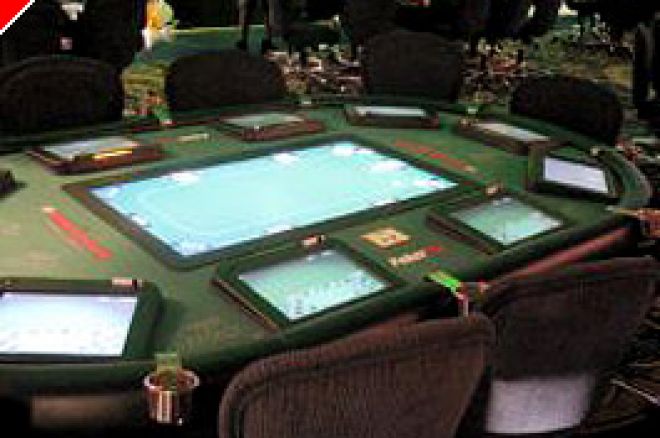 Ever have trouble getting a read on a player while playing poker online? Ever wish you could watch their hands as they put the chips in the pot, or look at them while they sweat your decision? By the same token, have you ever been bored out of your mind at the poker table, waiting what seems like forever for Madge to make the earth shattering decision of whether to call that last $8 bet on the river? There may be a place that gives you a happy medium between the two.
Last week, Hollywood Park Casino in Los Angeles opened its 'ePoker Room'. I went to the opening, and having heard for months about the Poker Pro electronic poker table, but never having played on one, I was interested in what the experience would be like.
The electronic tables require no dealers, as the players select all their actions via the touch screen in front of them. The system even takes away from a floorperson's job, as there is a kiosk where you can put yourself on a waiting list for a table. All of this is handled via an ID card, which has a magnetic stripe similar to a credit card. The card holds all your personal data, and you can keep a cash balance on it, so when you sit down at the table, your "chips" are immediately in front of you.
The play of the tables was smooth. Actions are clearly displayed, and its very simple to use. Although the tables cannot be linked at this time, there is supposedly a software update coming in early 2007 that will allow the tables to be linked for multi-table tournament play.
At the moment, the main use of the tables will be for small buy in sit-n-goes, low limit hold em, and small buy in no limit hold em. Also, once the multi-table software us up and running, these would seem like a good solution for super satellites to smaller buy in tournaments. The tables would be perfect for a group of casual poker players that just want to have a good time, and don't have much at stake on the tables.
Do I see a use for these in larger games, or big buy in tournaments? Probably not. But if you have a group of people that just want to have a good time, and aren't going to take it too seriously, these electronic tables just might fit the bill. The next time Madge is laboring over that $8 bet, it might be the table telling her to act, instead of you wishing she would.
Ed Note: No need to go to the ePoker Room when you can play at Bodog. Plus, we understand that Madge doesn't play there.