Online Poker Weekend: 'Fenster,' 'MSUsFinest' Notch Comeback Victories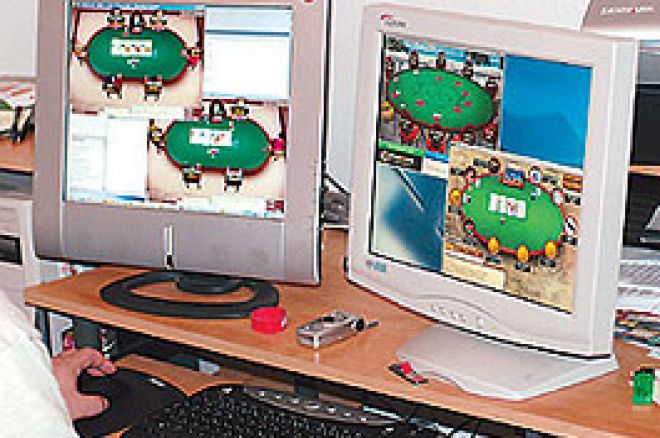 With the WCOOP now in the books, it was a business-as-usual Sunday evening. Each of the four largest online Sunday tournaments drew acceptable attendance, with the largest of the four being the Poker Stars Sunday Million, which, as usual went well over its guarantee. The week's final tables featured aggressive play, river miracles, failed bluffs, and more than the occasional questionable call. But that's poker.
Poker Stars Sunday Million
5,501 players signed up for the Poker Stars Sunday Million, generating a total prize pool of $1,100,200. 825 places paid, the top nine scheduled for five-figure paydays or more. And in an oddity, the official final table held only eight players, as both 'maverrick19' and 'Schecky' --- who was none other than PokerNews.com's own Editor-in-Chief, John Caldwell --- were eliminated on the same hand during hand-for-hand action.
Schecky's ouster was a tough one, when he got all his chips in ahead with A-K vs. the A-T of 'JRGBone,' then watched as two more tens arrived on the flop. That pot was worth over $2 million and moved JRGBone, with $2.66 million, into second place as the last table started play. 'Fenster,' at $3.05 million, held the lead, 'zach5500' had just under $2.5 million, and 'eisert3' was just under $2 million. The other four players --- '98club,' 'zaratusa,' 'LeonPK' and 'Mr Neverquit' --- were between $650,000 and $1.35 million each.
eisert3 claimed first blood, knocking out zaratusa on a hand when the chips went in pre-flop. zaratusa tried a steal with A-3, but eisert3 waited behind with pocket aces, and a 7-J-K-J-8 board brought no relief. Nearly 20 hands later, the field shortened again; this time eisert3 knocked out the by-then desperately short LeonPK. With blinds of $50,000/$100,000, eisert3 made a standard opening raise with sixes, LeonPK called all-in with K-J, and the board arrived 3-9-2-T-8. Six players remained, but that number would be trimmed in half in a rush of action.
After a hand in which zach5500 surged to the lead after capturing a huge $3 million pot contested with eisert3, JRGBone was the next one sent to the rail. Mr. Neverquit, who had managed a double-through some hands prior, made a push for $1.9 million behind A-J, and with $1.4 million and pocket nines, JRGBone made the call. An ace flopped, no other help remained, and the field was five. Soon after, it was four, as zach5500 eliminated 98club when his 5-5 held up against 98club's suited A-3. It took just one more hand to pare the field to three, when Mr. Neverquit made an opening raise to $400,000, eisert3 re-raised all-in to $1.05 million, and Fenster pushed over the top for $3.96 million. Mr Neverquit folded, and Fenster showed A-K, ahead of eisert3's suited K-Q. Both players made two pairs when the board came 2-K-J-J-7, but Fenster's ace kicker played.
zach5500 won a huge pot worth nearly $8 million when his Q-J made a straight against Fenster's A-K, but Fenster returned the double-through favor against zach5500 ten hands later, his K-9 holding up against zach5500's K-6 when both of the remaining kings arrived on the flop. Mr Neverquit remained the shortest stack and put up a long fight, but finally fell when his all-in eights trailed --- and never caught --- zach5500's pocket nines.
The final hand began with Fenster holding more than two thirds of the chips in play. Fenster limped from the small blind and zach5500 checked, and the flop came 8-K-T with two spades. zach5500 bet $400,000, Fenster raised to $800,000, and zach5500 made the reraise to $1.2 million. Fenster paused, then pushed all-in for $8.1 million; zach5500 made his own deliberations, then made the call. Fenster showed K-5 for top pair, while zach5500 was on the flush draw, with J-4 of spades, and when the heart and club deuces completed the board, Fenster had wrapped up the victory.
The final table results, with screen names and prize payouts:
1st ($162,279.50): Fenster
2nd ($88,126.02): zach5500
3rd ($55,010): Mr Neverquit
4th ($42,907.80): eisert3
5th ($34,106.20): 98club
6th ($27,505): JRGBone
7th ($20,903.80): LeonPK
8th ($15,402.80): zaratusa
*9th ($11,002): Schecky
* not technically at final table
Party Poker Sunday Million Guaranteed
Nearly $100,000 in free money was up for grabs in the Party Poker's weekly Sunday Million Guaranteed, as 4,591 players were on hand for the action. That meant almost $920,000 in paid entries, but since the guarantee kicked in, a cool million was in play, to be divvied up by the 600 players who made the money.
'Sody21' and 'ringle' led the way as a well-balanced final table began; both players had cleared $4 million in chips. The first knockout came not long after, when 'dickten' saw his Q-Q hold up over the K-J of 'Teksun,' K-J, and when 'Skrab89' bowed out just after, only eight players were left. 'MegaB1te' and 'tayjshah' hit the rail a few hands later, but despite the knockouts, it was still anyone's game --- ringle, with $5.7 million, was still only four times the shortest stack, 'reelsmoker1.' ringle would eliminate reelsmoker1 when his Q-6 caught a big flop against reelsmoker1's pocket sevens; two queens hit the board on the flop and no seven would save reelsmoker1's day.
The five remaining players then took an extended break to try to hammer out a deal. After a bit of sweetening for dickten, who entered the negotiations as the shortest stack, the five remaining players each agreed to a nice payday, assuring themselves between $65,000 and $95,000 in winnings. The final table's results:
*1st ($97,349.74): ringle
*2nd ($81,897.82): live4music1
*3rd ($73,130.73): acerattata
*4th ($72,554,55): Sody21
*5th ($67,067.16): dickten
6th ($28,000): reelsmoker1
7th ($21,500): tayjshah
8th ($16,000): MegaB1te
9th ($11,000): Skrab89
10th ($6,200): Teksun
Full Tilt $250,000 Guarantee
Full Tilt's largest weekly event has seen an increase in guarantee, from $200,000 to $250,000, not counting an upcoming special event scheduled for Sunday, Oct. 15th. Despite the increased guarantee, Full Tilt had no problem surpassing the needed number of entries --- 1,336 players made for a $267,000 prize pool, with 126 making the money.
'betnothing12' led this one as final-table play began, having amassed $815,000 in chips; several players hovered between $400,000 and $600,000. 'kunkku' picked up the first knockout, eliminating 'wrestle1234,' and the short-stacked 'Blu_Uni_Bomber' exited shortly thereafter, backing an A-7 that never caught up to the A-Q of 'GBecks.' After a run of hands that saw kunkku surge to the lead, 'betnothing12' lived up to that when his re-raise steal attempt from the big blind went nowhere after a Q-6-K flop; betnothing12 had a worthless 8-4, but GBecks showed K-8 and had flopped top pair.
kunkku, who had been reeled in by GBecks and 'tajikrose,' suffered an ugly beat to exit in fifth. kunkku started the hand with A-K to tajikrose's A-9, and all the chips went in after an A-3-3 flop. An ace on the turn made both players a full house and a chop seemed at hand, but when a nine dropped on the river, tajikrose raked in a $1.14 million pot, taking a huge lead, and kunkku was out in sixth. 'TheWacoKidd' hit the rail in fifth, after 'rimmer27' called an unraised pot from the small blind with A-9, then called again when TheWacoKidd pushed with Q-10. The board came 5-A-6-J-8, and four players were left, with rimmer27 the new leader.
tajikrose then pulled off another river miracle, catching a three-out ace to send the pocket sevens of 'Thebody7' to the rail in fourth; tajikrose had pushed all-in with A-7 pre-flop, and Thebody7 made the call. And just two hands later, tajikrose caught a third river miracle, when a gutshot four completed his eight-high straight, rimmer27 pushed all but a handful of his $870,000 chips to the center with the board showing 6-3-5-3-4, and with his 8-7, tajikrose made the easy call, raked the pot over rimmer27's mucked cards, and entered heads-up action with a commanding edge over GBecks.
The win came a dozen hands later. This time both players attacked pre-flop, and with the chips already in, both players showed two hearts; tajikrose had A-6 and GBecks Q-7. An ace on the flop all but ended it, and the final board read 2-A-5-5-10, completing tajikrose's surge to the win.
1st ($58,784): tajikrose
2nd ($37,408): GBecks
3rd ($27,388): rimmer27
4th ($21,710): Thebody7
5th ($16,700): TheWacoKidd
6th ($12,024): kunkku
7th ($7,748.80): betnothing12
8th ($5,611.20): Blu_Uni_Bomber
9th ($4,114.88): wrestle1234
Ultimate Bet $200,000 Guaranteed
Attendance was down slightly at last night's $200,000 Guarantee at Ultimate Bet, producing a mild overlay for the $200+15 buy-in event. 876 runners began this one and the top 90 made the money. 'MSUsFinest' held a narrow lead as final-table action began, wiith $464,000, a bit more than 'papaGEORGIOOO' at $353,000. The other eight players were at $225,000 or less, and two of them clashed on the table's second hand, when 'brain_cloud' found pocket kings, but 'MrSmokey1' had aces. The board missed both players, and MrSmokey1 jumped into second place.
On the very next hand, the pocket aces held up again, but this time MSUsFinest owned them, and papaGEORGIOOO was caught pushing all-in behind A-T. The board came 9-Q-4-4-2, papaGEORGIOO crashed out in ninth, and MSUsFinest jumped into a commanding lead, at well over $800,000 in chips.
The next few dozen hands saw the other short stacks collide, with 'geoff1299' and 'PrtyPfcp' hitting the rail in seventh and eighth, respectively. 'adanthar' went out in sixth, losing a race with 8-8 vs. MSUsFinest's K-Q when a king flopped, and 'Ellen00001' knocked out 'Tiahuanico' in fifth, after a fortunate queen allowed Ellen00001's A-Q to overtake Tiahunanico's A-K.
An extended four-way battle esnued. One-time shortest stack 'Whitesmil' pulled off the highlight of the final table, doubling through behind a royal flush to jump back into the hunt. Finally, after an amazing 89 hands of four-way play, Ellen00001 eliminated MrSmokey1 when ellen00001 flopped a set of sixes. Whitesmil exited in third, soon after, when his K-T was badly dominated by Ellen00001's K-J, and all the money went in after a K-8-J flop. That pot was worth over $1 million, and gave Ellen00001 a 3:1 margin entering heads-up play against MSUsFinest. MSUsFinest dodged elimination when his A-K trailed Ellen00001's J-5 after a A-J-5 flop, but when a king dropped on the turn, the match went on. And MSUsFinest would wrap up the comeback on a hand where all the money went in pre-flop, with MSUsFinest riding pocket sixes, and Ellen00001 K-Q. The flop came J-Q-6, giving MSUsFinest the set, a jack on the turn paired the board and offered Ellen00001 extra outs. The river, though, was an ace, missing both players, and MSUsFinest claimed the victory.
Final table standings:
1st ($45,000): MSUsFinest
2nd ($27,000): Ellen00001
3rd ($18,500): Whitesmil
4th ($13,000): MrSmokey1
5th ($11,000): Tiahuanico
6th ($9,000): adanthar1
7th ($7,000): geoff1299
8th ($5,000): PrtyPfcp
9th ($3,500): papaGEORGIOOO
10th ($2,000): brain_cloud