Online Poker Weekend: 'Håcken' Wins Largest-Ever Poker Stars Sunday Million
Haley Hintze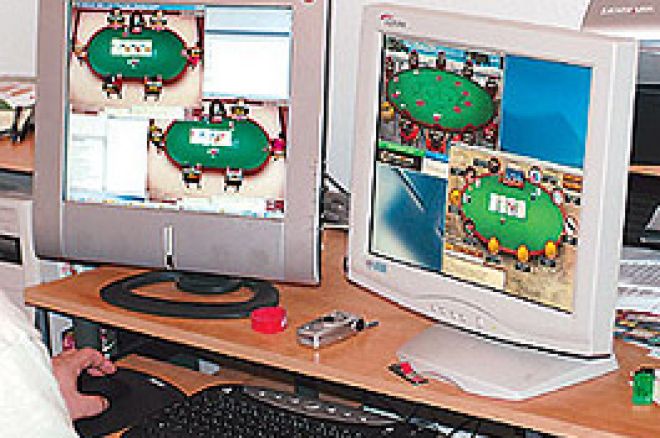 If one wants to know about the effects of the UIGEA legislation on serious poker players, one need look no further than last night's turnouts at the major online events. Poker Stars and Full Tilt both had huge turnouts, with Full Tilt's event also being October's $500,000 Guarantee tourney, offering twice the standard weekly prize pool. Ultimate Bet's regular $200,000 Sunday offering fell just short of projection, meaning a slight overlay was in place, but the attendance there was solid as well.
Poker Stars Sunday Million
6,157 players were on hand for the Stars Sunday Million, building a huge $1,231,400 prize pool, the largest weekly-event prize pool in Poker Stars history. 900 places paid, the top nine received five-figure prizes, and the scheduled first-place prize worked out to more than $176,000. 'Håcken' led a well-ordered nine to the final table with slightly more than $10,000,000 in chips, but it was 'rockdown' who claimed the first knockout, eliminating the short-stacked 'nobbyhayes' when his 4-4 easily won a race against nobbyhayes's A-Q, as a third four flopped and no other helpers appeared. Leader Håcken claimed the next knockout following a long period of eight-way play, moving well over $20 million when a turn heart filled his flush at the same time it gave 'herschelw' top pair. herschelw bet out on the turn, Håcken re-raised, and herschelw called off the rest of his chips.
Håcken claimed another victim on the next hand. With blinds of $200,000/$400,000, 'jere1997' tried a steal with Q-8, and Håcken, hoding K-Q, made the call. Both remaining queens flopped, no other help arrived, and the field was six as Håcken moved over $28 million with the pot, though 'UGOTPZD' doubled through Håcken one hand later, part of a surge that pushed UGOGOZD into second. The two shortest remaining stacks butted heads next, with 'dazzy2004' pushing an open-ended straight draw but running into the pocket aces of 'WSODice.' The draw didn't fill, the field was down to five, and then it became four on the next hand --- Håcken's 9-9 dominated the 5-5 of 'cookiedough1,' making a set on the flop and a full house on the turn as the board arrived 6-9-A-A-Q.
While Håcken at one point lost the lead to a second UGOTPZD surge, he reassumed control of the middle stages, and finally sent WSODice out in fourth. Håcken made the call with K-4 after WSODice pushed the last of his chips, backing J-9 suited, and a board of 6-2-5-Q-A improved neither player. Håcken continued his run by eliminating UGOTPZD and taking down a huge $22 million pot; on that hand, UGOTPZD made an all-in semi-bluff push, holding A-4 on a 5-2-8 flop, but turned out to be behind when Håcken called with 10-8 for top pair, and a ten on the turn and king on the river pushed Håcken over $49 million, and a 4:1 margin over rockdown entering heads-up play.
rockdown managed a double-through almost immediately, and then the two parried for nearly twenty hands before a collision of huge pocket cards decided it. Håcken raised with A-K suited, rockdown re-raised with pocket kings, Håcken pushed all-in and rockdown made the call. The three-out ace arrived, but not until the river, building the suspense. The final board read 4-7-9-10-A, making Håcken the champion of this largest-ever weekly Stars event.
Final standings:
1st ($176,090.20): Håcken
2nd ($87,798.82): rockdown
3rd ($55,289.86): UGOTPZD
4th ($44,084.12): WSODice
5th ($35,341.18): cookiedough1
6th ($28,568.48): jere1997
7th ($22,165.20): dazzy2004
8th ($16,008.20): herschelw
9th ($10,590.04): nobbyhayes
Full Tilt $500,000 Guarantee
The monthly $500,000 Guarantee event at Full Tilt saw a huge turnout, as 1,127 players forked over the $500+35 entry fee for a chance at a first prize in excess of $125,000. The cash ran 108 places deep, and the prize pool climbed to $563,500, one of the largest in Full Tilt history The great paydays, combined with a dominant chipleader in 'JungleKing' and the presence of several short stacks, led to a long stretch of tight bubble play. When the bubble did burst, JungleKing had amassed about $1.4 million in chips, a full million clear of his nearest competitors.
One short stack that did survive through to the final table was 'sportsrecord,' but after doubling through once from only $35,000 with blinds of $5,000/$10,000, sportsrecord exited when his Q-J fell to JungleKing's A-4, after the board arrived J-A-6-7-3. 'joonklee' was the next short stack sent to the rail, running out of luck when an under-the-gun steal attempt with A-8 ran into the A-Q of 'copi' in the big blind, and neither player improved. After JungleKing sent 'joc' out in seventh, he pulled a two-outer to eliminate 'DoggerAZ' in sixth, trailing with 10-10 to DoggerAZ's J-J but catching the needed ten on the flop.
While former short stack copi went on an extended run that would take him all the way to the lead, JungleKing managed the next knockout as well. On that hand, the A-9 of 'blackmetalhead' stayed unimproved against JungleKing's pocket nines, with a board that showed 3-2-2-4-8. 'S|CK_1,' the last of the original short stacks, finally committed a remaining $113,000 to a meager Q-7 from the big blind, after JungleKing had tried to purchase the pot from the small blind, pushing all-in with J-10. JungleKing paired his ten on the flop, and the final board showd 3-A-T-8-8 --- three players were left. And heads-up action would begin after copi sent 'PallasAthene to the rail in third. On that hand, the chips went in after both players flopped top pair; copi was ahead with K-T, PallasAthene held Y-4, and the final board offered 7-3-T-A-2. copi entered heads-up action with a 2:1 margin over JungleKing, finishing the run eight hands later, but technical issues preclude the hand's details from being reported here. Nonetheless, copi claimed almost $127,000 for the come-from-behind victory.
Final standings:
1st ($126,787.50): copi
2nd ($80,298.75): JungleKing
3rd ($59,449.25): PallasAthene
4th ($46,488,75): S|CK_1
5th ($35,218.75): blackmetalhead
6th ($25,357.50): DoggerAZ
7th ($16,905): joc
8th ($12,678.75): joonklee
9th ($9,016): sportsrecord
Ultimate Bet $200,000 Guaranteed
A nice turnout marked last night's $200,000 Guarantee at Ultimate Bet. 896 players began action, with the top 90 making the money and $45,000 guaranteed to the tourney's winner. The final table assembled after 'cathemaral' sent the short-stacked 'Ergotron' out on the bubble, after rivering quad threes. Seven of the last ten players were jammed together between $320,000 and $230,000, led by 'Dawg Balls,' but no clear favorite translated into tight play during the early part of the final table's action.
With blinds of $5,000/$10,000, the first knockout occurred when one of the shortest stacks, 'IRAWENDY,' opened for $45,000, was raised to $80,000 by 'Nauti1,' and made the call. The flop came 8-3-J, IRAWENDY pushed for $116,000, and Nauti1 called; IRAWENDY offered A-Q, but Nauti1 was on pocket queens, and with a nine on the turn and a jack on the river, notched the knockout. Nauti1 claimed the next knockout as well, eliminating 'timkrank' after timkrank's nut flush fell to Nauti1's rivered full house, nines over fives. The $550,000 pot moved Nauti1 over $850,000, and well ahead of the field.
Nauti1's run continued when his pocket sevens bested the A-T of 'Aceaholic,' with most of the chips going in pre-flop. The board arrived 8-2-J-9-4, and with this pot, Nauti surged over $1.15 million and into commanding lead. And not long after, a knockout not involving Nauti1 occurred: Cathemaral made a button raise with Q-T, and the now short-stacked 'winemo' pushed all in from the big blind with 9-7, and Cathemeral made the call. The board's 4-6-2-4-A offerings helped neither player, leaving six in the running. And only a couple of hands later, Nauti's fortunate run continued; 'Destructo6' opened from early position for $40,000 behind pocket nines, and Nauti1 re-raised from the small blind, to $139,000, with a suited A-3. Destructo6 pushed all-in for $260,000, and was well ahead when Nauti1 called, but the A-8-A-4-J board gave Nauti1 the winning trips.
The next knockout again featured Nauti1 coming from behind. 'Jagtalon,' once among the leaders but at this point the shortest stack, pushed all-in for $149,000 from the cutoff with A-9, and Nauti1 made the call from the small blind, with K-J. A jack flopped, no other helpers arrived, and four players remained. Just after a table break, it quickly became three, when Cathemaral and 'Farkouh' got all the chips in pre-flop. Farkouh had the better of it, with A-K to Cathemaral's A-J, and had Cathemaral slightly covered as well. The board arrived 9-3-2-A-4, giving both players a pair but sending Cathemaral out in fourth.
Nauti extended his final-table knockout count to six, when his jacks held up over the A-K of Dawg Balls on a board of 7-Q-9-4-Q, and as Nauti1 entered head-up action against Farkouh with about a 3:1 margin. Farkouh doubled through to take a narrow lead when his top pair held up in a big hand against Nauti1's whiffed flush draw, and after Nauti1 had retaken the lead, did so again behind a fives-over-eights full house.
Farkouh completed the comeback several hands later. After Nauti1 tried a check-raise play after a 5-Q-6 flop, holding middle pair and a flush draw --- Farkouh called --- and Nauti1 made another play at the pot after a turn five paired the board. Farkouh made the all-in re-raise holding top pair (Q-8), and the river three missed all of Nauti1's outs, giving Farkouh the win.
Final standings:
1st ($45,000): Farkouh
2nd ($27,000): Nauti1
3rd ($18,500): Dawg Balls
4th ($13,000): Cathemaral
5th ($11,000): Jagtalon
6th ($9,000): Destructo6
7th ($7,000): winemo
8th ($5,000): Aceaholic
9th ($3,500): timkrank
10th ($2,000): IRAWENDY