Online Poker Weekend: 'Osten87' Triumphs in Record-Setting Stars Sunday Million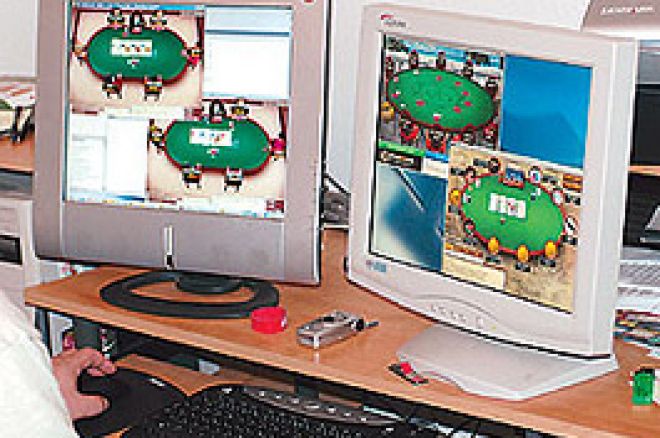 Last night's major online events saw Poker Stars shatter its own week-old record prize pool for a weekly-held event, and Sweden's 'osten87' came back from the shortest share of a three-way deal for the win. At Full Tilt, 'Jennez' crushed the final table in a start-to-finish romp in an event that also flew well past the stated guarantee. Ultimate Bet didn't quite make its guarantee, but had another strong turnout, regardless, and chip-leader 'gobboboy' survived an ebb-and-flow final table to take down the win.
Poker Stars Sunday Million
6,413 players signed on for last night's Sunday Million at Poker Stars, generating a $1,282,600 prize pool. 900 places paid, the top nine received five-figure prizes, and the first-place prize was scheduled for $183,411.80, though a three-way chop and a major post-deal comeback jumbled the payouts for the top three players.
'win532' had a sizeable lead when the final table assembled, holding over $15.6 million chips, but the other eight survivors were each between $4.3 and $8.2 million, allowing plenty of room for play. 'Halkeye' claimed the first knockout, when he and 'mikem1181' bet about half of their remaining $4.3 million stacks before the flop, with the rest going in after that flop arrived 6-7-5. Halkeye had mikem1181 just barely covered, was ahead with A-6 to mikem1181's K-T, and when a deuce and four completed the board, mikem1181 was the ninth-place finisher.
On the next hand, 'hartwith' (young British pro Julian Adamson), doubled through win532 when both players made two pair on the turn, with Adamson's A-6 staying ahead of win532's A-5. Adamson knocked out the former chip leader ten hands later, again in a hand where a dominating hand triumphed --- both players flopped top pair (jacks), but Adamson had an ace kicker, win532 a king. Seventh place was decided soon after, when the jacks held by 'Jmaxime' ran into the larger stack of 'osten87,' who held aces.
After a span of six-way play, the players discussed a deal, but Adamson, who had slid back to become the shortest stack, demanded more than the other players would agree to. Adamson's hard stance cost him about $15,000, when he exited in sixth, his suited A-9 falling to Halkeye's pocket sevens, on a 4-4-3-5-6 board that gave Halkeye and unneeded straight.
Deal talks continued but went nowhere, as 'jmikekennedy' exited in fifth, with 'lexx0170' exiting a while later in fourth. Halkeye claimed these knockouts as well, besting jmikekennedy with 8-7 (to jmikekennedy's Q-T), on a board of 5-7-6-3-A, then triumphing with an A-6 hand that overtook lexx0170's pocket kings when an ace flopped. Halkeye's knockouts pushed him over $33 million in chips, with 'lteopepe88' --- who won several big non-knockout pots --- not far back with $23 million, and osten87 mired in third with $8 million. The three agreed to a deal that gave Halkeye the largest share at over $124,000, and left $30,000 to play for.
At that point osten87 took down several decent pots to climb to $16 million, then claimed a $13 million pot from lteopepe88 to climb into second place, and finally won a huge all-in pot from Halkeye in the tourney's key hand. The majority of the pot's $44 million went in after a flop of 7-T-4, with two spades, and osten87, with A-K, overtook Halkeye's leading Q-7 when an ace dropped on the turn.
It took only six more hands for osten87 to knock out both of the other players. First, osten87 rivered a spade flush to crush lteopepe88's top pair hand, and finally, Halkeye fell when both players flopped top pair (queens), and osten87's king kicker stayed ahead of Halkeye's eight. Comeback complete, osten87 claimed just over $100,000 with his post-deal win.
Final standings:
*1st ($103,318): osten87
*2nd ($124,397): Halkeye
*3rd ($104,735): lteopepe88
4th ($45,917.08): lexx0170
5th ($36,810.62): jmikekennedy
6th ($29,756.32): hartwith
7th ($23,086.80): Jmaxime
8th ($16,673.80): win532
9th ($11,030.36): mikem1181
* Final payouts based on three-way deal for remaining prize money
Full Tilt $250,000 Guarantee
The weekly $250,000 Guarantee event at Full Tilt Poker brought 1,726 players to the virtual tables, with a total prize pool of $345,200 and 153 players making the cash. 'Jennez' had a huge lead as final-table play began, sitting on a stack of over $1.8 million that was three times the second-place total of 'Tourbillon.'
'oldtimerxc' was first one out when his pocket tens fell to the A-Q of 'dinosaurjr,' when a queen flopped and no other help arrived. A double knockout occurred next, when, with blinds of $12,000/$24,000, Jennez opened for $74,000 from under the gun with Q-J of clubs, 'baller11782' pushed over the top for $223,000, with A-Q, and Tourbillon, who had dropped a sizeable portion of his chips a few hands earlier, found pocket kings and pushed his last $252,000 in as well. Jennez made the call and flopped a flush draw when the flop came 8c-Ac-4h, and a club four on the turn made Jennez's flush. A heart five on the river missed Tourbillon's redraws, and Tourbillon was out in seventh, with baller11782 claiming eighth.
Jennez's hot streak continued, when he found a three-out nine of the river to knock 'JOSEYY' to the rail in sixth. JOSEYY opened for $90,000 with A-K, Jennez reraised with A-9 of hearts, and JOSEYY made the all-in call, only to see the board arrive 4-T-6-A-9. Jennez stayed aggressive, and though he doubled up 'Evode' a few hands later after getting involved with 10-8 on a 9-9-A board, he knocked out Evode a few hands later. On that hand, Jennez tried to steal with T-5, and Evode smooth-called behind with pocket tens, only to be in big trouble when the flop arrived 5-2-5. Jennez checked, Evode made the push, and Jennez made the easy call, with the case five dropping on the turn, giving Jennez winning quads.
'MisterNiceGuy,' who had managed a five-out river survival of his own earlier at the table, lasted until fourth, when he pushed all-in on a flush draw that never made it home. On that hand, he saw a cheap flop with Q-2 of spades, as did 'cardno,' who held J-T. The last of MisterNiceGuy's chips went in after the T-4-7, two-spade flop, but a jack on the turn and a deuce on the river, both hearts, meant three players remained. Four hands later, that became two, as Jennez again worked his magic. With blinds at $20,000/$40,000, dinosaurjr pushed a last $226,000 in, backing K-Q of hearts, and Jennez called with an unsuited 8-7. A seven flopped, the final board read 4-7-9-3-4, and Jennez entered heads-up play with a 2:1 margin over cardno.
Given the earlier action, it's hard to imagine that this heads-up battle would last nearly 90 hands, but that's what occurred. cardno won a few of the earliest hands to edge closer to Jennez, but never reeled in Jennez, and as the hands passed by, Jennez's hyper-aggressive play whittled at cardno's stack. After the hour-long battle, the final hand saw each player throw repeated tease bets at the other, and after the turn the board showed 8-3-9-6 with three clubs. Finally, Jennez raised enough to induce cardno's all-in call, with cardno holding 9-8 for top two pair. However, Jennez had the A-8 of clubs for the nut flush, leaving cardno dead to three outs on the river. The spade three that arrived wasn't one of them, and Jennez claimed the wire-to-wire win.
Final standings:
1st ($74,218): Jennez
2nd ($48,328): cardno
3rd ($34,951.50): dinosaurjr
4th ($28,047.50): MisterNiceGuy
5th ($21,160.76): Evode
6th ($15,534): JOSEYY
7th ($10,010.80): Tourbillon
8th ($7,249.20): baller11782
9th ($5,133.13): oldtimerxc
Ultimate Bet $200,000 Guaranteed
863 players were on hand at Ultimate Bet's $200,000 Guarantee. The top 90 cashed, and when the final table formed, 'gobboboy' had the inside track to the $45,000 first prize, having amassed over $473,000 in chips.
A three-way collision of short stacks brought the first knockout, when the pocket aces of 'jclark9001' held up over 'going490,' who showed A-K, and 'Davorsucker,' who was forced in with a suited 5-2. The board arrived K-9-2-4-4, and Davorsucker departed in tenth. Ninth place, a few hands later, was decided in a battle between two larger stacks, when 'WarrickDunn28' moved all-in with a big-draw on the turn, but was called by 'MIRACLEGRO,' who turned a set of nines and claimed a $600,000 pot when a river king missed WarrickDunn28's draws. The hand put MIRACLEGRO into the lead, but gobboboy reclaimed the top spot after knocking out 'basebaldy,' when his pocket tens stayed ahead of basebaldy's A-T on 2-9-3-Q-5 board.
On the next hand, Kyle 'kwob20' Bowker knocked out 'Going490' on hand where both players' shortish stacks went in after an A-9-6 flop; Bowker had A-9 for two pair, and stayed ahead of Going490's A-2 when a queen and seven completed the board. And it became three knockouts in three hands when gobboboy knocked out the smallest remaining stack, 'Rojotito,' when Rojotito moved all-in with K-Q, gobboboy called with A-K, and the board offered 4-J-K-6-9, given both players top pair but gobboboy the better kicker.
The next player out was Bowker, who, after his big knockout, couldn't connect with another big hand. Down to $100,000, he was forced to commit to a suited A-5, but ran into 'Phwap,' who called with pocket sixes. The board came 2-4-Q-9-Q, and Bowker was out in sixth. After Phwap doubled through gobboboy a few hands later to move into solid contention, gobboboy regained the lost chips by sending 'jclark9001' to the rail in fourth. The chips went in pre-flop, and gobboboy's A-Q would stay ahead of jclark9001's suited A-T when the board came 2-J-K-7-6.
The three remaining players, gobboboy, Phwap and MIRACLEGRO, each had deep stacks, and a lengthy period of three-way play ensued. Phwap finally sent MIRACLEGRO into short-stack territory on a hand where Phwap turned the nut flush. However, MIRACLEGRO would double through not once, but twice, but finally ran out of luck when his A-4 ran into gobboboy's pocket eights. The blinds were $15,000/$30,000, the chips went in pre-flop, and the board showed J-6-7-4-T, sending MIRACLEGRO out in third.
Phwap and gobboboy began head-to-head play nearly tied in chips, and while Phwap won the first big hand, putting gobboboy on the ropes, gobboboy made a successful playback, doubling through twice and finally claiming the win. The last hand saw Phwap raise to $128,000, gobboboy pushing all-in for $1.53 million, and Phwap making the call with his last $500,000. Phwap seemed in great shape with pocket jacks, well ahead of gobboboy's A-6; the board, however, brought not one ace, but two. At the end, it showed 9-7-A-A-5, and gobboboy's trip aces translated to victory, worth $45,000.
Final standings:
1st ($45,000): gobboboy
2nd ($27,000): Phwap
3rd ($18,500): MIRACLEGRO
4th ($13,000): jclark9001
5th ($11,000): kwob20
6th ($9,000): Rojotito
7th ($7,000): Going490
8th ($5,000): basebaldy
9th ($3,500): WarrickDunn28
10th ($2,000): Davorsucker