Online Poker Weekend: Another Record-Setting Purse at Poker Stars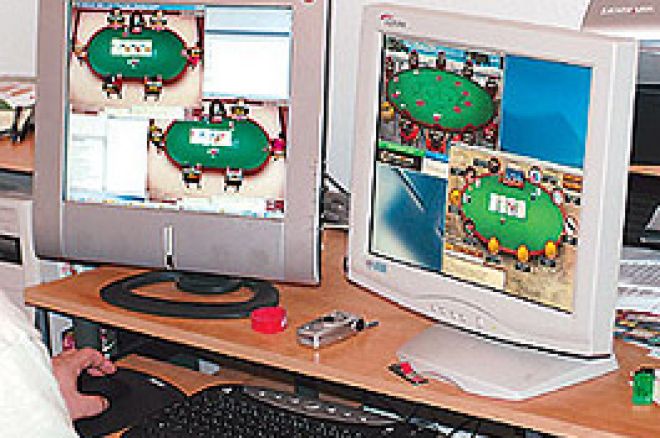 Three-for-three in the Poker Stars record-setting column --- that's the count on how many consecutive weeks Poker Stars has shattered its own prize-pool mark for an event held on a weekly basis. Last night's edition of the Stars Sunday Million ($500 buy in) saw 2,785 entrants join the fun, translating to an incredible $1,392,500 pool, with a scheduled first-place payout of $249,396.75 falling only hundreds shy of the quarter-million mark.
Poker Stars Sunday Million
390 places paid in the Poker Stars Sunday Million, but the big bucks were at the final table, one dominated by Euro players. 'whaassuuppp' led the way to the final nine, his $5.5 million in chips good for a narrow edge over 'dizney1984,' at $5.3 million. The shortest stack was 'AndersFriden,' with under $600,000, and with blinds already at $40,000/$80,000, he ended up the first one out as well. On that hand, whaassuuppp raised from early position with K-Q, and AndersFriden, from the small blind, reraised all-in. whaassuuppp made the call, and was rewarded when the board brought both a king and queen. A huge early pot put 'supernova9' out in eighth, when his A-high straight fell to 'dizney1984's river-made flush. 'tomba26' picked up the next big win, sending 'Bruski9' to the rail on a hand where the chip-starved Bruski9 pushed with a suited K-4, but ran into tomba26's A-K and found no help.
tomba26 made it back-to-back knockouts when he and 'html' got all the chips into the middle after an 8d-9c-3d flop; html had 7d-Jd for the flush and gutshot-straight draws, but tomba26 had pocket aces, and dodged html's plentiful outs. Next out was whaassuuppp, who dropped several smaller pots as dizney1984 and tomba26 surged. dizney1984 claimed the knockout after calling a pre-flop push with pocket sevens, which stayed ahead throughout against whaassuuppp's J-9. dizney1984 gained a healthy lead, but that changed after he dropped a medium-sized pot and 'beset7' won a battle of the remaining short stacks, in which he sent 'KA@tntech' to the rail in fourth. On that hand, beset7 held queens, KA@tntech A-K, and the board provided a wild A-A-7-Q-J, giving beset7 a full house and a $7.1 million pot.
The three survivors tried but failed to negotiate a chop when dizney1984 wanted some $13,000 more than the chip-count numbers offered, so play resumed, but after a half hour of parrying that saw the three stacks close even tighter to one another, all three decided a deal was the best option. Each player claimed about $140,000 and left $40,000 to play for. Post-deal, dizney1984 surged to an early lead, then knocked out tomba26 when tomba26 tried to steal a pot by pushing after a 6-Q-9 flop. tomba26 showed A-8, but dizney1984 showed Q-J for top pair, and dodged tomba26's outs as a seven and jack completed the board. dizney1984 continued his aggressive play, and finally took it down on a hand where he raised with 5-3 diamonds, called beset7's re-raise --- beset had A-K --- then pushed all-in when the flop brought a five and two more diamonds. dizney1984's fives were already ahead, but a seven of diamonds on the river made his flush and capped the victory.
Final standings:
*1st ($183,116): dizney1984
*2nd ($141,284): beset7
*3rd ($139,959): tomba26
4th ($45,917.08): KA@tntech
5th ($36,810.62): whaassuuppp
6th ($29,756.32): html
7th ($23,086.80): Bruski9
8th ($16,673.80): supernova9
9th ($11,030.36): AndersFriden
* three-way deal for remaining prize money, $40,000 to eventual winner
Full Tilt $250,000 Guarantee
Another huge turnout at Full Tilt saw the pre-event guarantee obliterated; 1,780 entries equated to a $356,000 prize pool, one of the largest ever at FT. 153 places paid and a first-prize of $76,540 was well worth the chasing.
'DETROIT JOHN' had the inside track when the final nine began play, leading a sequenced table with just over $1 million in chips. First out was a severely short-stacked 'cardno', forced to commit his final $40,000 (with blinds at $20,000/$40,000), with 9-2 in the small blind, but DETROIT JOHN had pocket threes in the big blind and found a third trey on the flop. 'AJKHoosier1' exited next when his sevens ran into the kings of 'peteec,' when the board brought no help. peteec picked off the next short stack as well, when his kings held up easily over 'UntiltDotCom,' who was forced to push with Q-J. The rush continued a few hands later, when 'karam00' pushed for nearly $700,000 behind A-K, and peteec, sitting behind with aces, made the easy call and dodged the karam00's thin outs. Added to a huge pot won from early leader DETROIT JOHN, peteec moved to the $3 million chip mark, about 60% of all the chips.
peteec's next victim was a short-stacked 'spybar,' who pushed all-in with A-5 but ran into peteec's A-Q, with neither player improving, and then peteec found aces yet again to finish off DETROIT JOHN, forced in for his last $230,000 behind A-6. Then the night's wildest hand occurred, with all three players moving all-in; a desperately short 'Backstaber' moved in with Q-9, peteec found pocket tens, but 'Dangerous Plyr,' who had taken most of Backstaber's chips in an earlier pot, woke up with aces, and they held. Backstaber was out in third, but the huge pot pulled Dangerous Plyr back to a virtual tie with peteec. peetec pulled well ahead through several aggressive plays, only to see Dangerous Plyr double through after connecting on a straight-and-flush draw that filled on the river. It marked the turning of the tide --- Dangerous Plyr then took down several big pots to put peteec on the ropes. It wasn't quite over, as peteec had one more surge remaining, but this tournament would fall Dangerous Plyr's way. On the final hand, Dangerous Plyr aggressively pushed a Q-9, only to find peteec with pocket tens. The board, though, arrived K-8-2-Q-Q, capping a huge comeback that gave Dangerous Plyr the win.
Final standings:
1st ($76,540): Dangerous Plyr
2nd ($49,840): peteec
3rd ($36,045): Backstaber
4th ($28,925): DETROIT JOHN
5th ($21,822.80): spybar
6th ($16,020): karam00
7th ($10,324): UntiltDotCom
8th ($7,476): AJKHoosier1
9th ($5,293.72): cardno
Ultimate Bet $200,000 Guaranteed
Ultimate Bet had 966 players on hand for its headline weekly event, meaning that a tiny overlay was in place --- 100 players cashed and first-place money was the $45,000 per the original guarantee. 'GO STEVE' led as final-table action began, with nearly $700,000 in chips; 'horseshoe 6' had $420,000 and several players sat behind short stacks, under $200,000.
After some wary, tight action, 'Sin77Seven' sent 'Whirlaway' to the rail in tenth, catching a queen on the flop (holding K-Q) to overtake Whirlaway's 10-7. GO STEVE struck next, extending his lead after winning a race with jacks against an A-K of 'Blackness1' that failed to improve. 'horseshoe 6' picked up the third final-table knockout only moments later. On that hand, 'dlperrio,' near the bottom in chips, moved all-in with A-4; horseshoe 6 called with pocket tens and the board brought a four, but also three sevens, and horseshoe 6 had the higher full house.
horseshoe 6 then won a huge pot from GO STEVE to put GO STEVE on the brink, but GO STEVE survived elimination in a three-way all-in hand that saw 'luckyfire44' knocked out in seventh; GO STEVE held pocket queens, horseshoe 6 pocket tens, and luckyfire44 sevens, and the board missed all three players. horseshoe 6 then finished off 'sideshowbobbb,' who with $70,000 had only four big blinds worth, and pushed with K-9; horseshoe 6 made the call from the small blind with Q-T, and caught the needed queen on the turn. horseshoe 6's rush continued, as he then k.o.-ed GO STEVE, whose A-Q never caught horseshoe 6's pocket nines. The knockout moved horseshoe 6 over $1.5 million, two thirds of all the chips in play.
The two shortest remaining stacks collided next, with 'MIRACLEGRO' (who final-tabled this for the second straight week) sending 'HatesPoker' out in fourth. The chips went in after a 5c-Kd-6d flop, with MIRACLEGRO holding K-4 for top pair, and HatesPoker Qd-5d for bottom pair and a flush draw. The flush failed to arrive when the turn and river showed Ah-8c, and three players remained. horseshoe 6 played the big-stack role well, and after a hand when he took most of MIRACLEGRO's chips behind two pairs, MIRACLEGRO was forced in with a modest 5-3, which never caught up to Sin77Seven's A-6. MIRACLEGRO finished with his second straight third-place finish. horseshoe 6 finally wrapped it up after his A-9 stayed ahead of Sin77Seven's K-2, with Sin77Seven running low on chips. The board arrived 4-T-9-J-3, giving horseshoe 6 a pair of nines and the win.
Final standings:
1st ($45,000): horseshoe 6
2nd ($27,000): Sin77Seven
3rd ($18,500): MIRACLEGRO
4th ($13,000): HatesPoker
5th ($11,000): GO STEVE
6th ($9,000): sideshowbobbb
7th ($7,000): luckyfire44
8th ($5,000): dlperrio
9th ($3,500): Blackness1
10th ($2,000): Whirlaway
Party Poker $200,000 Guaranteed
The revamped Sunday Guarantee at Party Poker now starts several hours earlier than did the old Party Sunday Million, to better line up with Party's now predominantly European player base. We missed this one last week due to the time change, but Party has quickly found a new level of stability for this event. 935 runners paid the $200+15 fee, meaning that this event had only a small overlay, with $47,000 scheduled to be the first place prize.
A hundred players cashed, but accelerating blinds and a tight race meant that the action at the final table would be quick and fateful. 'canon2000' notched the final table' first knockout, when his pocket aces easily stood up over the suited 9-8 of a short-stacked 'ByggemandBob.' 'spatzentiger' exited in ninth soon after, on a hand that pushed 'Bridendk' over $1 million in chips and into a sizeable lead, and 'Lassaldo' sent 'Mike_Nbg_44' to the rail in eighth, behind pocket jacks. Lassaldlo picked up the next knockout as well, winning an A-10 vs. A-4 matchup that sent 'Resolute78' out in seventh, and 'canon2000' won a battle of kickers with 'profEERNIE' --- both had paired an ace --- to trim the field to five.
'mrsmits' pushed 'jyvotnoe' to the brink on after winning a classic 6-6 vs. A-K race when a third six flopped, and when Lassaldo made a pair of queens on the next hand, jyvotnoe was out in fifth. With four players left, canon2000 then surged, taking down several smaller pots, moving over $2 million in chips and into a commanding lead. Next to fall was Lassaldo, out in fourth when his two pair, kings and tens, was topped by canon2000's kings and jacks. The rout was interrupted when mrsmits doubled through with Q-10, cracking canon2000's pocket aces, and mrsmits then had a pocket pair (eights) stay in front again, to cripple Bridendk, who then went all-in on the next hand with K-9, which fell to canon2000's A-Q when an ace flopped. After a mild surge by mrsmits, the two agreed to a deal to split the remaining cash on close to a chip-count basis.
Final standings:
*1st ($40,000): canon2000
*2nd ($33,000): mrsmits
3rd ($15,000): Bridendk
4th ($12,000): Lassaldo
5th ($10,000): jyvotnoe
6th ($8,000): profEERIE
7th ($6,000): Resolute78
8th ($4,000): Mike_Nbg_44
9th ($3,000): spatzentiger
10th ($2,200): ByggemandBob
* two-way deal for remaining prize money