WCOOP #17, $1,050 Limit Hold'em: Romania's 'laurentia' Conquers Wild Final Table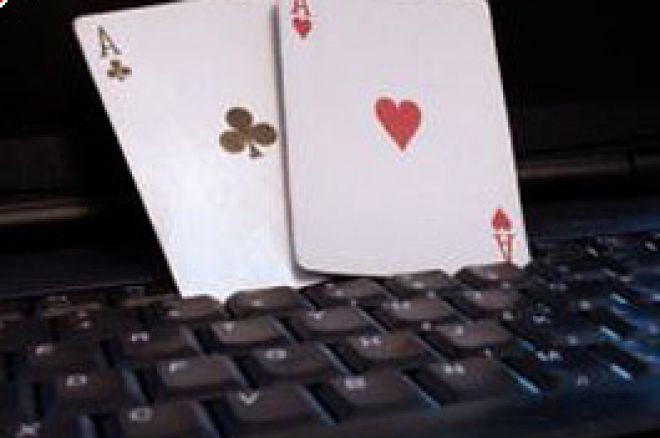 Yes, there was another tournament at Poker Stars' fifth annual World Championship of Online Poker. Almost lost in the glare of the phenomenal turnout for the $5,200 H.O.R.S.E event running in concurrence, the $1,000+50 Limit Hold'em tournament, Event #17, carved its own large place into online poker history. This one brought in 695 entrants, many of whom played both here and in the H.O.R.S.E. event. The prize pool of $695,000 also approached that of the H.O.R.S.E. tourney, despite that event's five-times-higher entry fee. This event also eclipsed its pre-tourney $400,000 guarantee, making the 2006 WCOOP a perfect 17-for-17 on that count, with the Sunday Main Event all but sure to complete the run.
No mix of games here. Fixed-limit hold'em was on tap, 90 players made the money, and the nine who made the final table were guaranteed a five-figure payday each. Not bad at all, and as with the H.O.R.S.E. event, some well-known pros made their way to big paydays.
This event saw three players in a title battle for the top spot as final-table action began. Romania's 'laurentia' led the way with $743,000, ahead of Jerrod ('jerrod') Ankenman, in second at $638,000, and Israel's 'amichaiKK,' in third with $621,000. One of the biggest poker names of all lurked in fourth, in the form of Gavin ('birdguts') Smith, with $467,000.
The shortest surviving stack, at under $80,000, was 'Marcus85,' and he lasted only eight hands before exiting in ninth. With blinds of $8,000/$16,000, Ankenman raised from the cutoff to $32,000, Marcus85, on the button, re-raised to $48,000 and Ankenman called. The flop came 9-Q-4 with two hearts, Ankenman checked, Marcus85 bet out and Ankenman chek-raised him all-in. Ankenman showed K-Q for top pair, while Marcus85 had K-J for the gutshot draw and a dominated overcard. A six and a three completed the board, providing no help, and Marcus85 was out.
'davmcg' entered final-table play as the second-shortest stack, and he was the second one sent to the rail. Ankenman claimed this knockout as well, on a hand where Ankenman let davmcg lead the betting action, then re-raised davmcg all-in on the turn. The final board read J-7-6-6-2, and both players had been riding small pocket pairs --- Ankenman with eights, davmcg with fours. The knockout reduced the table to seven, and the knockouts and a couple of other pots pushed Ankenman over $1 million in chips, with amichaiKK, who had picked up several small pots, a couple of hundred thousand behind. The rest of the field was strung out down to Smith and 'SchockoLinz,' each under $300,000, though that didn't stay that way for long --- SchockoLinz doubled through to stave off elimination, then took down a huge pot to move to the middle of the pack, while Smith took down three big hands in rapid succession, climbing over $800,000 and into the lead, overtaking a similar surge from laurentia.
Several smaller pots and a big chop against 'Pike528' --- where both players held A-Q --- moved Smith over $1 million, and seemingly in command. Momentum, though, took a different path, as with each pot highly contested, the leaderboard resembled a Brownian motion exhibit, the names bubbling from one spot to the next . amichaiKK made the next surge, topping $1.2 million, with Ankenman climbing back to $900,000, and Smith faded back to $300,000 after dropping a couple of sizeable pots. Next out, though, was SchockoLinz, who slid steadily backward after the big double-through, and lost his last $56,000 to Pike528. This deciding hand was a classic race, with SchockoLinz holding pocket eights and Pike528 A-Q. The board came 6-T-T-Q-9, and the turn queen meant the field was six.
Smith took down a couple of pots shortly thereafter, while laurentia suffered the dry run and dropped near $300,000, enough to trail the pack. Two more big pots and another A-Q/A-Q chop (this time against Pike528), saw Smith surge all the way over $1 million, and back into the lead as the see-sawing continued. The six-way craziness continued for over ninety hands, with each player somehow finding the right big hand to stave off eliminati0n and rejoin the pack. As the blinds climbed to $15,000/$30,000, the size of the surges could only increase, and the event became a battle of which player's surge happened to catch the right combination of stack sizes and the increasing blinds, enabling the knockouts that would bring the championship.
In the end it was Laurentia who caught the run of hot cards. The biggest of several hands was a $735,000 pot where Laurentia reeled in Smith, finally showing a T-8 that fit perfectly to a 7-4-J-9-5 board for the nuts, a jack-high straight. Smith dropped two more sizable pots in rapid succession, to Pike528 and 'LazySunday,' and was suddenly on life support at $149,000. Smith had company: Ankenman had gone on a dry run and had been whittled all the way down to $170,000 as well.
Ankenman exited first, his pocket aces cracked by laurentia, who chased Ankeman's pre-flop raise from the big blind with Jh-4d, then chased again after the all-heart, 7-3-K flop offered four cards to the flush. A five of clubs on the turn offered more outs, in the form of a straight, and the six of hearts on the river connected, completing the flush and sending Ankenman out in sixth.
Smith followed a dozen or so hands later. His last chips went in pre-flop behind A-T, while Pike528 capped the betting, with a suited K-3. The board came Q-K-5-8-J, and Smith departed with fifth-place money.
With four remaining, laurentia and Pike28 were in a tight battle for the lead, each well over $1 million with the other two players under $500,000. This would be the key stretch for laurentia, who claimed pots of $315,000, $255,000, $510,000, $495,000, $240,000, $495,000 and many others, all part of a surge that pushed laurentia to the brink of two million chips. amichaiKK took down a couple of pots in the span, overtaking Pike528 for second, while this time LazySunday drifted lower and was the next player marked for extinction.
laurentia picked up this knockout, too. LazySunday raised pre-flop to $60,000 from the cutoff, laurentia re-raised to $90,000 from the button, and LazySunday called. The flop was J-4-J; LazySunday checked, laurentia bet out, LazySunday made the check-raise and laurentia called. The remainder of the LazySunday's chips went in after a three on the turn, and after a ten on the river, LazySunday's bluff was exposed --- he held only A-8. laurentia had K-J for trip jacks, and only three players remained.
The surge continued as laurentia took down nine of the next 13 pots. Near the end of that run, Pike528 finally ran out of chips, his T-7 losing a race to laurentia's pocket fours, which stayed ahead after the board arrived A-2-A-J-K.
Heads-up action began with laurentia holding a dominating, nearly 6-to-1 margin over amichaiKK, and the battered amichaiKK decided the time was right to lobby for a deal. It took a bit of haggling, right down to the hundreds when a first prize of over $150,000 was in play, but eventually laurentia relented, allowing amichaiKK a few extra thousand while collecting most of the remaining money. The end came only three hands after the deal was struck, two hands after amichaiKK had lost most of his remaining chips. The final deal saw capped betting pre-flop, with amichaiKK holding J-2 and reduced to a push and a prayer. No answers here. laurentia held A-8 and the board offered K-A-5-6-5, giving laurentia aces up and the Event #17 triumph.
WCOOP – Event #17 - $1,030 Limit Hold'em. Final Results.
*1st: ($145,200): laurentia
*2nd ($105,000): amichaiKK
3rd ($62,758.50): Pike528
4th ($44,480): LazySunday
5th ($36,835): birdguts
6th ($29,885): jerrod
7th: ($22,935): SchockoLinz
8th: ($16,332.50): davmcg
9th: ($10,772.50): Marcus85
* final payouts based on two-way deal for remaining prize money