WCOOP #16, $5,200 H.O.R.S.E.: Chad 'Stelladora' Brown Gallops to Victory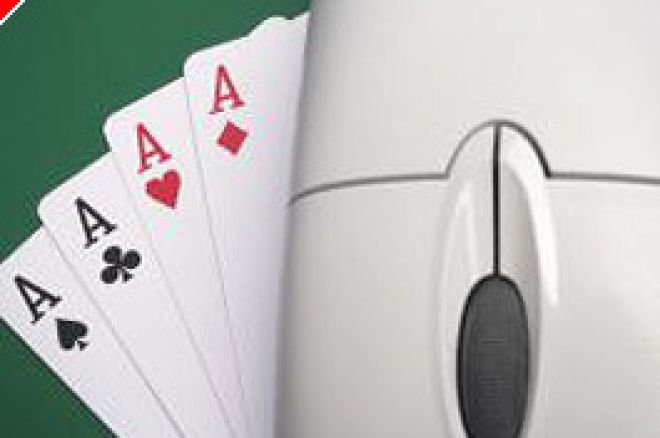 Saturday brought out the stars in a major way at Poker Stars' fifth annual World Series of Online Poker, especially for Event #16, the $5,000+200 H.O.R.S.E. tournament. Poker Stars was a bit on the conservative side when they put this event on the docket, with its listed $100,000 guarantee --- 175 players entered, with the top 24 divvying what became an $875,000 prize pool, by far the largest ever for an online H.O.R.S.E. event. When the frantic signups finally closed, first prize alone was schedule to be almost $225,000, and the top three places each would claim in excess of $100,000 in prize money.
A player using the handle 'Sam Grizzle' (but reported to not be the Vegas pro of that name) led through much of the middle stages, but was on the brink of elimination as about 15 players remained. 'Sam Grizzle,' though, came back from the brink to make the final eight, where he was joined by a couple of very real big names. Isabelle 'No Mercy' Mercier made the final table in sixth position, though short-stacked at $77,000 in chips, and 'stelladora,' who was later revealed to be Chad Brown, rode high in second spot, at $413,000. The leader, though was Edison, NJ's 'Hold_emNL,' who began the final eight at just under $533,000.
As the final table began, the game was seven-card stud, with $2,000 antes and a forced low-card bring in of $3,000. Mercier, 'Sam Grizzle' and a third short stack, 'youbet,' were all under $80,000 and immediate targets for elimination. 'Sam Grizzle' fell first, exiting in eighth spot after getting the last $28,000 of his chips in after the first three cards against Hold_emNL. 'Sam Grizzle''s door card was a three, hiding his pair of sixes down, while Hold_emNL had an ace showing and Q-7 underneath. The sixes of 'Sam Grizzle' never improved, and when Hold_emNL caught a queen on sixth street, the table would shortly be down to seven. The final sequences were (6d-6c)-3h-Js-8c-4s-
for 'Sam Grizzle,' and (7c-Qh)-Ad-9s-5s-Qd-
for Hold_emNL.
youbet, who began the table as the shortest stack, never managed to take down a last-table pot. youbet's last $10,600 disappeared into a pot claimed by Brown, when Brown open-raised and youbet made the call, and both would make two pair. youbet finished with (6h-Qh)-Kd-8s-Kh-8d-
, for kings and eights, while Brown had (Kc-3c)-Ks-Jc-Qs-Js-
, for the winning kings and jacks.
Six players remained, and while Mercier had managed a key double-through a few hands earlier, to mover over $200,000, her surge would be short-lived. Half her chips disappeared when 'MyRabbiFoo' rode rolled-up trip jacks to a $215,000 pot, and the remainder went after the game switched to stud hi/lo, with antes of $4,000, when Brown claimed the knockout. Mercier was trapped into the hand, chasing the low, after an Ad-7d-2c-4c start, but her remaining cards came Kc-9h-2s, missing the low and making only a pair of deuces for high. Meanwhile, Brown started out well behind, but caught the break on sixth and seventh streets, as his sequence ran (5s-7h-6c)-Ts-Ks-5h-
, for the winning two pairs, sevens and fives.
As with Mercier, the next short stack in the order pulled off a key double-through, seeming to pull back into contention before making a quick exit. 'DCJ311' built his own under-$100,000 to nearly a quarter million before losing most of the stack to Hold-emNL on a busted draw, and his last $49,000 disappeared early into a three-way pot that built into the largest of the event to that point, nearly $600,000. DCJ311 mucked his cards and claimed fifth-place money, on a hand where Brown had (Qh-3d)-Qd-8s-Td-3c-
, for two pairs and the winning high, while Hold_emNL showed (4h-7c)-Ad-2c-6d-Tc-
for a solid 7-6 low.
The four remaining players --- Brown, Hold_emNL, MyRabbiFoo and 'ILuvKittens' spent a few hands tightly bunched, each between $350,000 and $550,000 in chips. However, the antes and betting rounds assured that the first time a big pot arose, the standing would change, and no player could survive more than a couple of hands played all the way to the end without winning at least a piece. That fate befell MyRabbiFoo, who dropped one hand to Hold_emNL, a second to Brown, and was left to commit his last $67,000 early in a hand where he and Hold_emNL raised and re-raised pre-flop. MyRabbiFoo caught a sequence of (Ad-6h)-6c-Ks-Th-2s-
, for a starting pair of sixes that never improved. Unfortunately for MyRabbiFoo, they had needed to, for Hold_emNL started with aces and caught the remaining ace on seventh street, for the winning trips that trimmed the field to three. Hold_emNL's total hand read (8d-Ac)-Ah-Qd-3d-5c-
.
Hold_emNL and Brown took down most of the pots in this stretch of the event. MyRabbiFoo exited earlier, but ILuvKittens also faded toward the virtual felt. ILuv Kittens lost his last $105,000 in a hand that saw all three survivors mix it up, and when no one made a low, Brown claimed the $510,000 pot. Brown made a flush on the river, after missing a good low in a run that went (3s-2c)-6s-Ts-2d-Js-
. ILuvKittens finished with two pairs, jacks and eights, from a hand of (4d-5d)-8h-8s-Jd-7h-
, while Hold_emNL's losing hand hit the muck.
Heads-up action began with Brown in command, with a $1,100,000-to-$625,000 lead. The two parried lightly until the game switched to limit hold'em with blinds of $15,000/$30,000. Brown immediately took down two large pots of $360,000 and $480,000 the first on a hand of Q-J that connected with a Q-K-9-4-3 board for a winning pair of queens, the second with pocket eights that stayed ahead of Hold_emNL's unseen holdings after the board finished 5-6-7-Q-5. Hold_emNL would take down a $420,000 a short while later when his K-5 hit a K-A-6-Q-6 board, with Brown mucking, but Brown returned the favor and then some on the very next hand, pulling in a $660,000 pot that put Hold_emNL on the edge. In that hand, the betting was capped after a second jack on the river completed a board of Q-9-3-J-J, and Brown turned over Q-J for the winning full house.
The two swapped smaller pots for 15 hands before Brown closed the deal. Hold_emNL was whittled down to $109,000, posted $30,000 of that as the big blind, and Brown raised and Hold_emNL re-raised before the flop. The remaining chips went in moments later, after the flop came A-5-9. Hold'emNL showed Q-T, and turned out to be well ahead; Brown held only Q-4. A 6 on the river changed nothing, but a fateful four on the river gave Brown the winning pair and the WCOOP Event #17 title.
WCOOP – Event #16 - $5,200 H.O.R.S.E. Final Results.
1st: ($223,125): stelladora
2nd ($152,425): Hold_emNL
3rd ($102,812.50): ILuvKittens
4th ($70,875): MyRabbiFoo
5th ($55,125): DCJ311
6th ($41,125): NoMercy
7th: ($31,500): youbet
8th: ($22,312.50): Sam Grizzle