Online Poker Weekend: A Poker Stars Chop-Chop-Chop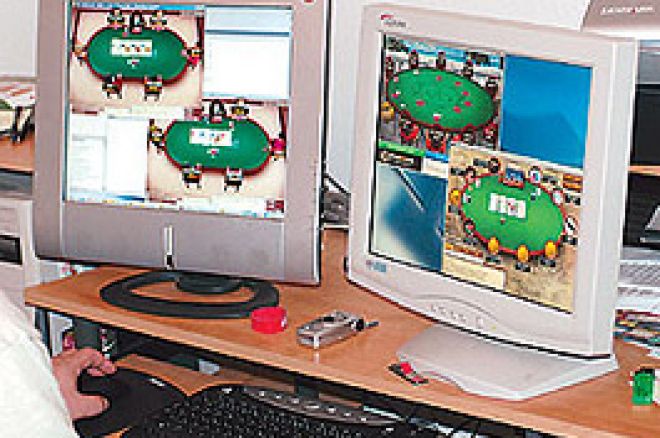 In a weekend chock-full of big online events, Poker Stars' Sunday Million still drew one of its biggest fields ever, as a table front-runner mowed down the competition early only to face major challenges late. Over at Ultimate Bet, a spirited final table gave several players a shot at the win, and at Party Poker, a comeback not far from "chip and a chair" territory turned into a virtual two-way split for the weekly title. All this occurred as Full Tilt's FTOPS Main Event wrapped up the FTOPS' successful run, the wrap for which can be found in a separate story.
Poker Stars Sunday Million
With another major online series online running its grand finale at almost the same time, it would've been tough for Poker Stars to establish another attendance or prize-pool record at last night's Sunday Million. True enough, no new records were set... but they didn't miss by much. 6,733 players were on hand, their collected $200+15 entry fees enough to generate a prize pool of $1,346,600, among the largest in Sunday million history. 975 places paid and the scheduled first prize was $188,524, and '98club' and 'jeppg1111' had the inside track as the final table assembled, each owning about $12 million in chips.
jeppg1111 jumped well ahead of the pack when he won the table's first big showdown, his A-K staying ahead of 'daytona650's A-Q. The players got all the chips in before the flop, and an all-small board of 5-3-9-5-4 ended daytona650's night. 98club closed jeppg1111's margin a bit when he eliminated the smallest remaining stack, '9ballor8;' the action again came before the flop, with 9ballor8 holding A-Q and 98club pocket deuces. 98club raised from the button, 9ballor8 pushed, 98club made the call, and the board showed 9-K-8-4-6, keeping 98club ahead and narrowing the field to seven.
Seventh place went to 'grgr333' when jeppg1111 won a race and added to his lead; in this hand, with the blinds already at $200,000/$400,000, jeppg1111 raised from the button for $1.2 million with T-9 suited, grgr333 re-raised all-in from the big blind with eights, and jeppg1111 made the call. A nine hit on the flop and no other helpers showed, ending grgr333's run. Three hands later jeppg1111 picked off another short stack and built his lead even further, this time when his K-J reeled in 'sunangel90's unlucky A-Q when the board provided K-4-8-9-J.
Just when it seemed jeppg1111 might run away with it, momentum shifted. 'MxdMeta4' took down two huge pots to move from short-stack danger to the top the board, the second one eliminating 98club in fifth when 98club slow-played aces and allowed MxdMeta4 the chance to flop trip queens. And then jeepg1111 reasserted himself, sending 'bossen' to the rail in fourth when both players aggressively played suited holdings, getting the chips in pre-flop. bossen held the A-9 of hearts, starting ahead of jeepg1111's K-9 in clubs, but the flop brought two small clubs and the turn yet another, completing jeepg1111's winning flush.
jeepg1111 entered three-way play with a healthy lead, but both MxdMeta4 and the remaining player 'tiger76,' both made several playbacks to pull into the hunt. Eventually they reached a point where all three players' stacks were within a few hundred thousand chips, and the three agreed to an even chop that guaranteed each a six-figure payday and left $30,000 in the middle for the champ.
After the deal jeppg1111 pulled ahead again, only to fall victim to another tiger76 comeback. In the end, with the blinds still capped at $200,000/$400,000 jeppg1111 made a button raise, watched tiger76 make an all-in push, and made an explicable loose call for his remaining $11 million --- and saw his 7-6 suited trailing badly to tiger76's pocket sevens. The flop brought the case seven, and when the board paired aces, tiger76's full house was made and jeppg1111's night was complete.
MxdMeta4 put up a strong fight but finally fell to tiger76's late rush. This time MxdMeta4's aggressive bluff went awry, as he started with a lowly 9-2 and caught a piece of an A-8-9 flop, but ran into tiger76's hole-card ace. The turn brought a seven and the river an unneeded ace, giving tiger76 trips and a $133,000 win.
Poker Stars Sunday Million - Final standings:
*1st ($133,653): tiger76
*2nd ($103,653): MxdMeta4
*3rd ($103,653): jeppg1111
4th ($45,649.74): bossen
5th ($36,088.88): 98club
6th ($29,086.56): sunangel90
7th ($22,892.20): grgr333
8th ($16,967.16): 9ballor8
9th ($11,042.12): daytona650
* --- three-way deal to split remaining prize money, $30,000 to eventual winner
Ultimate Bet $200,000 Guaranteed
The extra online action at other sites might have produced a dampening effect elsewhere, but Ultimate Bet still managed to attract 910 players to its weekly 200K guarantee. The resulting small overlay meant the standard payout structure was in place, with 100 players cashing and $45,000 the prize for first. 'RockSolidAce' was the early frontrunner here, arriving at the final table with a bit over $400,000 in chips, over $100,000 ahead of second place.
All-in pre-flop pushes marked the early eliminations. The first knockout occurred when 'GIGITUP7's kings held up over 'Cava72,' who made a shortest-stack push behind A-6, and 'RockSolidAce' sent 'Azimut85' to the rail in ninth, when his queens held up over Azimut85's A-Q. 'ThomasToget,' down to fumes after a steal attempt went awry, bowed in eighth when his J-T was easily trounced by GIGITUP7's A-J as two more aces hit the board, and 'Wubanga101' crashed out in seventh, his all-in push with A-J running into the kings held by 'longhorn757' with a 3-5-3-9-8 board bringing no relief.
By the time the blinds had increased to $12,000/$24,000, several players stacks had been put in jeopardy, and 'SDStryder' finished sixth when he pushed his last $125,000 behind A-2, and was called by RockSolidAce, whose tens held up unimproved when the board arrived 9-K-Q-2-6. Soon after, 'gaiaknight,' down to his last $75,000, pushed from the button with a suited A-2 but received no help against 'drbob0008's pocket fives. drbob0008 had been down to a just a few big blinds and antes himself, but the hand started a surge that took him all the way to the lead.
GIGITUP7 and RockSolidAce were the two shortest stacks when they mixed it, getting the chips in pre-flop, and GIGITUP7's K-7 triumphed over RockSolidAce's A-5 when the board came K-7-Q-Q-3, but GIGITUP7 fell to the same fate just moments later, his own attempt at a steal on the turn against drbob0008 leaving him drawing dead; GIGITUP7 held K-8, drbob0008 a modest Q-4, but after the turn the board read Q-Q-5-A, and a river seven was meaningless. Head-to-head play began with lomghorn757 and drbob0008 nearly even in chips.
The two parried for a few hands before longhorn757's earlier aggressive play paid off, as he induced drbob0008 to make an all-in pre-flop call with K-Q, which longhorn757 had dominated with A-K. The board offered 8-5-J-T-4, raising and then dashing drbob0008's hopes for a rivered straight, and longhorn757 claimed the victory.
Ultimate Bet $200,000 Guaranteed - Final standings:
1st ($45,000): longhorn757
2nd ($26,500): drbob0008
3rd ($18,000): GIGITUP7
4th ($13,100): RockSolidAce
5th ($10,500): gaiaknight
6th ($8,500): SDStryder
7th ($6,500): Wubanga101
8th ($4,500): ThomasToget
9th ($3,400): Azimut85
10th ($2,000): Cava72
Party Poker $200,000 Guaranteed
Party Poker's Sunday $200,000 Guarantee has settled into a comfortable groove, showing very consistent turnouts for the past several weeks. 938 entrants were on hand for the most recent affair, and with guaranteed money at hand, $47,000 was the announced winner's take. 'KAPMAH_' held a narrow lead over three other players as final-table play commenced, sitting on just over $780,000 in chips, but a short-stacked AcadianWind fell early, his unimproved A-Q losing to a flopped set of eights for 'davidross.' That hand made davidross the first player to cross the million-chip plateau.
On the next hand, another short stack's all-in push with high cards met the same fate, when 'Drengur16's A-K fell to 'aplunk's suited J-8 when a J hit the board. After a lengthy span of eight-way play, 'M_A_M_' sent 'Druggie_' to the rail in eighth, holding Q-J and catching two more jacks on the flop to overwhelm Druggie's pocket fours. Meanwhile, the blinds jumped to $40,000/$80,000 and several players faced push-or-fold options. 'Merc300CE24' found himself forced to push with a suited Q-7, and he went out in seventh when aplunk called with A-9 and caught an ace on the flop. The hand allowed aplunk, who had forged past davidross earlier, to open a sizeable lead.
M_A_M_ delivered a mortal blow to davidross when his A-K cracked davidross's pocket kings, when the board completed a straight, but then davidross won through from the blinds twice, the second with 5-2, to climb off the felt. The sixth place finisher turned out to be 'callandcry1,' who lost a battle of kickers to 'titan779' when both players paired their ace. A huge hand then pushed aplunk well ahead, as he caught kings as M_A_M_ received queens, and a 3-T-K-2-J board meant M_A_M_ finished in fifth. davidross's resurgence continued when he paired a hole-card king to send KAPMAH_ to the rail in fourth, and then after some deal talks went nowhere, he won a huge race to eliminate titan779, making a set of jacks on the flop and dodging titan779's gutshot straight draw --- titan779 held A-Q --- to send the tourney to heads-up play.
The two survivors, aplunk and davidross, agreed to a deal which guaranteed $35,000 for each and left $3,000 to play for. After pulling well ahead, aplunk hit river-river spades to fill an unlikely flush, overtake davidross's pocket tens, and finish off the win.
Party Poker $200,000 Guaranteed - Final standings:
**1st ($38,000): aplunk
**2nd ($35,000): davidross
3rd ($15,000): titan779
4th ($12,000): KAPMAH_
5th ($10,000): M_A_M_
6th ($8,000): callandcry1
7th ($6,000): Merc300CE24
8th ($4,000): Druggie_
9th ($3,000): Drengur16
10th ($2,200): AcadianWind
** --- two-way deal to split remaining prize money, $3,000 to eventual winner