Friday Night on the Strip, Part II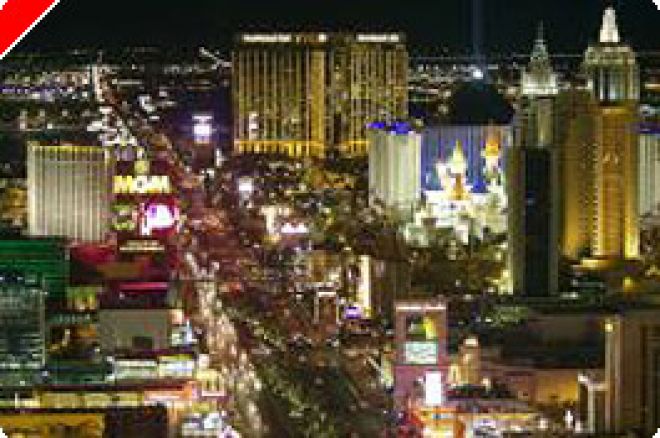 In Part I of this series we covered the South End of the Las Vegas Strip. In Part II we take a look at the three big poker rooms centrally located on the Strip: Mirage, Caesar's Palace, and Bellagio. Side by side by side they make up the Western facade on the most glamorous stretch of sparkling Las Vegas Boulevard, each of these three poker rooms has more than thirty tables.
On a recent Friday night I began at The Mirage and like most weekend nights the room was full of players. $3/$6 hold'em is the low limit game here, there were six tables going at this limit. A couple of $6/12 tables and one each of $10/$20, $20/$40 and $40/$80 with wait lists for all tables. One Omaha 8 or better table was running at $5/$10 and another was just about to open. A half a dozen or more no-limit tables filled out the room with a couple of single table satellites thrown in for the regular Mirage tournaments.
The room feels alive, like there is lots of poker being played here. Always a full compliment of floor staff and very competent dealers at the Mirage. Just what you would expect in a well run, top quality Las Vegas big room.
Go out the South End of Mirage, use the door by the White Tiger exhibit and you are looking at Caesar's Palace, which has the largest poker room in Las Vegas. Thirty tables in the main room, and as many as forty more in the adjacent tournament area. At times this can make the tournament room seem a bit like a big empty cavern, but on this night a table count showed as many games in action at Caesar's as there were next door at The Mirage. There is a sense of a lot of space in the Caesar's room. The tournaments are run in their own area with separate tournament staff and support services. Tournaments never interfere with cash games and visa versa, which is a very nice set-up. The staff is a real key at Caesars. I have called and asked if they would deal a private mixed game table and not only been welcomed but offered any games we wished to play. Any number of dealers knew all the games and truly enjoyed dealing to a friendly (if rowdy) bunch of poker writers.
Head south from Caesar's Palace and we come to what was once known as the "Best Poker Room on the Planet" at Bellagio. If this is not still the pinnacle of poker, it is only because other rooms have caught up to Bellagio. The room has not lost any of it's luster. Every table was filled with players this night from the $4/$8 limit games to Bobby's Room where Doyle Brunson, Phil Ivey and Eli Elezra were holding down a full table playing a very different level of 4/8.
The room was even more electric tonight as this was the first day of the Five Diamond event, which was playing over in the Fontana room across the casino. Players who had played this day's $1,500 NLHE event had stayed to play the cash games and single table satellites for the remainder of the Five Diamond events were filling up quickly, also in the tournament room. The main room was all cash games and plenty of players waiting to take any vacated chair.
There is much that can be said about Bellagio but perhaps the highest compliment is that when new players come to Las Vegas for the first time, they almost invariably want to play at least once in two particular rooms. Everyone wants to be able to say they have played at Binion's downtown and they also want to sit down and play at Bellagio. If you are going to be in Las Vegas, you must see Bellagio, Caesar's Palace and the Mirage. Next week, in part III of the series - the other "must see" rooms, we take a Friday Night look at the opulent "Plush" rooms across the street at Paris, Venetian and the Wynn.
Ed Note: If you can't make it to Las Vegas, sign up at Poker Stars, close your eyes, and pretend you are in Vegas. Remember to open your eyes when its your turn to act.