Online Poker Weekend: Comeback is the Word of the Day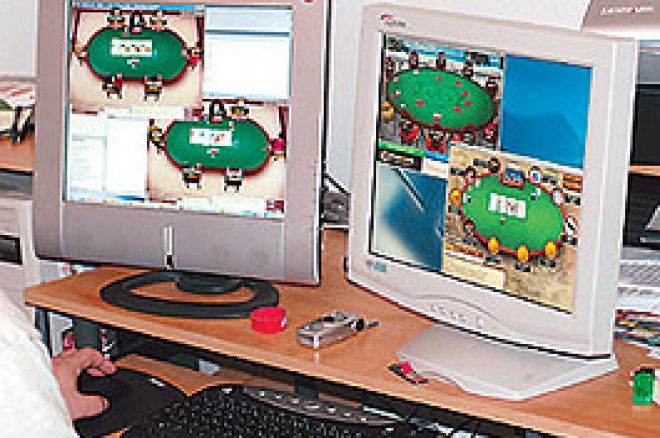 The secret password to title-claiming success in Sunday night's major online poker tournaments was 'comeback.' Each of the four tournaments featured a late surge that saw a player come from well behind to a dominating position --- and the victory --- in late-table play.
Poker Stars Sunday Million
Poker Stars enjoyed another wonderful turnout, if not quite a record-setting one. 6,687 players combined to form a $1,337,400 prize pool, with $187,236.00 the listed winner's share. 975 players cashed. 'br1an2K5' and 'Dgizzard' led the march to the final table here, both having twice the chips of their closest competitors.
A race between 'zio_slim' and 'freeradical2' brought the first exit, with zio_slim's pocket tens staying ahead of freeradical2's A-K as the board showed 2-Q-9-5-J. Br1an2k5 then sent 'Phwap' home in eights, winning a blinds battle when his sixes stayed ahead of Phwap's suited K-J. Not long after, 'PhilEatsPoo' claimed his own elimination, his A-K sending Axabaxa's A-6 to the rail when the board showed T-8-8-2-J.
PhilEatsPoo then ended Dgizzard's night, when PhilEatsPoo's Q-Q held up over Dgizzard's A-8; Dgizzard never mounted a final-table charge and quickly fell back through the pack. But though PhilEatsPoo neared $20 million and challenged Br1an2K5's lead, it was PhilEatsPoo's high point; he then dropped several large pots, and was flushed out in fifth when his J-9 push was dominated by Br1an2K5's K-J in a hand where the board arrived 3-2-8-K-2.
Gurre dipped down to barely $4 million (with blinds of $300,000/$600,000 plus antes) before his late charge began, and multiple wins in all-in showdowns brought him back to contention. A huge hand against 'Mr_BigCheese' brought Gurre a $32 million pot and the lead, when his K-Q flopped two pair and turned a full house, topping Mr_BigCheese's pocket aces, which built into an ace-high straight. The hand left Mr_BigCheese with barely enough chips for the blinds, and he bowed out when he pushed with A-5, but Gurre still had the right odds to make the call from the big blind with a modest J-4. The board brought Q-J-4-T-5, and three players remained.
zio_slim's own strong final-table run ended when his eights ran into Br1an2k5's tens, and the board missed both players. Br1an2k5 and Gurre then briefly discussed a deal but weren't close to an agreement, so play resumed. The lead would see-saw between the two as both players pulled down huge pots while raking in chips, and Gurre pulled the trick a second time for the final lead change. With blinds of $400,000/$800,000 and Br1an2k5 under $10 million, Gurre made a minimum raise to $1.6 million and Br1an2k5 called. The flop arrived 8-4-3, giving Gurre bottom set, which he slow played, checking behind Br1an2k5's check. Br1an2k5 checked again after a ten on the turn; this time Gurre bet $1.6 million, and Br1an2k5 made the call. Another three arrived on the river, given Br1an2k5 two pair (he held 9-8), but hopelessly behind Gurre's quad threes. Br1an2k5 checked, Gurre bet $4.8 million, Br1an2k5 check-raised to $9.6 million, and Gurre made the push. Br1an2k5 offered "Are you sure?" in the chat window, and Gurre indeed was, as Br1an2k5 discovered when he made the call. The quads sealed Gurre's victory and the $187,236 champion's winnings.
Poker Stars Sunday Million - Final standings:
1st ($187,236): Gurre
2nd ($93,216.78): Br1an2K5
3rd ($58,176.90): zio_slim
4th ($45,337.86): Mr_BigCheese
5th ($35,842.32): PhilEatsPoo
6th ($28,887.84): Dgizzard
7th ($22,735.80): Axabaxa
8th ($16,851.24): Phwap
9th ($10,966.68): freeradical2
Full Tilt $350,000 Guaranteed
2,187 players made it to Full Tilt's Sunday $350,000 guaranteed. The total prize pool was $437,400, 360 players cashed, and $80,481.60 was on the line for first.
'catchmy2outer' was the first to exit when he tried a re-raise steal from the big blind that didn't work. catchmy2outer held 6-5, and 'colenel decker,' who had made the original raise with sevens, made the call. The 2-A-Q-J-4 board meant catchmy2outer finished in ninth. 'Studpokerman's night ended in eighth when his A-J was dominated by 'JWiggles' A-Q; both players paired their ace on the flop but no big cards showed, so Wiggles' queen kicker played. JWiggles notched the next knockout as well, his 8-8 starting hand staying ahead of 'Backstaber's A-T when the board offered 8-T-K-A-4.
JWiggles continued his surge by running down a short-stacked 'shahro' in a battle of the blinds; shahro had A-T, JWiggles K-8, but the board would display 7-J-2-3-K for the river knockout. Next to fall was 'e2202,' whose own K-8 proved less lucky when it ran into colenel decker's pocket jacks.
Fourth place went to 'jefflasvegas,' whose A-Q proved unlucky against 'TiltyZ's pocket jacks, with a third jack dropping on the river. And then colenel decker, who had dropped his own large pot to TiltyZ just a few hands before, tried a huge re-raise steal with 7-5 of clubs, was called by TiltyZ and his A-Q, and finished third when the board offered J-5-Q-K-J. TiltyZ's rush continued and he quickly grabbed control; the end arrived when he won a race with pocket threes against JWiggles' suited Q-T, and a board of 6-6-8-9-4 missed JWiggles' outs. TiltyZ's two pairs, sixes and threes, took down the pot and the win.
Full Tilt $350k Guaranteed - Final standings:
1st ($80,481.60): TiltyZ
2nd ($49,426.20): JWiggles
3rd ($32,367.60): colenel decker
4th ($25,806.60): jefflasvegas
5th ($19,683): e2202
6th ($14,084.28): shahro
7th ($10,278.90): Backstaber
8th ($8,091.80): Studpokerman
9th ($6,123.60): catchmy2outer
Ultimate Bet Online Championship Event #3 $250,000 Guaranteed
The Ultimate Bet Online Championship (UBOC) Event #3 was on tap on Sunday, a $200+15 buy-in tourney that drew a nice field, at 1,341 players. 140 cashed in this event, claiming at least a piece of the $268,200 prize pool, and first place, at $56,724.30, was the cash award in everyone's sights. Feared online player 'bel0wab0ve' (Kevin Saul) held a nice lead as the final table began, and a bizarre hand occurred early, when 'Adanthar1' got all his chips in the middle with J-J, only to find bel0wabove holding K-K. The flop came K-J-J, giving Adanthar1 quad jacks to bel0wab0ve's kings full, and the case king failed to show.
The first knockout was also unusual in the sense that the chips went in pre-flop, with 'blur5f6' with kings, 'ibite123' holding eights, and both players hit their set on the flop. The last eight didn't appear, however, and ibite123 claimed tenth. A tough river card sent 'razor483' to the rail in ninth; he held A-K to 'MakiSupa's jacks, and the board brought Q-K-2-4-J. 'gbmantis' bowed out in eight when his sixes fell to 'sideout31's A-T when a ten flopped, and 'cdbr3799' settled for seventh his Q-9 fell to blur5f6's a-2, the board completing a wheel straight.
sideout31's run ended next, when he called Makisupa's all-in push with A-9, only to find MakiSupa with pocket queens. No ace showed, and the field was five. And after suffering a tough beat at Adanthar1's hands, bel0wab0ve exited when his A-K was reeled in by blur5f6's Q-9, on a board of 4-8-3-T-9. 'rdcrsn' quickly followed bel0wabove, his last push with K-9 running into blur5f6's A-T, with the 8-7-3-Q-7 board bringing no help.
Three-way play started with the players all but tied, but MakiSupa soon won a big pot from Adanthar1 to pull well ahead, but momentum shifted when blur5f6 doubled through MakiSupa behind pocket queens. blur5f6 ended MakiSupa's night by catching two pairs (while holding A-7), after calling MakiSupa's push backing pocket queens; the board arrived A-8-6-J-7. Adanthar1 and blur5f6 battled heads-up for some time, but the end finally arrived when Adanthar1 pushed with A-7, and blur5f6 made the call with K-8. The board arrived Q-K-T-2-K, giving blur5f6 trip kings and the UBOC #3 title.
UBOC Event # 3 - Final standings:
1st ($56,724.30): blur5f6
2nd ($33,632.28): Adanthar1
3rd ($23,467.50): MakiSupa
4th ($17,433): rdcrsn
5th ($14,080.50): bel0wab0ve
6th ($11,264.40): sideout31
7th ($8,582.40): cdbr3799
8th ($6,034.50): gbmantis
9th ($4,559.40): razor483
10th ($2,682): ibite123
Bodog $100,000 Guaranteed
954 players were on hand for Bodog's weekly $100,000 Guaranteed, meaning that, as is normal with Bodog, a small overlay was in play. 81 players made the money in this event.
'LDizasta' surged to grab the lead as final-table play began, his nearly $500,000 in chips not far ahead of second-place 'badblood1.' 'GnatButter' picked up the first knockout, when he sent Eric 'Rizen' Lynch to the rail in ninth. 'Reggie Gomez' exited next, his steal Q-J running into 'BRK916's pocket aces. Then, after sliding back to the pack, LDizasta reopened a gap by completing an ace-high straight to send 'tjd29cu' out in seventh.
BRK916 departed in sixth when his A-J failed to improve against GnatButter's pocket eights, and after a lengthy span of five-way play, LDizasta picked up two more knockouts, first sending off GnatButter in fifth, when LDizasta tried to steal from the button with J-6, was re-raised all-in by GnatButter, and made the call; a jack on the flop made the winning pair. Then LDizasta ended the night of 'A__theKevlar__2,' who had briefly held the lead himself, on a hand where both players made a spade flush on the river but LDizasta held the ace.
'Phoummareth' nursed his own short stack very deep, and survived several all-ins along the way, but he finally lost a raise with pocket fives against LDizasta's K-Q, when a queen flopped; the board for that hand read 6-6-Q-4-4.
Just when it seemed as though LDizasta's rush to the win was a sure deal, badblood1 pulled off the longshot comeback, the biggest swing coming on a hand where both players got the chips in pre-flop, but badblood2 had A-2 to LDizasta'a A-K. badblood1 caught his needed deuce, however, to jump into the lead. The end came soon after, when the chips again went into the middle pre-flop. This time badblood1 had the dominating hand, A-J over LDizasta'a J-9, and both players caught a piece of the 9-A-2 flop. The turn and river, though, were an eight and a ten, and badblood1 notched the unlikely comeback victory.
Bodog $100k Guaranteed - Final standings:
1st ($25,000): badblood1
2nd ($16,000): LDizasta
3rd ($9,000): Phoummareth
4th ($6,500): A__theKevklar__2
5th ($5,400): GnatButter
6th ($4,400): BRK916
7th ($3,400): tjd29cu
8th ($2,400): Reggie Gomez
9th ($1,550): Rizen