Online Poker Weekend: 'like7' Wins Long Heads-Up Duel in Full Tilt $500K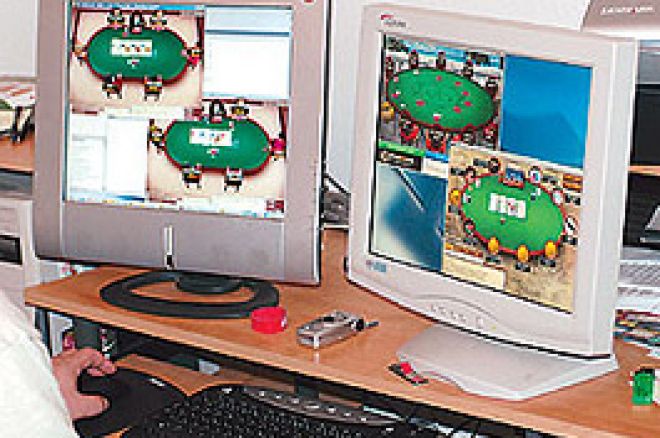 One of the most tenacious heads-up duels in recent memory put the capper on a solid Sunday night of action, as 'like7' outdueled an aggressive 'qwert987' to take down the special $500,000 monthly version of the Full Tilt Sunday Guarantee.
Poker Stars Sunday Million
Another solid turnout at Poker Stars again ensured that the million-dollar pre-tourney guarantee was a fleeting memory --- 6,628 players generated a total prize pool of $1,325,600. First prize was scheduled to be $185,584, and the cash ran 975 places deep. 'jkopp984' held the lead as this event's last table started play, though 'pokerno' soon jumped climbed into first.
With blinds already $200,000/$400,000, and all-in pushes the preferred strategy, 'hafizzle' fizzled first when his pocket kings fell to a rivered ace that gave 'luckeeseven' and his A-6 the winning hand. 'SL!CK' bowed out in eighth place on the following hand when his A-4 proved no match for pokerno's pocket queens. Moments after dropping a J-J vs. A-K race (won by 'vinny88' when a king dropped on the river), 'koule11' bowed out when his pocket threes were no threat to 'bonvivant's sevens-over-eights full boat.
luckeeseven, still the shortest stack of the remaining players, finished in sixth when pocket nines couldn't hold up against 'janwillem111's T-7; the needed ten arrived on the flop. 'vinny88' suffered through a long dry spell, becoming short of chips, then departed in fifth place when his A-K couldn't hold up against another janwillem111 T-7 that caught a ten on the flop. The four remaining players, not widely spaced in chips, then agreed to a deal that left thirty grand to be awarded to the eventual winner. It would be all pokerno, as he knocked off each of the other three players in rapid succession.
First to fall was bonvivant, sent to the virtual rail in fourth when his A-4 found no help against pokerno's pocket nines. Next up, in the tournament's biggest pot, was a matchup between pocket pairs; pokerno was ahead with tens against janwillem111's sixes and the J-A-8-3-2 board changed nothing. And finally, 'jkopp984,' the last survivor, found K-Q at the same time pokerno owned A-J; this last hand's board offered 3-T-5-5-4, and pokerno's ace kicker played, and sealed the victory.
Poker Stars Million - Final standings:
* 1st ($124,276): pokerno
* 2nd ($70,074): jkopp984
* 3rd ($107,104): janwillem111
* 4th ($79,124): bonvivant
5th ($35,526.08): vinny88
6th ($28,632.96): luckeeseven
7th ($22,535.20): koule11
8th ($16,702.56): SL!CK
9th ($10,869.92): hafizzle
* --- four-way to chop remaining prize money; $30,000 to eventual winner
Full Tilt $500,000 December Monthly Guaranteed
Full Tilt's monthly high-buy-in event attracted large numbers, as 1,237 players each paid the $500+35 entry fee, with the total prize pool climbing to $618,500. 180 players made the money here, with first prize a healthy $117,515. 'A_Junglen' led this event's march to the final nine, with over $1 million in chips and recorded the first knockout as well, sending 'SuckaFishy' to the rail in ninth when A_Junglen's K-Q found help in a flopped king to run down SuckaFishy's A-9.
'the flop canada' had his tourney run end in eighth place when his pocket sevens fell to 'qwert987's K-Q, with the flop bringing both a king and queen and neither of the remaining sevens appearing to save the flop canada's day. A long run of hands then ensued before 'Sybilline' fell in unlikely fashion to 'gusost' --- Sybilline held A-T to gusost's A-J, but surged ahead on a T-2-K, flop, only to see an ace on the turn and gusost's straight-making queen fall on the river.
A huge hand then saw qwert987 send both A_Junglen and 'lordhutty' packing at once; all three players moved in before the flop, and while A_Junglen and lordhutty both held off-suited A-Q's, qwert987 owned pocket kings, which became a set when a third king arrived on the river. Moments later, gusost caught a five outer to send Kool Kyle to the rail in fourth. On that hand, the chips went in after a turn four paired the board, making it 4-Q-9-4. gusost had T-9 for nines and fours, but Kool Kyle held Q-3 for a better two pair, queens and fours, until the river brought another nine and gave gusost the winning full house.
Momentum shifted when qwert987 ran pocket queens into 'like7's pocket kings; the kings held up and like7 moved into the lead. qwert987 wasn't done, however, parlaying aggressive short-handed play into a knockout of gusost, when his K-5 caught a piece of a 5-4-2 flop and held up over gusost's A-T, when gusost pushed after the flop. like7 would play back again, as this heads-up duel lasted nearly 150 hands, and after winning two all-in showdowns like7 assuned control.. The end finally arrived on a hand where qwert987 was forced in behind K-5, while like7 had pocket eights, and promptly flopped a set. The remainder of the board never threatened like7's lead, and he took down the six-figure win.
Full Tilt $500k - Final standings:
1st ($117,515): like7
2nd ($72,364.50): qwert987
3rd ($50,098.50): gusost
4th ($38,656.25): Kool Kyle
5th ($29,378.75): lordhutty
6th ($21,029): A_Junglen
7th ($15,462.50): Sybilline
8th ($12,184.45): the flop canada
9th ($9,463.05): SuckaFishy
Ultimate Bet $200,000 Guaranteed
Ultimate Bet's $200,000 Guarantee attracted 957 players this time around, meaning a tiny overlay was in place. The top 100 cashed, with first place garnering a nice $45,000 payday. 'Brad JOHNSON' led the charge to the final table, arriving with just over $500,000 in chips, narrowly ahead of '21maddog.' Several all-in showdowns where the shorter stack successfully doubled through --- despite drawing thin as often as not --- marked the early goings, before 'dry_benefit' picked off two players at once, behind aces that turned into a river wheel straight; one being the unlucky 21maddog, whose luck ran south in several early hands, and the other was 'bluffenuff4u.'
The double elimination put extra money into 'crabfarm's payday; crabfarm had been the extreme short stack, allowing himself to blinded off as the other all-in battles raged. crabfarm bowed out in eighth when four other players checked it around, and 'shumonytonite' rivered a five for a set to send crabfarm packing. Next to fall was shumonytonite himself, when his K-J never caught up to 'St_Etienne's pocket queens. Then Brad JOHNSON claimed he misclicked when he called yadio's all-in push; yadio had A-8, Brad JOHNSON 7-2, and both a seven and deuce arrived on the flop --- exit yadio. Then Brad JOHNSON and 'tmay_420' again got all the chip in pre-flop; Brad Johnson held A-Q to dominate tmay_420's A-J, and a queen on the flop spelled the end of tmay_420's night.
Brad JOHNSON's rush continued, when he rivered a spade flush to reel in St_Etienne's pocket tens and send St_Etienne to the the rail in fourth. The back-to-back pots gave Brad JOHNSON over sixty percent of all the chips in play, and it soon become eighty percent, when he flopped trip sixes to finish off dry_benefit and his A-Q. The last survivor was 'jjjucifer,' who tried but failed to connect on a straight draw when he held 5-4 and the flop brought 2-2-3. Brad JOHNSON had a modest 3-6, but the paired three would stand u when a seven and jack completed the board, giving Brad JOHNSON the $45,000 victory.
Ultimate Bet $200k Guaranteed - Final standings:
1st ($45,000): Brad JOHNSON
2nd ($26,500): jjjucifer
3rd ($18,000): dry_benefit
4th ($13,100): St_Etienne
5th ($10,500): tmay_420
6th ($8,500): yadio
7th ($6,500): shumonytonite
8th ($4,500): crabfarm
9th ($3,400): bluffenuff4u
10th ($2,000): 21maddog
Party Poker $200,000 Guaranteed
Party Poker's Sunday $200,000 Guarantee continued its steady attendance climb on Sunday evening, with 1,059 players on hand. The prize pool totaled $211,800, with 150 players cashing and a first prize listed at $44,478. 'XXXtigerXXX' and 'real_deal111' led the last ten players to the final table, with $1.2 million and $1 million, respectively.
'Mrdavve' scored the first knockout when a river jack paired his hole card and topped 'NETPOKERnu's pocket eights, and then 'Kerre1's aces held up over 'stevewaz's jacks, sending stevewaz to the rail in ninth. Another matchup of pocket pairs soon followed, with 'SmikaS's tens holding up over 'GotUm8's nines, for another elimination, and then SmikaS bounced the short-stacked 'eatschips' in seventh.
After a break, and with the blinds moved to $15,000/$30,000, SmikaS took a pot away from XXXtigerXXX with a large turn bet to surge to the lead, although at this point the remaining six players were tightly bunched. real_deal111 then rode pocket queens to a huge all-in pot win over XXXtigerXXX, who flopped a top pair of nines, holding A-9, and with only an ante's worth of chips left after real_deal111's overpair held up, XXXtigerXXX bowed out on the next hand to Mrdavve.
After the shortest stack, 'c_webb444,' caught an ace to overtake real_deal111's pocket sevens and pull back into contention, c_webb444 then caught a river jack to fill a straight against Mrdavve's pair of aces to challenge for the lead. real_deal111 then dropped a huge pot to Kerre1 when his top-pair/flush-draw hand failed to connect for the win. Soon after, c_webb444's rush continued when he caught quad fours on the turn to send SmikaS packing in fifth. Four-handed play continued for a long stretch, with Kerre1 slow-playing a made wheel straight to take a $2 million pot from c_webb444 and assume a commanding lead.
A bad beat decided fourth, when Mrdavve and real_deal111 got their chips in pre-flop, with real_deal111's pocket queens ahead of Mrdavve's suited A-T. Mrdavve's needed ace flopped, however, and only three players remained. Mrdavve's bid to climb higher went for naught; his sevens ran into c_webb444's queens to end his run in third. The big hand saw c_webb444 retake the lead as this tourney's heads-up, Swede-vs.-Swede conclusion began. c_webb444 padded his lead early, building a 4:1 margin before Kerre1 made three strong playbacks to bring the match to near even, though this was c_webb444's night. On the last hand, c_webb444 caught sixes on the flop and turn to make trips and run down Kerre1's tens, an overpair on a seven-high board. The hand gave c_webb444 the $44,478 first-place prize.
Party Poker $200k Guaranteed - Final standings:
1st ($44,478): c_webb444
2nd ($25,416): Kerre1
3rd ($15,355.50): Mrdavve
4th ($12,178.50): real_deal111
5th ($10,060.50): SmikaS
6th ($7,942.50): XXXtigerXXX
7th ($6,036.30): eatschips
8th ($4,024.20): GotUm8
9th ($3,071.10): stevewaz
10th ($2,118): NETPOKERnu