Poker and Playmates: Chris Moneymaker & the Mansion!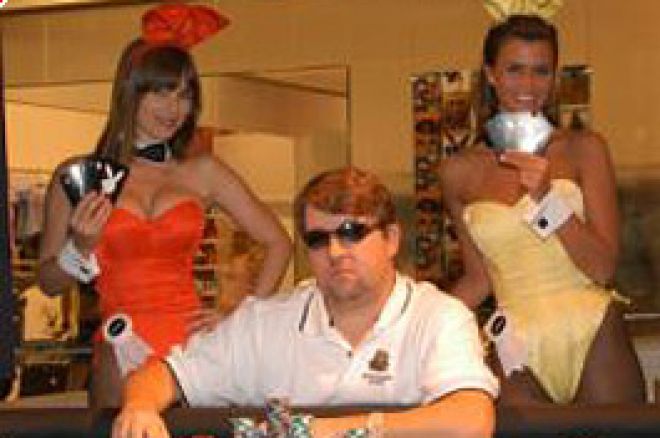 Somewhere on a college campus right now some youngster in a Marketing 101 course is learning that attractive women help to sell products, especially to men. There may be no better source of striking beauty than Playboy and their bunnies. With the enormous majority of poker players being of the male gender, it seems that poker and Playboy would be a natural marriage. Um, perhaps "marriage" is the wrong word to use when speaking about this topic! Well, the 2003 World Series Main Event Champ Chris Moneymaker signed a partnership with Playboy Enterprises as soon as he started his company, Moneymaker Gaming. They started off by producing a line of poker products together, including high-end poker chips with Playmate logos and pictures. Now, Moneymaker is looking to do one better; he's looking to bring you the real thing! He is hoping to trump all of the other poker camps by combining many men's ultimate weekend: poker and the Playboy Mansion!
Staring January 21st, Moneymaker Gaming is hosting a long weekend of cards, instruction, and parties with the Playboy Poker Camp presented by Moneymaker Gaming. While talking with event organizers and Chris Moneymaker himself, it seems like it is slated to be something like a regular instructional poker camp that's been pumped up with extra doses of testosterone. Participants will get lectures, instructions, and demonstrations from a few of the top names in poker. Scheduled to present at the Morongo Casino in Palm Springs include top-level poker pros such as Layne Flack, David Williams, Jim "Krazy Kanuck" Worth, and, of course, Chris Moneymaker. After the classroom sessions the campers take on each other and the pros with a couple of tournaments and Sit-n-Go's, with $100 thousand in cash and prizes in the pool up for grabs. What sets this apart from other poker camps are the parties that surround these instructional sessions. The whole thing kicks off in the sleek Ultra Lounge with a party hosted by Playmates such as Monica Leigh (Miss March 2006) and Carmella DeCesare (Playmate of the Year, 2004). It is capped off with what promises to be one heck of an event, a party with poker pros, some celebs, and Playmates at the Mansion!
In a recent conversation, Moneymaker summed it all up with the statement, "So for the poker side of it, you're getting good instruction, you're having fun playing great poker and having fun playing in a big tournament that's gonna have a nice prize pool. And then, the other benefit is you're gonna have two parties. One at the Morongo with the Playboy bunnies and then, two, the last night, we're all jumping on buses that have fully-stocked bars and taking them down to the Playboy mansion. And there will be over 50 topless Playmates running around and having a good time!" Now, that is one heck of a sales pitch.
Packages start at about $5 thousand per camper. That gets you two days of poker instruction, meals, entry into the tournaments with a shot at the $100 thousand dollar prize pool, and the bashes at the Ultra Lounge and at Heff's Mansion. If a camper is brave enough to take his spouse to this long weekend, $900 allows them to tag along and hit the spa while poker "class" is in session. The price tag is a bit more than similar instructional camps offered by top pros, but Chris had no reservations in detailing why the extra charge is justified when he said, "Hey, I would pay $5-grand just to go to the parties!" In additional to hanging their hat on the parties, it does also seem that the organizers are pumping some of the per-camper cost back into the tournament prize pool. You see, the $100K in prizes that they advertise is much more than most other poker camps promise to have. In addition to cold hard cash, winners in the tournament can win interesting awards such as tickets to future parties at the Mansion, a lunch with a Playmate, and a Vegas vacation for a group of you and your buddies.
More information, including the fees for all of the possible packages and details on the included tournaments, is available at their website: playboypokercamp.com. Stayed tuned to pokernews.com for more updates on this one, too. Sorry for the cheesy pun, but we have to say that this is one story that we will be sure to work tirelessly to 'uncover'.