The Year in Poker: February, 2006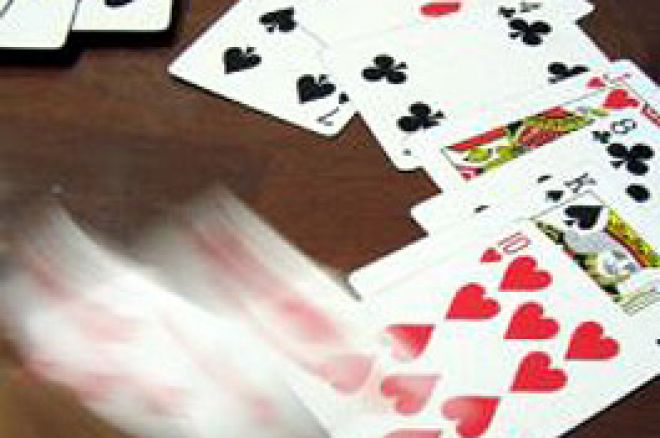 February's poker developments saw the first serious steps toward what the later parts of the year would bring in large scale --- legislative struggles and legal disputes. The month also offered the first of several strange scandals involving high-profile players, both online and in the real world. It wasn't a fun month to be a poker follower, but it sure was an interesting one. Here's what we saw unfold during February, 2006:
Congressman Attempts Internet Poker/Gaming Ban --- The first warning shot across the bow that the Unlawful Internet Gambling Enforcement Act [UIGEA] was in the works came in mid-February, when pokernews.com reported that Congressman Bob Goodlatte (R-VA), had reintroduced legislation seeking to ban online gaming, including online poker. Long a strident opponent of online poker, Goodlatte had spearheaded a previous legislative push that had failed years earlier, maneuvered into a political cul-de-sac by lobbyist Jack Abramoff. Abramoff would later fall into disgrace because of other matters, something Goodlatte would use for his own political ends as the year unfolded.
$500,000 Tournament Winner Disqualified --- There were great moments in poker in 2006, but there were scandals as well. The first untoward moment of 2006 occurred when a poker-forum poster accidentally exposed the fact that a well-known online player, 'JJProdigy,' had won the $500,000 Sunday Guarantee at Party Poker, but had done so under a second account he was using in the tournament at the same time as the first. Playing multiple accounts at the same time violates the rules of every major site, including Party Poker. Not only was the second account, using the screen name 'ABlackCar,' traced back to the same computer IP address as the one being used for JJProdigy's play, but subsequent developments showed that JJProdigy was underaged at the time of the illicit tourney win. As part of the resolution, Party confiscated JJProdigy's tourney winnings and redistributed them to the other high finishers in the event.
Andy Beal Versus Phil Ivey – Good Stuff --- Round Two of the modern poker era's 'Big Game' got underway in late February, as billionaire Texas banker Andy Beal resumed his celebrated heads-up poker confrontation against a consortium of Las Vegas's most feared high-stakes poker pros, commonly referred to as 'The Corporation.' Beal played the pros --- including Jennifer Harman, Ted Forrest and Phil Ivey --- twice during February, first winning their initial $10 million stake, but then returning days later to drop that amount and more, largely at Ivey's hands.
Harrah's Reopens New Orleans Casino --- Poker didn't disappear entirely from New Orleans in the wake of Hurricane Katrina, but it was still great news when Harrah's reopened its Harrah's New Orleans casino in February, featuring the largest poker room in that region of the country. Gulf Coast poker had been like everything else in Katrina's aftermath --- devastated. While poker was unimportant when compared to the loss of life and property caused by that fearsome storm, the return of poker still promised a return to better economic times.
PartyGaming Buys Empire Poker --- The tale of a corporate working relationship that faltered reached its conclusion on February 14th when Party Gaming, parent company of Party Poker, announced the purchase of Empire Poker and a handful of smaller 'skins' for a reported purchase price of $250 million. The purchase ended an ongoing legal dispute between Party and Empire, brought about after Party unilaterally discontinued its agreements with its network members (including Empire), in a move that left Empire, for all intents and purposes, irrelevant.
Italy Enacts Partial 'Ban' on Internet Gaming and Poker --- The United States wasn't the first country to try enacting legislation to stop online, internationally-played poker. That honor went to Italy, which passed a decree in February attempting to limit the playing of poker by Italians to only those online sites housed in Italy. The partial ban didn't work well, first running afoul of corporations incorporated elsewhere but with established Italian interests, then crashing on the rocks of the European Union's free-trade agreements. By year's end Italy had reversed course and opened itself up as a home for online poker sites to incorporate and do business.
PokerStars Introduces V.I.P. Club --- On the lighter side, Poker Stars announced its new V.I.P. Club in early February, a grand-scale promotion designed to reward frequent players with something a bit meatier than the hats and t-shirts offered by many other sites. Stars' new V.I.P. program included five levels of participation: Bronze, Silver, Gold, Platinum and SuperNova. Announced prizes ranged to the extreme, from oversized computer monitors to iPods and plasma-screen TVs, to a Porsche; one European player made history later in the year after amassing enough Frequent Player Points (FPPs) to win one of these Porsches, the first to be awarded.