'Dr Pauly' From the Aussie Millons - Day 3 Recap: Gobboboy Rules
Paul McGuire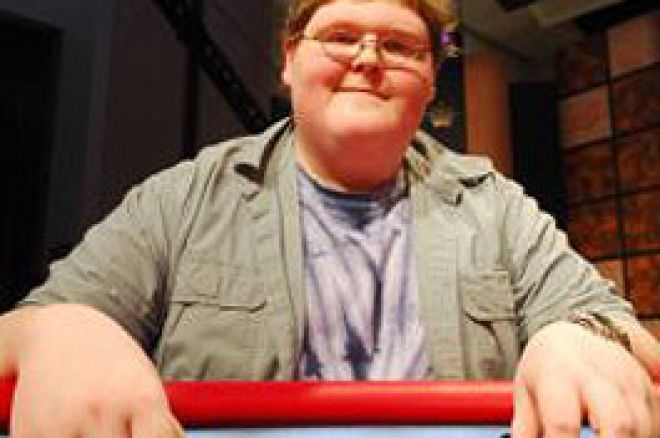 Day 3 at the Aussie Millions Main Event started with 80 players, all of which were guaranteed prize money. By the time the day ended, Jimmy Fricke would emerge as the chipleader and the legend of "Gobboboy" would soon make its way around the room.
The 19-year old internet prodigy from Illinois predicted that he was going to win the Aussie Millions the day before it started. After a fortuitous run on Day 3 where he busted several pros, Gobboboy had the remaining players in the room spooked out after several brutal suckouts. Like a hot goalie in the NHL playoffs, or having to bat against Mariano Rivera in the World Series… none of the pros wanted to battle with Fricke, especially with the best hand… because they knew the result would be deadly. Gus Hansen, Andy Black, and Patrik Antonius ended the day in the Top 5 in chips and will be chasing down Gobboboy on Day 4 in a quest to win the $1.5 million first place prize.
Joe Hachem ended his run at the Aussie Millions when he was knocked out in 23rd place by Jonas Buskas. The student from Sweden was playing in his first live tournament and ended up busting both Hachem brothers. Hachem never had too many chips to play with and seemed like he was constantly on the edge of elimination since early on during the first day of action. With a shortstack, Hachem moved all in for 67K with Qh-7c. Buskas re-raised to 150K and everyone folded as he showed Ad-Qc. Buskas had Hachem dominated. Hachem's hand did not improve and he was eliminated as everyone in the room gave the 2005 WSOP Champion a thunderous applause.
Defending Champion Lee "Final Table" Nelson also busted out on Day 3. Nelson was all in with Kc-9c against Gus Hansen's Ac-Qs. Hansen flopped trip Queens on a board of Qc-Qh-4c. Nelson picked up a redraw for a flush and on the turn he picked up a couple of more outs with a gutshot. Sadly, Nelson could not catch any outs on the river and headed to the rail in 36th place.
Haralabos Voulgaris started Day 3 as the chipleader but steadily lost chips throughout the session and busted out in 21st place. He lost a big hand against Gobboboy when on a flop of Qs-Qh-4s, Voulgaris check-raised Gobboboy all in, who called with 10s-8s. Voulgaris showed 7h-7s for two pair. The turn gave Gobboboy the flush when the King of spades fell and his hand held up. Gobboboy lost a couple of pots worth over $1 million when he missed three flush draws. That time, his flush materialized.
Ville Laukkanen became Gobboboy's next victim. Laukkanen was all in with 2-2 and Gobboboy called with K-7o. Gobboboy flopped a gutshot with two overcards on a board of J-9-8. The turn was an Ace and the river was the 10 to fill in the straight for Gobboboy. Laukkanen finished in 20th place.
Shane "Shaniac" Shleger had been running well during the Main Event. Although his stack fluctuated over the first few days, he seemed in control on Day 3 until Gobboboy busted him by a brutal river suckout. All the money went in on the flop of Q-9-2. Shaniac flipped over Q-J and had Gobboboy dominated, who showed Q-10. Gobboboy caught running cards (a King on the turn and a Jack on the river) for a straight against Shaniac's two pair. That pot was close to 3M and a disgusted and stunned Shaniac headed to the rail in 19th place after getting his soul sucked out on the river. That hand made Gobboboy the first player to jump over 3M in chips.
After the Shaniac suckout, the players and fans on the rail stated referring to Jimmy Fricke as "The Luckbox" instead of "Gobboboy." His string of good fortune would continue when he took 10-10 to battle against Nathan Bobik's K-K. Gobboboy promptly flopped a 10 as everyone on the rail could not believe their eyes. Gobboboy struck again. An astounded Bobik headed to the rail in 17th place as Gobboboy's amazing run continued.
Gus Hansen started the day second overall in chips and was up to 750K after he busted Lee Nelson. Hansen spent most of the day on the featured TV table, where he busted two players to run his stack over 2M. Hansen raised 66K preflop with J-J. Kev Atkin moved all in with Qc-10c, and Robert Goldfarb moved all in over the top for all his chips with As-Ks. Hansen had to call 265K with about 600K in the pot.
"I'm probably at my usual 18% here... I call," said Hansen as he shrugged his shoulders and pushed chips into the pot.
The flop was 9c-3d-2d. The turn was 8h and the river was 6d. Hansen's Jacks held up and he busted both players. By the end of Day 3, Hansen would be second in chips trailing Jimmy "Gobboboy" Fricke by about 800K.
End of Day 3 Chip Counts:
Jimmy "Gobboboy" Fricke $2.6M
Gus Hansen $1.861M
Andrew Black $1.759M
Patrik Antonius $1.637M
Marc Karam $1.249M
AVERAGE STACK $1.067M
Julius Colman $1.018M
Hans Martin Vogl $849K
Jonas Buskas $820K
Kristy Gazes $713K
Paul Wasicka $560K
Jacob Glassl $464K
Patrick Fletcher $462K
Dennis Huntly $449K
Emanuel Seal $434K
2006 WSOP runner-up Paul Wasicka is still left in the mix, along with Kristy Gazes. They both have stacks below the average. Day 4 will start at 11 AM local time and will end as soon as there are 7 players remaining. Will Gobboboy's luck run out or will one of the blood-thirsty pros like Gus Hansen, Andy Black, or Patrik Antonius chop away at his big stack? To find out, follow the action through our live updates.