'Dr Pauly' at the Aussie Millions - Main Event Day 1a Recap
Paul McGuire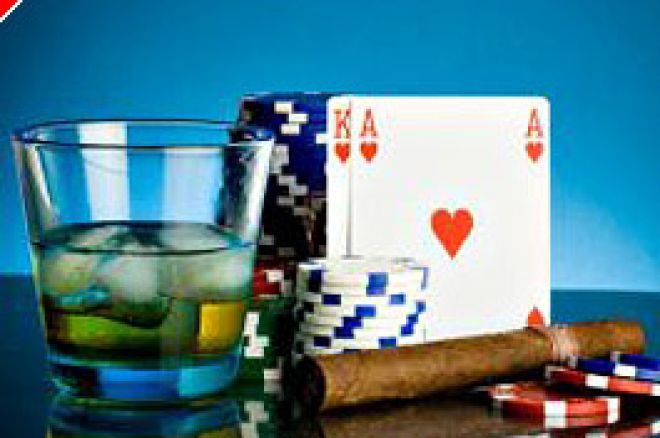 The Main Event Championship at the Aussie Millions officially kicked off at the Crown Casino in Melbourne, Australia. The opening ceremonies were a festive affair with the traditional opening song and cover version of Kool and the Gang's "Celebration," featuring a flamboyant singer and several Las Vegas-style background dancers and show girls. There was a brief introduction of players including Howard Lederer, 2005 WSOP Champion Joe Hachem, actress Shannon Elizabeth, cricket player Shane Warne (the Aussie version of Sandy Koufax), and tennis pro Mark Philippoussis. They all collectively started the tournament with the famous words, "Shuffle up and deal!"
The first day was broken down into two flights with 358 runners playing in Day 1 Flight 1. That's an impressive number considering a total of 418 entrants were in the 2006 Aussie Millions Main Event. The players started with 20,000 in chips and the levels were 90 minutes in length. Flight 1 consisted of seven levels and Flight 2 will do the same.
Several big names were in the field on the first day of action including Dan Alspach, Billy the Croc, Gary Benson, Scott Fischman, Melissa Hayden, Matt Hilger, Mel Judah, Jesse Jones, Lee Nelson, JJ Liu, Patrik Antonius, Jeff Lisandro, Jack McClelland, Daniel Negreanu, Paul "The Virus" Ravesi, Joe Reina, Shane "Shaniac" Scheleger, Paul Wasicka, Marsha Waggoner, and Haralbos Voulgaris. Several members of Team Full Tilt were also in the fight… Andy Black, Richard Brodie, Steve Brecher, Allen Cunningham, John D'Agostino, Chirs "Jesus" Ferguson, Kristy Gazes, David Grey, Carlos Mortensen, Greg FTB Mueller, Joe Sebok, David Singer, Erik Seidel, Keith Sexton, Ram Vaswami, and Steve Z.
The first table of note was the "athlete's table" which featured Shane Warne, Mark Philippoussis, and Patrik Antonius (who was a model and a tennis pro in Finland). Table 17 was a tough draw with defending champion Lee "Final Table" Nelson, along with the Sydney boys… WSOP bracelet winner Gary Benson, Steven Wise, and Jason Grey (who played in the 100K event).
The buzz of day one surrounded Kristy Gazes, who jumped out to an early chiplead. She doubled up early and cracked A-A with pocket Kings when she rivered a flush. She put those chips to good use as she build up her stack and became the first player over the 100K mark. Although she'd lose the chiplead after the dinner break, she hung on and ended the day Top 10 in chips despite getting moved to a difficult table with John D'Agostino and Shane "Shaniac" Scheleger.
Shaniac had a rollercoaster of a day. He started out hot after running over his table and was one of the early chipleader. He took a hit after the dinner break when he ran K-K into A-A, but built his stack back up.
Patrik Antonius scooped a monster pot with J-J and did not look back from there. He jumped past Gazes as the chipleader and became the first player over the 200K and 300K mark. He bullied his table around with the big stack which kept growing and growing as he took down pots of all sizes. He had the entire table on tilt and had players bluffing into him when he held the nuts. Antonius also got two players to push their stacks all in with 7-7 and 9-9 respectively when he held J-J. Antonius was running so hot that he did not want to stop playing when Day 1 ended. He offered to play anyone heads-up for $10K.
19 year-old internet prodigy Jimmy "Gobbo" Fricke played impressive poker despite being under the weather with a cold. Fricke caught a little luck early on when he rivered a one outer to catch quads after he pushed all in with Q-Q on a flop of Ah-Kh-Qh. He was up against K-K and rivered the case Queen. Word of that hand quickly made its way around the poker room. Fricke also made a timely move against Erik Seidel when the two were moved to the feature table. Fricke opened up for a raise of 2.5K and was reraised by Seidel, who had been consistently doing that to his table. Fricke re-raised back to 25K more and Seidel mucked. Fricke flashed his cards and showed the bluff with Q-5o.
Notable eliminations on Day 1 Flight 1 included Daniel Negreanu, Roland de Wolfe, Carlos Mortensen, Erik Seidel, Gary Benson, Steve Z, Allen Cunningham, Melissa Hayden, Mel Judah, Ram Vaswani, Joe Sebok, Huck Seed, Shane Warne, Mark Phillippoussis, Scott Fischman, Jesse Jones, Jeff Lisandro, Jack McClelland, Richard Brodie, Doug Lee, Masaaki Kagawa, and Willie Tann.
Pros surviving the first flight included Kristy Gazes, Patrik Anontius, Shaniac, Jimmy Fricke, Andy Black, Alex Jacob, Billy the Croc, Haralabos Voulgaris, John D'Agostino, David "The Dragon" Pham, Dan Alspach, Jesus Ferguson, David Grey, David Singer, Jason Gray, Jimmy Satch, JJ Lui, Keith Sexton, Lee Nelson, Marek Kolk, Marsha Wagonner, Paul "The Virus" Ravesi, Paul Wasicka, Sam Khouiss, Tracey Moore, and Weng Wong.
Top 10 Chip Counts:
1. Patrick Antonius 315,400
2. Nebil Soner 201,400
3. Christopher Chronis 178,100
4. James Fricke 139,100
5. Kristy Gazes 133,900
6. Haralabos Voulgaris 125,400
7. Emmanuel Seal 102,300
8. John D'Agostino 100,200
9. Jim Sachinidis 98,800
10. Sergey Rybachenko 97,200
Pease note that those are not official numbers. End of day chip counts are done by the players, and are subject to verification upon commencement of Day 2. The second flight of Day 1 will start on Monday at 11:30 AM local time. To follow the action, check out our live updates.