2007 L.A. Poker Classic Poised to Begin at Commerce Casino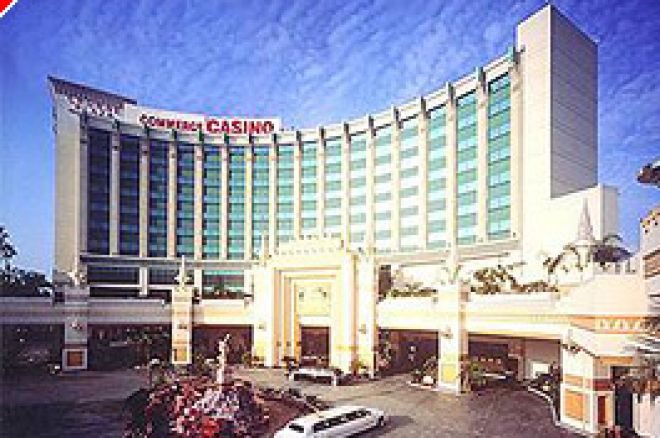 Poker returns to the West Coast in a big way in the weeks ahead with this year's edition of the L.A. Poker Classic set to kick off at the Commerce. Satellites are already underway, with the LAPC's first event being a $330 no-limit tourney on January 25.
This year's L.A. Poker Classic lineup offers 30 events (up from last year's 28), with an unofficial 31st event, the WPT Celebrity Invitational, wrapping things up in the early days of March. The championship of the LAPC, a no-limit tourney with a $10,000 buy-in, runs from Feb. 24th through March 1st. The championship will be preceded by a Super Satellite Day on Feb. 23rd, and as for the championship itself, it offers one of the largest cash payouts in poker: $2 million is guaranteed to the winner, with $1 million also assured to the runner-up.
The final tables of the LAPC Championship and the Celebrity Invitational will appear on successive World Poker Tour episodes later in the spring. In last year's LAPC, Alan Goehring parlayed a short stack and a couple of momentous suckouts into a $2.4 million victory. Barry Greenstein triumphed over a star-studded field in the Celebrity Invitational, then donated his $200,000 winner's check to charity.
Lower-priced events and different formats abound in this year's LAPC run. Traditional no-limit events remain an LAPC favorite, with buy-ins ranging from $330 up to the Championship's $10,000. Fully half of the 30 events on tap require only a $330 or $540 buy-in, bringing a big-time poker experiences into the range of many players' budgets.
The LAPC's unique Valentine's Day "tag team" event returns, showcasing teams of two players who alternate with each jump of the blinds. The Ladies' Event also returns on Feb. 3rd, and this year's schedule offers not one or two, but three different "shootout"-style events, spread throughout the calendar, which sees a new tournament kick off every day between Jan. 25 and Feb. 22nd. Another distinctive offering is the $540 turbo short-handed event on Feb. 7th, and two re-buy events are available, on Feb. 4th and 17th; each carries a $250,000 prize-purse guarantee.
Fixed-limit fans get plenty of chances to strut their stuff, with five different events included throughout the 2007 LAPC run. Omaha hi/lo and 7-stud fans have fewer opportunities but get their chances as well. The two Omaha hi/lo events begin on Jan. 27 and Feb. 6th, respectively, a high-only 7-stud event starts on Jan. 29th, and the other 7-stud event, a hi/lo split tourney, begins on Feb. 4th.
The complete schedule of events for the 2007 L.A. Poker Classic can be found at commercecasino.com.