Online Poker Weekend: 'ch0ppy's Seven Seals Stars Triumph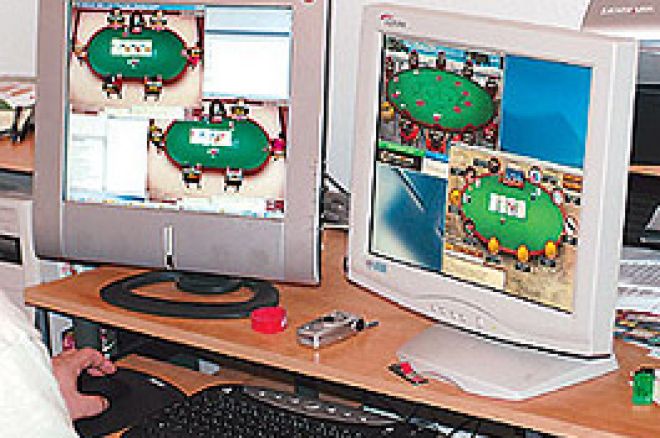 A return from the holidays saw huge participation numbers at most of the major online Sunday events. Poker Stars topped $1.4 million in its Sunday Million prize fund, Full Tilt topped the half-million mark, and Party Poker also jumped well over its pre-event guarantee. Mansion Poker's big-event customers enjoyed another great overlay, as that promotion picks up steam as well.
Poker Stars Sunday Million
Poker Stars saw 7,129 entrants sign up for its first Sunday Million of 2007. The mass of players generated $1,425,800 in cash for the winners, with first prize scheduled at 201,037.80. An incredible 1,080 players cashed, with the top eight receiving five- or six-figure paydays. When this event reached the final table, 'xapla' held the lead with over $17 million in chips, about $2 million ahead of 'ch0ppy.'
The first knockout occurred when the shortest stack at the final table, 'bail agent2,' pushed with A-5 and found two callers. One of these was 'LOPINI' whose A-J easily took down the hand as the flop arrived J-Q-T and no chop-producing king showed. Another tiny stack disappeared soon after when 'kAmIkAdZeEe' couldn't make A-7 work against the K-8 of ch0ppy, with the chips going in pre-flop and that flop bringing a king and two fives, which held up for ch0ppy. LOPINI then took another turn in narrowing the field when his kings held up over 'Fisheye25's fives, the board improving neither player. The two knockouts combined moved LOPINI over $10 million and into contention.
'xapla' slipped back through the middle part of the action, finally departing in fifth when his last stand with K-5 ran into 'AK87's A-J, with another ace arriving on the flop.
After a break, and with blinds escalated to $500,000/$1,000,000, 'PDX-JMc' pushed his last $4 million in with 6-5, but found a caller in AK87, who held A-9. The board arrived J-9-J-T-3 and the field was trimmed to four. A huge hand then saw ch0ppy double through with aces against AK87's sevens to regain a commanding lead. ch0ppy then used an A-6 to finish off Ak87's last stand, behind a suited Q-3, when a 4-6-4-J-2 board left both players unimproved. LOPINI finished off 'severine' a few hands later, A-8 winning out over severine's K-8 with another ace arriving on the flop.
ch0ppy held a 5:2 margin as he and LOPINI began the head-to-head duel, but LOPINI's J-T won a race against ch0ppy's pocket eights only five hands to bring the match back to even. Six hands later, the two again got the chips in before the flop, with LOPINI looking in good shape to close out the match, having ch0ppy barely covered and holding A-J of hearts to ch0ppy's A-7 of spades. The board delivered 7-T-3-2-4, however, pairing ch0ppy's seven and all but securing the win. LOPINI's last few chips went in on the following hand, behind just 3-2; ch0ppy's normally modest T-4 was well ahead and won out as the final hand's board would bring J-5-3-T-T.
Poker Stars Sunday Million - Final standings:
1st ($201,037.80): ch0ppy
2nd ($101,231.80): LOPINI
3rd ($71,290): severine
4th ($57,032): AK87
5th ($42,774): PDX-JMc
6th ($31,367.60): xapla
7th ($22,099.90): Fisheye25
8th ($12,832.20): kAmIkAdZeEe
9th ($8,412.22): bail agent2
Full Tilt $400,000 Guaranteed
Full Tilt upped its Sunday Guarantee to $400,000 for the first big event of the year, and the turnout did not disappoint. 2,576 players made it to the virtual FT tables, generating a prize pool of $515,200. The players chased $94,513.44 in first-place money, with the payouts running through 351st place. 'The Omaholic' and 'pitt2700' led the way to the final table, each with about $1.5 million in chips. The Omaholic drew first blood when he tried a re-raise steal against the short-stacked 'datldo,' and was rewarded when he caught a nine on the turn, holding 9-6, to reel in datldo's all-in pocket sevens. 'JCarver' departed next, first losing a big pot when he ran A-9 into 'DSnyder766's pocket aces, then having a final 7-6 go nowhere against DSnyder's K-Q when another king and queen hit on the flop.
'SBPoker06' was the next to fall, finishing in seventh when his K-J made a second-best two pairs to 'kidzero' when the board arrived Q-5-3-J-K, and another of the short stacks, 'MavFish,' floundered when his A-9 was reeled in by DSnyder766's modest J-3 when a jack hit on the flop. 'kidzero,' moments after losing a big race to pitt2700, then departed in fifth when his A-3 was no match for The Omaholic's pocket nines, an insurance nine arriving on the turn. Then, suddenly, pitt2700 tried an all-in, reraise steal with a suited T-6, but DSnyder766, with K-Q, wouldn't give up the hand, and was rewarded with the knockout when the board arrived 2-6-Q-A-K.
'I_am_Hugh' profited from the other knockouts, but ran out of time and chips when his suited J-T was dominated by The Omaholic's K-J, with the chips going in pre-flop. A king flopped and I_am_Hugh was drawing dead after the turn. The knockout gave The Omaholic a 4:3 lead over DSnyder766 as head-up action commenced, but with blinds at $40,000/$80,000 and both players owning over $3 million in chips, there was plenty of room to play.
However, these two had mixed it up and attacked throughout, so true to form, the end arrived quick. From the button, The Omaholic raised to $240,000 and DSnyder766 made the call. The flop came A-4-5 with two diamonds, DSnyder766 checked, The Omaholic bet another $300,000 and DSnyder766 called again. The three of clubs arrived on the turn; DSnyder checked again, The Omaholic bet another $560,000, and DSnyder766 check-raised all-in. The Omaholic made the call, having DSnyder766 covered, and DSnyder offered A-3 for two pair. The Omaholic, however, had been pushing with the famed 'Hammer,' 7-2 offsuit (the worst possible starting hand), had made his straight, and faded DSnyder766's four outs when a heart five completed the board. The 'Hammer'-made wheel straight gave The Omaholic the $94,000 victory.
Full Tilt $400,000 Guaranteed - Final standings:
1st ($94,513.44): The Omaholic
2nd ($58,011.52): DSnyder766
3rd ($37,970.24): I_am_Hugh
4th ($30,293.76): pitt2700
5th ($22,926.90): kidzero
6th ($16,486.40): MavFish
7th ($12,107.20): SBPoker06
8th ($9,479.68): JCarver
9th ($7,212.80): datldo
Mansion Poker $100,000 Guarantee
Mansion Poker's nightly $100,000 Guaranteed promotion neared the end of its first week with a great value for players. 502 signed up, meaning that the $100,000 prize pool included $49,800 of overlay. 54 players cashed, with first place worth $24,000.
Two players bounced out on the same hand at the final-table bubble, 'Shipitrightnow' and 'pssamit,' meaning this table had only eight players. Only a few hands in it became seven, when 'kev19' moved in with tens and found 'Samanta' waiting one seat behind with pocket kings, which held up for the knockout. Two hands later it became six, when chip-leader 'SoOtEDaCeSpWn' pushed with a suited A-Q and was called by 'gobears' with A-K, but the needed queen arrived on the flop. And soon after, Samanta took a second turn wielding the elimination axe when he caught a six on the turn to pair his T-6 start and send 'LuckyDonk' and his A-T out in sixth.
Five-way action lasted for several dozen hands, with 'opusx69' taking down several big pots to move into the lead. Samanta, however, would then pick off the two remaining short stacks. 'Miguel697' fell first, losing an A-K vs. T-T race when the board displayed 7-A-4-K-5, and then Samanta made trip tens to finish off 'Tebuck34.' opusx69 finished off SoOtEDaCeSpWn when his pocket nines stayed ahead of SoOtEDaCeSpWn's A-8, on a board of 6-7-K-4-K.
Head-to-head play began with opusx69 holding a narrow lead, but with the blinds already $8,000/$16,000, a major battle would soon occur. The end came when Samanta pushed all in after 8h-Ah-Td flop, holding T-3 of hearts for middle pair and a flush draw. opusx69, however, had soft-played pocket kings, and made the call, correctly guessing that Samanta's push did not include a pocket ace. A six of spades and queen of diamonds completed the action, missing Samanta's draw and giving opusx69 the win.
Mansion $100,000 Guaranteed - Final standings:
1st ($24,000): opusx69
2nd ($15,000): Samanta
3rd ($10,800): SoOtEDaCeSpWn
4th ($7,900): Tebuck34
5th ($6,000): Miguel697
6th ($4,600): LuckyDonk
7th ($3,400): gobears
8th ($2,400): kev19
9th ($1,600): Shipitrightnow
Party Poker $200,000 Guaranteed
Party Poker's first $200K Guarantee of 2007 offered a nice jump in participation as 1,167 entrants combined to form a prize pool of $233,400. First place was listed at more than $49,000, with 150 players cashing. Leading in chips as the last ten players assembled was Finland's typist-friendly 'hgvkhygfnbkj' at over $1.1 million, though as newsworthy an item was the presence here of Sweden's 'XX_GALTEN_XX,' who made his third straight final table in this event.
'money_smell' was the first to depart, exiting in tenth when his small-stacked, open-ended straight draw failed to connect against XX_GALTEN_XX's flopped set of eights. 'genshiken,' blinded down to almost nothing, finished in ninth when his mucked holdings couldn't beat 'weeman121's ace kicker on a board showing two pairs, tens and deuces. Blinds had moved two levels to $30,000/$60,000 plus antes when 'Ichan111' bowed out in eighth, his K-T losing to the A-8 of 'gn0871' when an eight flopped and no other helper cards showed.
Tight play continued for some time. A huge hand finally saw 'fartage' send hgvkhygfnbkj to the rail in seventh, fartage's aces holding up over hgvkhygfnbkj's A-T when an improbable K-A-K-K-3 board developed. Down to fumes after losing a big race to 'kitbul,' fartage tried to steal with a 7-6 against weeman121's A-6, and the field was five. Soon after it became four, when weeman121 flopped a set of deuces and ended gn0871's run.
weeman121 himself then suffered a crippling blow, dropping most of his chips to kitbul, then XX_GALTEN_XX finished the job. On that hand, weeman121 ran Q-T into XX_GALTEN_XX's pocket queens, with a 2-8-K-7-Q board offering no chance of help. The knockout capped a strong surge that saw XX_GALTEN_X open up a sizebale margin over kitbul and 'TheSinSinAnteKid,' who parlayed one big suckout, a key double-through and several stolen pots into a run to deep contention.
kitbul gained control in a hand where he began with pocket kings, XX_GALTEN_XX pocket threes. XX_GALTEN_XX flopped his set of threes, but kitbul caught his needed two-out king on the turn and doubled through, topping $4 million in chips and leaving XX_GALTEN_XX on the ropes, then caught a flush to finish XX_GALTEN_XX a few hands later. Despite the commanding lead for kitbul, it still wasn't over, as TheSinSinAnteKid won an A-J vs. 4-4 matchup when a jack hit the board, bringing the two back to almost exactly even. At this point they decided on the chop, with TheSinSinAnteKind barely ahead, and the technical winner of the event.
Party Poker $200k Guaranteed - Final standings:
* 1st ($38,606.59): TheSinSinAnteKid
* 2nd ($38,415.42): kitbul
3rd ($16,921.50): XX_GALTEN_XX
4th ($13,420.50): weeman121
5th ($11,086.50): gn0871
6th ($8,752.50): fartage
7th ($6,651.90): hgvkhygfnbkj
8th ($4,434.60): Ichan111
9th ($3,384.30): genshiken
10th ($2,334): money_smell
* two-way deal for remaining prize money