Online Poker Weekend: 'dim--tix' Triumphant in $1K-Buyin Sunday Million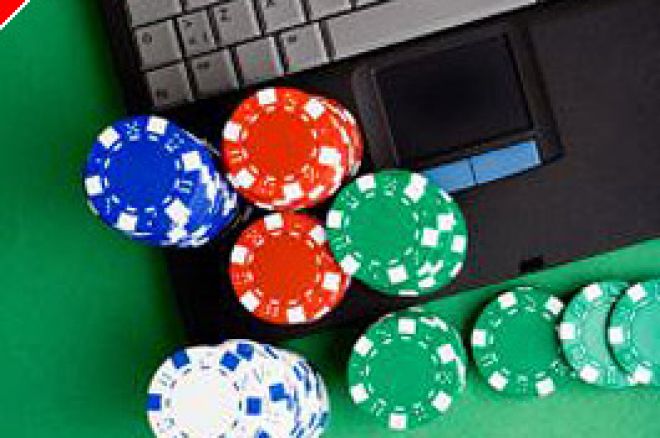 Poker players welcomed the New Year's arrival at the virtual felt, enjoying another weekend that also saw lots of extra money on hand at Mansion and, for those who could play there, Party Poker. The biggest story of the night was a solid final table at Poker Stars' weekly Sunday Million. The event's final table featured several recognizable online names and a big win for 'dim--tix,' when not one but two late hands found him combining great flops with perfect timing... meaning opponents picking that moment to push.
Poker Stars Sunday Million
Poker Stars offered a special $1,000 buy-in version of the Sunday Million, just for its high-rollin' crowd, and 1,083 players showed up for the fun, generating a prize pool of $1,083,000 and topping the event guarantee. First place was scheduled at $232,845, and 153 players made the money. 'joeaces,' at about $2.5 million in chips, held a narrow lead among a tightly packed field as the final nine came together.
'crazyButcher' drew the early blood at this final table, catching an ace on the flop to make his A-5 a winner against 'Peki30's pocket kings, then sending gobboboy to the rail in eighth when his A-Q stayed ahead of gobboboy's A-9. 'joeaces' then continued his strong run by eliminating 'hard2tel' in seventh, with joeaces' pocket tens staying ahead of hard2tel's suited Q-J.
'dim--tix' made a surge at this point of the tourney, winning several large pots, and won of these finished off the short-staked 'golfsoc.' On that hand, dim--tix held Q-9 to golfsoc's T-8, and the K-4-3-5-5 improved neither player. A short time later, 'The 6 P's ' night ended, a fifth-place finish his Q-J was dominated by joeaces's K-J; both players found a jack on the flop, but other helpers showed. joeaces picked up the next knockout, as well, sending Baby Rattler to the rail in fourth on a hand where Baby Rattler tried to steal with A-4, but joeaces made the call with A-T. The board showed 5-Q-8-A-9, and the field was narrowed to three.
It was joeaces' high water point, as dim--tix doubled through him a few hands later to challenge crazyButcher for the tourney lead. The three jockeyed back and forth for several dozen hands, when joeaces pushed all-in on a semi-bluff after a three-club flop, only to find dim--tix with the A-T of clubs, and joeaces was drawing dead and assured of finishing third. dim--tix finished the run only five hands later, holding Q-7 and catching two pair on an A-Q-7 flop as crazyButcher had an ace and flopped top pair. dim--tix pushed after a meaningless nine on the turn (crazyButcher held A-4), and with the chips all in, faded crazyButcher's outs as a three arrived on the river. The two-pair hand sealed the victory worth over $230,000.
Poker Stars Sunday Million Final standings:
1st ($232,845): dim--tix
2nd ($128,118.90): crazyButcher
3rd ($86,640): joeaces
4th ($69,312): Baby Rattler
5th ($55,774.50): The 6 P's
6th ($42,237): golfsoc
7th ($31,407): hard2tel
8th ($21,660): gobboboy
9th ($12,454.50): Peki30
Full Tilt $250,000 Guaranteed
Full Tilt offered a $250,000 Guarantee for its Sunday players, and 1,432 people signed up, pushing the prize pool to $286,400, well over the guarantee. First prize paid $53,843.20, and the money ran 216 places deep. The final table formed when Full Tilt 'friend' Lee Watkinson exited in tenth, and 'Zukunft979' led the survivors with over $850,000 in chips.
'PureCash25' opened up the action with a bad beat that sent 'Keep_Walking' to the rail in ninth, catching two nines to help his T-9 suited start overtake Keep_Walking's pocket queens. A battle of short stacks saw 'bamaholdem' eliminated at the hands of 'Bubbagump29,' when both players caught pieces of a 7-T-4 flop, but Bubbagump29's A-T stayed ahead of bamaholdem's A-7. Then, PureCash25 made pocket tens work against 'Poker_Man3's K-T to end Poker_Man3's night in seventh.
However, PureCash25's luck turned for the worse, and he was the next to exit, finally forced all in with a 6-3 that ran into Q-T, with an all-but-clinching ten arriving on the flop. BubbaGump29 met a similar fate, falling victim to part of a rush that took Zukunft979 to the lead; on that hand, Zukunft979 held A-K to BubbaGump29's 7-3, and the board arrived T-8-2-A-7. Soon after, 'skip1640' got the best of 'rkruok' in a battle of the remaining short stacks, skip1640's pocket eights staying ahead of rkruok's A-3 on a board of 6-7-7-2-2. skip1640, though, lasted only two more hands, losing a race to 'robby966794,' who survived all the other carnage to reach the final two. robby966794 reached heads-up play when his pocket eights worked against skip1640's K-T, with the board arriving 7-2-5-2-2.
Zukunft979 and robby966794 dueled for only 18 hands before the two ended up all-in, with Zukunft979 having robby966794 easily covered and holding A-Q to robby966794's dominated A-J. The board offered 3-7-Q-7-2, giving Zukunft979 two pairs and the win.
Full Tilt - $250,000 Guarantee - Final standings:
1st ($53,843.20): Zufunft979
2nd ($33,365.60): robby966974
3rd ($23,055.20): skip1640
4th ($17,756.80): rkruok
5th ($13,460.80): BubbaGump29
6th ($9,623.04): PureCash25
7th ($7,016.80): Poker_Man3
8th ($5,441.60): bamaholdem
9th ($4,181.44): Keep_Walking
Mansion Poker $20,000 Added
Mansion again added an extra $20,000 to the prize pool of its Sunday event, one of the major tournaments in its month-long value-added promotion. This was a $200+15 tourney, and 143 players took a crack at some decent extra money; the prize pool was $48,600, over 40% of that contributed by Mansion. 'Knickur' led the way to this event's final table with nearly $50,000 in chips.
'slavik,' forced in with less than a big blind's worth of chips, exited in ninth when Johnny Mojo made two pairs, aces and jacks. '_pike_' then fell to 'Sunyata' when _pike_'s K-Q proved no match for Sunyata's A-8, when two more eights hit the board. Not long after, 'pupptmaster' finished in seventh when his sixes were outraced by Johnny Mojo's A-8, the fateful eight arriving on the turn.
Knickur started this table with the lead but ran into dry cards, and exited in sixth when Sunyata flopped a pair of kings for the win, and a short-stacked 'TablePrex420' nursed his way to fifth but bowed out when his A-6 didn't connect against 'olivert's pocket fours. A pair of fours worked again when Sunyata made a call with that holding to catch texar unimproved and unpaired, paring the field to three, and Sunyata won a huge race against Johnny Mojo, his pocket sevens holding up against Johnny Mojo's A-K, to give Sunyata a 2:1 margin over olivert entering heads-up play.
olivert worked his way back up to near even, then caught a huge break when a river six gave him trip sixes and let him double through Sunyata, who held top pair and the lead before the river. The end came soon after, when a race unfolded, and olivert's A-6 won out against Sunyata's pocket deuces when the board came 7-Q-A-4-3. olivert's paired ace was worth a payday of nearly $15,000.
Final standings:
1st ($14,580): olivert
2nd ($9,720): Sunyata
3rd ($6,269.40): Johnny Mojo
4th ($3,985.20): texar
5th ($3,061.80): TablePrez420
6th ($2,332.80): Knickur
7th ($1,749.60): pupptmaster
8th ($1,263.60): _pike_
9th ($826.20): slavik
Ultimate Bet $200+15
Ultimate Bet dropped its normal guarantee for the New Year's Eve edition of its big Sunday tourney, running a standard $200+15 event instead. 437 players showed up, generating a prize pool of $87,400 that saw first place worth almost $22,000 and 50 places paid. 'RProps,' with over $350,000, held a sizeable lead over 'TwoFistedLou' and the other players as final-table action commenced.
'sailorlobell' knocked out 'SHARKER ZULU' in an A-K vs. A-Q matchup on the final table's first hand, with the board helping neither player and sailorlobell's A-K holding up. 'AllinOnAA' exited next, forced all-in with something rather worse, nines --- and those fell to 'thelaf320's A-K when a king hit on the turn. RProps claimed another victim when, calling with A-T, he found a ten on the flop to knock out sailorlobell, who had pushed all-in with A-K. And in a three-way battle involving the two shortest remaining stacks, 'WATCHOUT123' paired a hole-card ace to send the J-9 of 'Randomizer3' to the rail.
Sixth place went to 'AWO,' whose eights lost out in a race against 'KnowKnutz's K-Q when two more queens arrived on the flop, and WATCHOUT123 lasted to fifth, his A-K no good against RProps' Q-8 when the board brought two more eights. After losing with sixes to TwoFistedLou's kings, KnowKnutz had only a few chips remaining, and those disappeared when his A-4 proved unlucky against RProps' K-Q, when the board brought another queen. Thelaf320 nursed a short stack very deep, but finally ran dry at third place, a last stand with pocket fours unlucky against TwoFistedLou's A-K when the board brought two more kings.
TwoFistedLou began heads-up play with the lead, and quickly widened it, staying aggressive throughout. On the final hand he open-raised with 9-7, was called by RProps (who held K-Q), and the flop arrived K-8-6. RProps checked his top pair, but check-raised all-in when TwoFistedLou bet his open-ended straight draw; TwoFistedLou made the call, caught a ten on the turn for the straight, and secured the win.
Ultimate Bet - Final standings:
1st ($21,850): TwoFistedLou
2nd ($13,110): RProps
3rd ($8,958.50): Thelaf320
4th ($6,118): KnowKnutz
5th ($5,244): WATCHOUT123
6th ($4,370): AWO
7th ($3,496): Randomizer3
8th ($2,622): sailorlobell
9th ($1,748): AllinOnAA
10th ($1,092.50): SHARKER ZULU
Party Poker $200,000 Guaranteed
The New Year's Eve edition of Party Poker's Sunday $200,000 Guarantee drew 653 players, generating an overlay of $69,400, to the players' delight. The payouts ran 100 spots deep, and 'SamDiam0nd' led the final-table parade, having amassed more than $500,000 in chips, with several players barely limping to the final table. 'jkonly' sent two players, 'loubidou' and 'QUANTUM321,' to the rail after flopping a set of sevens, and then 'D4NBO's pocket kings sent the A-Q of 'lammeliten' home with eighth-place money.
With the remaining stacks more balanced, a long stretch of seven-handed play elaped before 'Dibbsden' and D4NBO mixed it up, with Dibbsden's jacks outlasting the covered D4NBO'S suited A-T. Then 'XX_GALTEN_XX' caught a needed seven on the turn to make a full house, sevens over queens, and eliminate 'jkonly' in sixth. Dibbsden's run ended at fifth place when he pushed with A-5, found a caller in 'wheelinho' with A-J, and two more jacks flopped.
wheelinho soon extended his lead in a key hand where a check-raise on an all-heart flop forced laydowns from XX_GALTEN_XX and 'lausfloh.' After a break, and with the blinds up to $15,000/$30,000, SamDiam0nd called XX_GALTEN__X's push; XXGALTEN had A-8, SamDiam0nd pocket queens, and a queen on the turn ended all doubt. Three-way action saw each player take a turn in the lead, and third finally went to wheelinho when his semi-bluff on a all-low board ran into lausfloh's overpair; wheelinho missed his gutshot outs and lausfloh and SamDiam0nd were left to battle for the win.
The two fenced for dozens of hands, with SamDiam0nd slowly pulling ahead, then lausfloh making his own slow surge. Neither player wanted to be trapped after making a big bet, with the result that this looked like a limit hold'em matchup, with few flops being seen. lasufloh finally took down two bigger pots to push SamDiam0nd to the brink, and took the down the win on a hand where both players ended up all-in after the flop, though neither player caught a piece of the board. lausfloh held A-2, SamDiam0nd K-5, ad the board brought Q-6-7-9-4, meaning lausfloh's ace played and was worth a $47,000 win.
Party Poker $200,000 Guaranteed - Final standings:
1st ($47,000): lausfloh
2nd ($26,000): SamDiam0nd
3rd ($15,000): wheelinho
4th ($12,000): XX_GALTEN_XX
5th ($10,000): Dibbsden
6th ($8,000): jkonly
7th ($6,000): D4NBO
8th ($4,000): lammeliten
9th ($3,000): loubidou
10th ($2,200): QUANTUM321