Online Poker Weekend: Sweden's 'ZIGENAAREN' Surges to Stars Win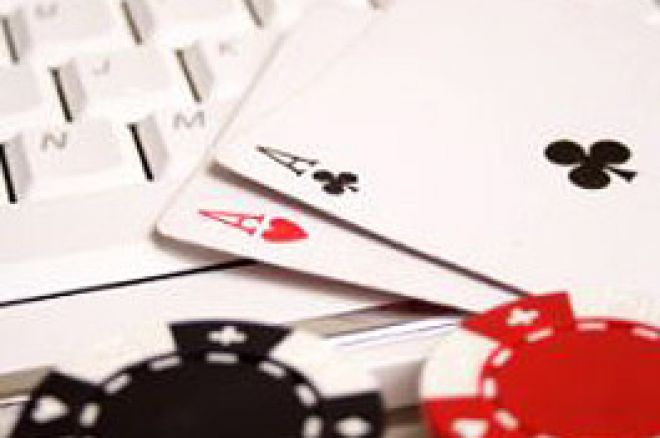 Sunday's big events saw a late rush to victory in the Stars Sunday Million, a see-saw battle for the big bucks in the Full Tilt $400K, and a lengthy war of attrition in the Ultimate Bet $200K. One site that did not see a lengthy final table was Party Poker, where the last six players settled on a multi-way chop after no one could break clear of a tightly bunched pack.
Poker Stars Sunday Million
The last Sunday of the month means it's the $500+35 version of the Poker Stars Sunday Million, and last night's event drew big numbers. 2,801 participants meant a $1,400,500 prize pool, with $257,551.95 the scheduled winner's share and the cash running 414 places deep. 'Ravanelli' led a tightly packed field to the final table with just over $5 million in chips.
'Randers's stay at the final table was brief, his push on a flop of
(holding
), always behind 'chrisrokx's
; the board completed with
. Next out was 'PokiAnn,' unfortunate to find
when chrisrokx held
, with the outcome not close when the board brought
. Seventh went to 'Reno_Jones,' who found
a loser against 'GrinderMJ's
, with the board displaying
, and sixth went to chirsrokx, tough-luck loser of a huge pot to Sweden's 'ZIGENAAREN.' ZIGENAAREN re-raised all-in before the flop with
, and chrisrockx, slightly outchipped, made the call with
; however, the
board gave ZIGENAAREN a better two pairs and a pot worth almost $10 million.
GrinderMJ lasted to fifth, but bowed out when he tried to steal the big blind with
. 'Previcator,' in the big blind, made the call with
, and was rewarded with the knockout when the board came
. A few hands later, ZIGENAAREN picked off 'Kongsgaard,'
topping
when the board of
gave ZIGENAAREN a flopped straight. ZIGENAAREN continued his late rush by eliminating Ravanelli, on a hand where Ravanelli started ahead with
to ZIGENAAREN's
. The board, though, arrived
, with the king on the turn giving nearly 80% of the chips beginning head-to-head play.
ZIGENAAREN kept the pressure on, pushing Prevaricator closer to the brink, only to see Prevaricator catch a two-outer to make a set of deuces and stay alive. The reprieve, though, was short-lived. Six hands later, Prevaricator made an aggressive re-raise push before the flop with
, and ZIGENAAREN made the call with
. The board came
, giving ZIGENAAREN top two pairs and the quarter-million dollar triumph.
Final standings:
1st ($257,551.95): ZIGENAAREN
2nd ($130,946.75): Prevaricator
3rd ($86,690.95): Ravanelli
4th ($71,425.50): Kongsgaard
5th ($57,420.50): GrinderMJ
6th ($43,415.50): chrisrokx
7th ($30,530.90): Reno_Jones
8th ($19,326.90): PokiAnn
9th ($11,204): Randers
Full Tilt $400,000 Guarantee
After a two-week hiatus due to the recent FTOPS, the normal Full Tilt Sunday event returned with a $400,000 Guarantee. 2,302 players signed up, meaning $460,400 was at stake, and while 351 of the runners made the money, the first prize of $84,460.38 was the target in everyone's sights. 'CaptRunDown' was the runaway leader as the final table gathered, with $2,83 million in chips as no one else was over $900,000. However, the second-place 'donkeylounge' soon won a huge race from CaptRunDown and later vaukted into the lead
'bballer88' finished in ninth when his
holdings couldn't catch against the
of 'easymoney05,' the
board giving bballer8 hopes for a straight that went unfulfilled. 'sonofchufty' feel next, his
unable to overtake donkeylounge's
when the board delivered
. One hand later, 'Jonutenh's
fell to 'eazymoney05's
, the board arriving
, trimming the field to six.
'GROOTEGOED' made it five by ending 'letters2006's run, when letters2006 started with
, but lost to GROOTEGOED's
as the board showed
. The hand was part of a rush that took GROOTENOED all the way to the lead, much of it at donkeylounge's expense. donkeylounge's night ended at fifth place, his last steal attempt with
picked off by eazymoney05's
, with a board of
. 'NateJizzle' made one surge but bowed out in fourth, his
cracked by eazymoney05's
when the board offered
... and the fateful
.
Third place went to GROOTEGOED, courtesy of a classic bad beat. GROOTEGOED made an initial raise with
, but CaptRunDown, holding
, re-raised enough to set GROOTEGOED all-in, with GROOTEGOED happy to make the call. The board, however, played out
, sending GROOTEGOED to the rail and making for heads-up play. CaptRunDown then fell well behind eazymoney05 before mounting a huge comeback and sealing of the win. On the final hand, eazymoney05 held
, but CaptRunDown was favored with
and flopped a set. The final board read
, closing out CaptRunDown's win.
Final standings:
1st ($84,460.38): CaptRunDown
2nd ($51,841.04): eazymoney05
3rd ($33,931.48): GROOTEGOED
4th ($27,071.52): Nate Jizzle
5th ($20,487.80): donkeylounge
6th ($14,732.80): letters2006
7th ($10,819.40): Jonutenh
8th ($8,471.36): sonofchufty
9th ($6,445.60): bballer88
Party Poker $300,000 Guaranteed
Party Poker continued its recent string of cleared guarantees, with 1,525 players generated a $305,000 prize pool. $61,000 was on the line for first, with 200 players cashing. The UK's 'dalassenos' and 'Jennifer2113' from Sweden were the early final-table leaders, each well over $1 million in chips, with a well-spaced field on the chase. 'CSKxAQUARIUS' exited when his last stand with
didn't connect against the
of 'drEskilstuna,' the board arriving
, and 'repoman21' fell moments later,
unsuccessful against the
of 'maltis2,' with a
board missing both.
drEskilstuna notched the next knockout as well, turning
into a winning flush despite 'zeNUTcracker,' with
, flopping a set as the board arrived
, with the chips all-in before the flop. drEskilstuna's rush continued when he found
after 'Jarmush' pushed with
, with drEskilstuna winning when the board showed
.
The six remaining players battled through dozens of hands, a period which saw several unlikely showdown survivals, and the players even explored a deal on repeated occasions before finally agreeing to a chop based on chip counts. After winning a large, late pot, 'maltis2' was technically the winner of the event.
Final standings:
* 1st ($31,292.57): maltis2
* 2nd ($28,028.28): dalassenos
* 3rd ($28,003.43): MrDiceman_
* 4th ($26,319.04): Jennifer2113
* 5th ($24,386.13): Salmo23
* 6th ($18,740.58): drEskilstuna
7th ($8,082.50): Jarmush
8th ($5,337.50): zeNUTcracker
9th ($4,117.50): repoman21
10th ($2,897.50): CSKxAQUARIUS
* --- six-way deal for remaining prize money
Ultimate Bet $200,000 Guaranteed
897 players were on hand for the weekly $200,000 Guarantee at Ultimate Bet, meaning over $20,000 in overlay was up for grabs. 90 players cashed and first prize was worth $45,000. 'classyploppy,' with nearly $700,000 in chips, had nearly doubled his nearest competitor as final-table action began. 'ml7651' began the knockout parade by catching an ace to send 'KelseyLou' packing in tenth; ml7651 started with
, KelseyLou
, and the board cards were
. 'hemp' fell moments later, his
outraced by the
of 'zestfullyclean' when the board came
.
A shortstacked 'Fingerpost' fell next, his
no match for classyploppy's
, which turned into trips as the board arrived
. and 'Luie Sojo' became the fourth departee within ten minutes of play, his steal attempt with
running into the
of 'DonT77,' the board bringing
.
Six-handed play spanned nearly 90 hands before the next knockout occurred, when 'KRISPJAK's
didn't connect against classyploppy's
, the board showing
. DonT77's run ended soon after, when his push with
found a caller in 'ml7651' with
. ml7651 had DonT77 slightly outchipped, the board arrived
, and four players remained. It became three when zestfullyclean's all-in re-raise with
was called by 'tutnik11,' with
; the
board gave zestfullyclean two pair, but gave tutnik11 the winning trips.
tutnik11 doubled through classyploppy, then sent classyploppy to the rail in third place after catching a nine when dominated before the flop. The players were all-in pre-flop, tutnik's
to classyploppy's
, and the board favored tutnik11, showing
. All that remained was for tutnik11 to grind away the rest of ml7651's chips. The end came when ml7651 moved in for his $200,000 with
, and tutnik11 called with
. The board brought
, giving tutnik11 a heart flush and the $45,000 win.
Final standings:
1st ($45,000): tutnik11
2nd ($27,000): ml7651
3rd ($18,500): classyploppy
4th ($13,000): zestfullyclean
5th ($11,000): DonT77
6th ($9,000): KRISPJAK
7th ($7,000): Luie Sojo
8th ($5,000): Fingerpost
9th ($3,500): hemp
10th: ($2,000): KelseyLou