Venetian, Wynn Announce Competing Poker Series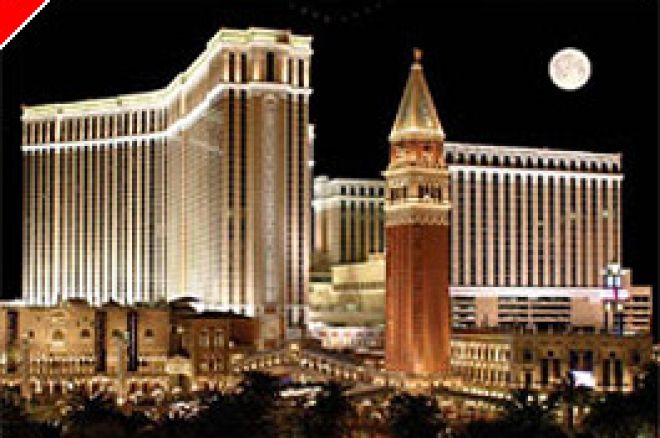 Two prominent casinos seeking to increase their already growing presences in the Las Vegas poker market have announced major poker events with late February kickoffs. The Venetian has now released details on the 'Deep Stack Extravaganza,' running February 21st through March 11th, 2007, and over at the Wynn, the 'Wynn Classic' runs through the exact same dates.
The two series offer vastly different formats, despite the matching three-week runs. The Venetian's deep-stack series emphasizes just that, offering 19 consecutive daily tournaments with either $300+30 or $500+40 buy-ins. The $330's provide a $6,000-chip starting stack, the $540's begin with $10,000 in chips, and both also offer a purchase of even more chips ($1,500 and $2,500, respectively), for a nominal $10 dealer/staff gratuity.
The Venetian's pre-Extravaganza press release also notes 40-minute levels and "very generous" blind structures, with daily satellites also offered to allow even lower-bankrolled players the opportunity to win their way into one of the larger events. 16 of the 19 scheduled events are no-limit Hold'em, with the other three split one each across the pot-limit Omaha, Omaha/8, and H.O.S. (Hold'em/Omaha/Stud) formats.
Meanwhile, the Wynn Classic kicks off with a satellite day and two $500+40 no-limit Hold'em events as well, then jumps to events at $1,000+60, $2,000+80 or $3,000+100, and culminates in a four-day $10,000+200 buy-in finale that begins on March 8th.
The two series add to an already cluttered late-winter/early-spring tourney schedule that includes not only several well-established Vegas venues, but big-dollar, high-profile events that could affect the drawing power of the Wynn Classic's $10,000 championship. The L.A. Poker Classic concludes its run just prior, many international players will be committed to the EPT Dortmund and Warsaw stops, and a WSOP Circuit event at Harrah's Atlantic City, the WPT World Poker Challenge, the Winning o' the Green, and the Bay 101 Shooting Star also kick into gear in early March. It's a busy time for poker.