European Poker Tour Grand Finale – Day 1A Recap
Paul McGuire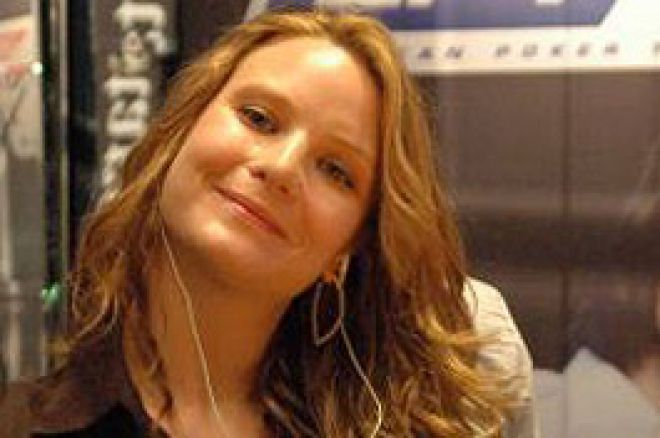 Welcome to Monte Carlo where images of decadence, fast luxury cars, Odalisque women, and James Bond are quickly conjured up faster than you can fork over 20 Euros for a cheeseburger. Alas, that's how things are in Monte Carlo, which is the playground for the world's rich and famous. Monte Carlo is also the site of the prestigious 10,000 Euro buy in EPT Grand Finale which will end up being the largest poker tournament outside of America. With a projected prize pool worth over 6.5 million Euros, first place is rumored to win close to 1.8 million Euros, possibly more. Official payouts will be released sometime at the end of Day 1b.
The EPT Grand Finale Championships were broken down into two starting fields. 329 players were in the first flight of Day 1. In order for the tournament to stay on schedule due to the influx of so many players, Tournament Director Thomas Kresmer decided to extend play for the first two days for 7 levels. Starting time was around 2pm local time and play did not end to way past 3:30am. When the Day 1a was over, 159 extremely tired players remained as they all advanced to Day 2. Chris Ulsrud from Norway was the big stack with over T133,875 while Josh Arieh and Greg Raymer ended the day among the chipleaders.
Players started with 15,000 in chips as they were treated to an opening that featured Also Sprach Zarathustra, or the theme music from Stanley Kubrick's film 2001: A Space Odyssey. Smoke filled the stage where the TV table was located as the EPT Grand Finale crystal trophy was unveiled to media, spectators, and all of the players.
Here is what the room looks like. Pretty Impressive.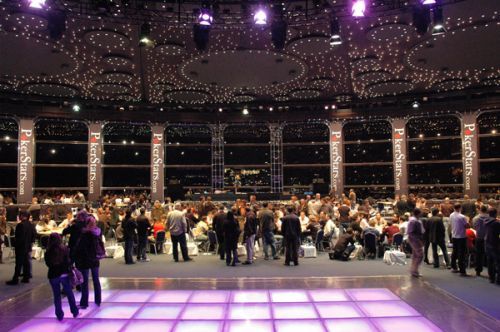 Plenty of the top pros in Europe were at the event such as Katja Thater, Jan von Halle, George Danzer, Dave Colclough, John Shipley, Jani Sointula, Jan Boubli, Max Pescatori, Barny Boatman, Fabrice Soullier, Carlos Mortensen, Rob Hollink, Ben Grundy, Johnny Lodden, Noah Boeken, Markus Golser, Roland de Wolfe, Harry Demetriou, and Thomas Wahlroos.
Victor Ramdin, Chris Moneymaker, Greg Raymer, Carl Olson, Humberto Brenes, Barry Greenstein, Josh Arieh, and Pete Giordano were also playing in Day 1a. Plenty of internet pros such as Gobboboy, ActionJeff, Annette_15, and AgentVixen also played, yet none of those mentioned advanced to the next round.
Late in the first level, Greg Raymer's stack dwindled down to about 10K. In the big blind, Fossilman faced a button raise of 150. Raymer re-raised to 450 with
. The button raised to 1,500 and Raymer moved all in. His opponent called and flipped over
. Raymer won the race as his Jacks held up and his opponent headed to the rail as Raymer had him covered.
Aussie Millions runner-up Jimmy "Gobboboy" Fricke jumped out to an early lead as well. The 19 year old internet prodigy was up to his old tricks. He's picked up where he left off at the Aussie Millions and doubled up after he turned a nut flush with
. He failed to advance to Day 2 when he ran into quad 6s and busted out.
The tournament area was extremely relaxed. There were no railbirds at the EPT Championships because there is no physical rail. The tournament area was not roped off, so anyone could walk up to the tables. There were players who have their girlfriends giving them massages while other players had friends and family members standing nearby. Whenever Greg Raymer was in a hand, spectators flocked to his tables and stand four deep to check out the action. The tables were spaced out so there was some wiggle room, but I've attended a tournament where people can literally stand behind a big-time pro.
I wondered how Phil Hellmuth is going to react to the free range spectators when he plays Day 1b? Can the hot Swedish chicks wandering around in tight shirts tilt the Poker Brat? Or will he lose his composure as fans swarm his table every time he's in a hand?
The looseness of the tournament also meant that there was plenty of banter among the players. Andy Black (scheduled to play in Day 1b) was bugging Roland de Wolfe who owed him 500 Euros. They decided to do a few prop bets in order to settle the debt, betting on the color of the flops. Andy Black kept missing as De Wolfe ran 500 up to 8K and almost got his full buy-in back. And while the two players were betting on the flops, de Wolfe doubled up his stack.
Chris Moneymaker bluffed off some of his chips when he tried to steal a pot on the river with A-3. He was down to 10K but rallied back before the first break to get back to even with 15K.
Several of his tablemates deeply respected and admired Moneymaker for what he had done with poker, particularly how as an amateur, he won a seat online and headed to Las Vegas to play in his first live tournament. His victory against Sammy Farha and some of the biggest pros in the world en route to his 2003 WSOP victory inspired every poker player who saw the telecast. One of the players at his table noted about how big the EPT has gotten.
"I started all this," Moneymaker joked.
Everyone at his table laughed and thanked him for his contribution to poker. I also want to thank him for the international "Moneymaker Effect." Because of him, thousands and thousands of Swedes now play poker. They bring their buxom blonde girlfriends and their friends (for some odd reason Swedish women travel in packs) to poker tournaments and stand on the rail. Thanks you Chris Moneymaker for all the Scandi eye candy. It makes covering tournaments in Europe a lot more fun with plenty of talent on the rail to gawk at.
Brazil's Thiago Carrico jumped out to the front of the pack and was among the chipleaders for most of the night until he missed a monster draw and headed to the rail. He had Greg Raymer and Rob Hollink at his table the entire day. Talk about a tough draw, but Carrico has held his own as he put on an impressive show.
As the day turned into night several players were eliminated such as Max Pescatori, Rob Hollink, Barny Boatman, and Ben Grundy.
Break times are excellent times to chat with players to get some interesting hands and chip counts. Usually you can smoke anywhere in Europe, but not in the tournament area at the Monte Carlo Bay Casino. Players have to go outside to the veranda to light up. That's the best place to talk to players and I usually camped out there a few minutes before break time. Chris Moneymaker walked by me and shook his head as he lit up a Marlboro Light. He didn't have to say anything. I knew what he was thinking by his body language.
The hallways of casinos during breaks at poker tournaments are filled with chatter from players talking to other players or friends and family members. Some are updating their progress while others are complaining about bad beats they took in the previous round. At the EPT, there are conversations going on in twenty different languages. You can actually hear bad beats in Swedish, Danish, Spanish, French, German, English, Japanese, and Italian. Doesn't matter what language you speak, a bad beat still stings whether you're from Copenhagen, Tokyo, Las Vegas, Paris, or Milan.
159 players survived Day 1a including Greg Raymer, Barry Greenstein, Josh Arieh, Victor Ramdin, Johnny Lodden, Jani Sointula, Harry Demetriou, Carlos Mortensen, Mark Vos Theo Jorgensen, Pete Giordano, Noah Boeken, Mark Gregorich, Jan Boubli, Terry Cook, Carl Olson, Chris Moneymaker, Katja Thater, Fabrice Soulier, Dave Colclough, and John Shipley.
Play was stopped with 9:01 to go in Level 7. Tournament Director Thomas Kresmer stopped play to ensure no one would stall during the last few minutes.
Day 1a Top 10 in Chips:
ULSRUD , CHRISTOPHER (Norway) 133,875
VILMUNEN , JANI (Finland) 95,925
JELINEK , STEVE (UK) 95,375
WAHLROSS , THOMAS (Finland) 87,625
DALHUIJSEN , PETER (Holland) 82,600
RITBURG , HANS(Holland) 76,100
MARTENSSON , PATRIC (Sweden) 71,325
PETTERSSON , ERIK (Sweden) 70,025
TELTSCHER , MARK (UK) 66,425
LODDEN , JOHNNY (Norway) 64,250
Noteworthy Stacks:
ARIEH , JOSH 60,575
RAYMER , GREG 53,625
RAMDIN , VICTOR 51,625
SOINTULA , JANI 49,800
DEMETRIOU , HARRY 46,650
MORTENSEN, CARLOS 46,450
VOS , MARK 40,875
GREENSTEIN , BARRY 40,725
JORGENSEN , THEO 39,125
GIORDANO , PETE 37,950
FORRESTER , MARK – 37,775
BOEKEN , NOAH 37,175
DANZER , GEORGE 36,800
GREGORICH , MARK 29,975
BOUBLI , JAN 29,925
VON HALLE , JAN 27,800
OLSON , CARL 27,750
COOK , TERRY 26,375
STORAKERS , JOHAN 26,250
NIELSEN , RICKI 22,900
MONEYMAKER , CHRIS 22,050
THATER , KATJA14,275
SHIPLEY , JOHN13,700
COLCLOUGH , DAVID12,950
SOULIER , FABRICE 8,550
Day 1a will begin at 2pm local time. Approximately 330 runners are scheduled to play. The fields will combine for Day 2 on Friday. Stop by Poker News and check out our live updates, photos, and videos.