EPT Grande Finale - Day 1b Recap – Chad's In Charge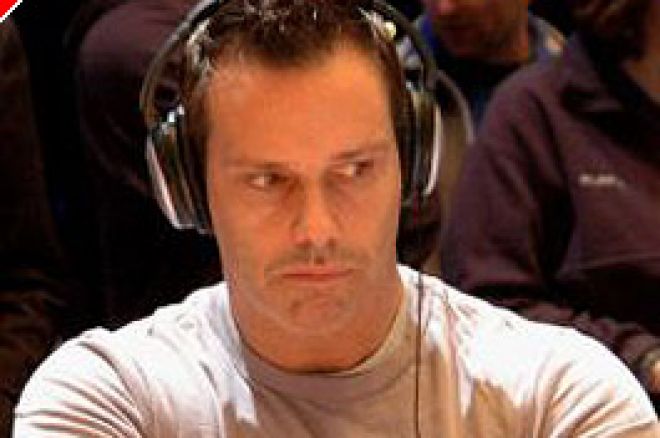 There's a red Ferrari parked out in front of the luxurious Salle des Etoiles room at the Monte Carlo Bay Casino, which has been there for the last three days. I have no idea who it belongs too. Regardless, it's a constant reminder of the decadence of Monte Carlo as every poker player must pass it on their way to the tournament room.
706 total runners entered the €10,000 buy-in EPT Grand Finale and they are vying for a prize pool that topped €6,626,400, or more than $8.8 million USD. The first place winner will take home 1.8 million Euros as the top 64 players will make the money. The runner-up is guaranteed at least 1 million Euros which means that two players will leave Monte Carlo as millionaires and they'll be able to afford that Ferrari.
There were familiar faces playing in Day 1b including Gus Hansen, Andy Black, Erica Schoenberg, David Benyamine, Juha Helppi, Mel Judah, Patrick Antonius, Ram Vaswani, Devilfish, Iwan Jones, Jeff Lisandro, Ross Boatman, Surinder Sunar, William Thorsen, Julian Gardner, Lars Bonding, defending champion Jeff Williams, Joe Beevers, John Gale, Martin De Knijf, Willie Tann, Joe Hachem, Lee Nelson, Bertrand "ElkY" Grospellier, Isabelle Mercier, Bill Chen and Vanessa Rousso, author Anthony Holden, Swedish singer Dilba Demirbag, Shane "Shaniac" Schleger, Emad Tahtouh, online pro Ansky, Per Ummer, Marcel Luske, Phil Ivey and Phil Hellmuth, who showed up 85 minutes late in true Hellmuthian fashion.
180 players survived Day 1b (340 total including Flight 1a) with American Chad Brown as the overall chipleader. He built his stack to over 150K on a day where the action started out slow and tentative.
"Players are reluctant to put chips in the pot," said Shane "Shaniac" Schleger, "like there's some sort of shame that people feel if they bust out early. I sense that here. The EPT Championship has a very good structure, so perhaps people think they should play a little more tight."
Phil Hellmuth made his usual dramatic late entrance. He was relatively quiet for most of the day. He did not have too many chips and might have been on tilt after shaking off a $536,000 heads-up loss playing Chinese Poker with Phil Ivey.
"I have never lost more than $110,000 in one day in my entire life," Hellmuth said. "But I think I'm near full power."
One of the big stories of the day were the early exits of Marcel Luske and Phil Ivey. A very tired looking Ivey was seated at Patrik Antonius' table. He did not win too many pots and eventually busted out early when he lost with two pair against Antonius' flush. Their table was one of the more popular attractions in the tournament area where there was no rail and spectators were able to walk right up to the tables to stand behind the players.
Perhaps the table with the most railbirds has to be Juha Helppi's and Gus Hansen's table. Spectators and media have created a massive wall of people standing five and six deep to catch a glimpse of the Great Dane.
"If people are interested, I think it's cool that they are watching," mentioned Hansen. "When I'm in a hand I don't care because I'm trying to play as well as I can. And in the meantime, I walk around and look for pretty girls."
And there were plenty of those in the area as Monte Carlo attracts some of the most beautiful women in the world.
Although we're at the Grand Finale of the European Poker Tour, there are strict rules that state "English only at the tables." While a hand is in play, the only language players are allowed to speak is English even if they have mucked their cards. When the entire hand is over, players can converse in their native tongues until the next hand is dealt out. This is to prevent collusion and to protect the integrity of the game.
"Of course, there are a lot of French players here," mentioned one of the members of the tournament staff. "It's not easy telling them that they can't speak French in their own backyards, especially when they have folded but the hand is still ongoing. But for the most part everyone complies with the rules with a handful of exceptions."
Chad Brown was the first player to surpass the 100K chip mark when he busted two players on the same hand, including Gus Hansen. On a flop of
, Hansen moved all in with
. One opponent called with
. Chad Brown jammed with
after he picked up the best redraw with a gutshot and a flush draw. He got there on the turn when the
fell. The river was
as Hansen and the other guy headed to the rail as Chad Brown scooped a 118K pot.
Brown added to his stack and ended the day as the overall chipleader. Patrik Antonius finished the day near the top of the pack. He won a big pot with a tremendous suckout against Adam Junglen. Antonius was caught making a move with a junk hand and ended up rivering a straight against Adam Junglen. Antonius raised and Junglen re-raised with A-J. Antonius re-raised a massive amount and Junglen thought for a moment before he called. The flop was Q-4-2 and Antonius moved all in. Junglen sat and pondered a call for what seemed like five minutes as a wall of spectators surrounded their table. He called with just Ace high which was the call of the tournament for Adam because Antonius had 5-3o. Antonius' face went white when Junglen called his bet. He was caught with his pants down and a lucky river card saved the day for Antonius as the river filled his straight, and Junglen was crippled. Junglen made the right read and the result went against him.
Noteworthy pros eliminated on Day 1b included Joe Hachem, defending champion Jeff Williams was eliminated along with Phil Ivey, Joe Hachem, Ram Vaswani, Tony Bloom, Roman Yitzahki, Adam Junglen, Juha Helppi, Vanessa Rousso, and Marcel Luske.
Players advancing to the Day 2 included: Chad Brown, Andy Black, Patrik Antonius, Johnny Lodden, Josh Arieh, Greg Raymer, Carlos Mortensen, Barry Greenstein, Noah Boeken, Ram Vaswani, Mark Gregorich, Carl Olson, Moneymaker, David Benyamine, Shane Schleger, Phil Hellmuth, Katja Thater, Bill Chen, Isabelle Mercier, and Erika Schoenberg.
Top 10 in Chips:
Chad Brown (USA) 150,425
Christopher Ulsrud (Norway) 133,875
Hans Vimmo Eskilsson (Sweden)110,600
Jani Vilmunen (Finland ) 95,925
Steve Jelinek (UK) 95,375
Dario Alioto (Italy) 87,850
Thomas Wahlroos (Finland) 87,625
Andrew Black (Ireland) 86,925
Peter Christiaan Dalhuijsen (Holland) 82,600
Maurice Kenter III (USA) 76,500
Noteworthy Stacks:
Patrik Antonius 67,325
Johnny Lodden 64,250
Josh Arieh 60,575
Greg Raymer 53,625
WilliamThorson 52,650
Marc Karam 52,100
Victor Ramdin 51,625
Joe Beevers 51,525
Jani Sointula 49,800
Julian Gardner 48,650
Harry Demetriou 46,650
Carlos Mortensen 46,450
Emad Tahtouh 45,500
Mark Vos 40,875
Barry Greenstein 40,725
Theo Jorgensen 39,125
Lars Bonding 38,550
Pete Giordano 37,950
Noah Boeken 37,175
Ram Vaswani 35,150
Keith Hawkins 30,850
Ross Boatman 30,075
Mark Joseph Gregorich 29,975
Carl Olson 27,750
Mickey Wernick 27,075
Terence Cook 26,375
Johan Storakers 26,250
Bengt Sonnert 25,975
Chris Bjorin 24,350
Francisco Lopez 24,225
Ricki Nielsen 22,900
Chris Moneymaker 22,050
David Benyamine 19,600
Shane Schleger 18,900
Phil Hellmuth 18,275
Casey Kastle 16,625
Richard Ashby 15,850
Darius Hastings 14,300
Katja Thater 14,275
Bill Chen 13,800
John Shipley 13,700
Isabelle Mercier 13,575
Dave Colclough 12,950
Michaela Johansson 11,925
Anthony Holden 11,525
Thor Hansen 10,475
Erika Schonberg 10,225
Lee Nelson 9,775
Fabrice Soulier 8,550
Bertrand "ElkY" Grospellier 7,075
As the two initial flights combine for Day 2, there are 340 players who remain in the hunt. Action will resume at 2pm local time. Check out our Live Reporting section for updates, photos, and videos.