EPT Day 2 Recap – Back in Black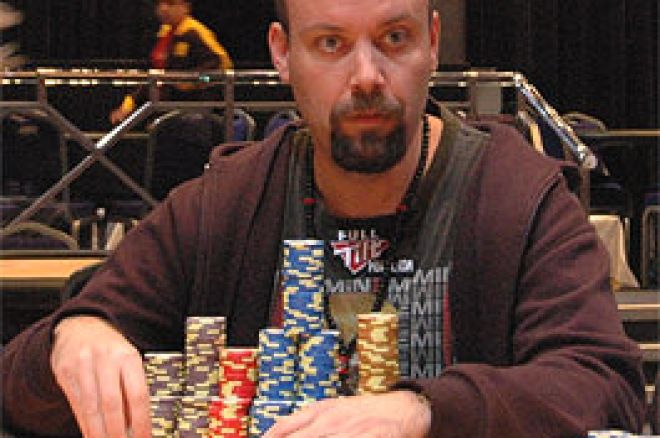 Day 2 of the EPT Grand Finale at the Bay Casino in Monte Carlo started out with 340 players and by the end of the day only 85 players remained in the Salle des Etoiles tournament room. Ireland's Andy Black emerged as the chipleader after dinner break and ended the day with 513,300.
"Where did they all come from? Did they come from heaven? Did they come from hell?" Black joked about his monster stack. "I intend to use them with some kind of intelligence."
Black started out at one of the toughest tables in the room with Dave Colclough, John Shipley, Barry Greenstein, and Chris Moneymaker all sitting with him. Black struck early when he won a pot worth over 100K when he busted Barry Greenstein. Both players were all in pre-flop and Black's pocket Aces bested Greenstein's A-K.
Black was moved around a lot during the session as tables were breaking quickly and players were eliminated at a rapid fire pace. Black always left his table with more chips than he started with. As soon as he built up a sizeable stack, he slipped into full attack mode and steamrolled his opponents.
"He's a raising machine," one media rep from England mentioned. "He's in a creepy and intense mode. No one can stop him."
Black was chasing Chad Brown for most of Day 2. Brown began the day as the big stack and added more chips early on when he busted William Thorson. He was all in against Chad Brown on a board of K-Q-9. Thorson flopped a set with 9-9, while Brown flipped over Q-Q for a bigger set. Brown lost a bit of his stack when he doubled up Simon Johansson with set over set. On a board of Jh-10h-8s-5c, Brown checked and Simon Johansson bet out 26K. Brown check-raised to 100K. Simon Johansson called for 30K more and flipped over 10-10 as Brown showed 8-8. The river did not help Brown as he lost the chiplead.
Josh Arieh came out of nowhere to end the session second in chips behind Black. Playing in his first EPT event, Arieh picked up most of his chips when he sniffed out a bluff and scooped a pot worth over 100K. At the time, that pot propelled him into the chiplead.
"Now we're playing poker!" he exclaimed as he stacked up his chips.
When a member of the foreign media asked Arieh for his name, he responded, "Billy Madison." Always with a wry sense of humor, we suspected that Arieh is a fan of Adam Sandler's movie "Billy Madison"
"The European style is a little different," Arieh said. "I'm getting used to it."
Arieh, Black, and Brown were holding off the onslaught on the young Scandinavian players that have the reputation of being hyper-aggressive and difficult to read due to their stoic expressions. That group included Simon Johansson (Sweden), Johnny Lodden (Norway), Christopher Ulsrud (Norway), Philip Hilm (Denmark), David Sonelin (Sweden), Kristian Kjondal (Norway), Soren Bakfort (Denmark), Patric Martensson (Sweden), Thomas Wahlroos (Finland), Ricki Nielsen (Denmark), Chris Bjorin (Sweden), Lars Eidissen (Norway), Lars Bonding (Denmark), and Gunnar Ostebrod (Norway).
Norway's Johnny Lodden has been getting a lot of attention from both the European press and from the players who have been staying out of his way. He's one of the most famous online players playing under the screen name "Bad_ip." Lodden admitted, "I've played every event on the EPT this year. I love to play live tournaments, especially big tournaments. Much better than playing online."
"You got a lot of these young 'Scandis' here and they are all trying to take the fish out, you know?" explained David "Devilfish" Ulliot. "They are very good. I like to play good players. I don't like to take a monkey on who doesn't know what day it is. There are a lot of trees in Monte Carlo, so you get quite a number of monkeys standing up."
Phil Hellmuth was one of the many players who headed to the rail on Day 2. The Poker Brat busted out when his K-K lost to pocket Aces.
"I ran circles around these guys for two days, get (pocket) Kings twice and (pocket) Queens once and ran into aces each time," he complained to the press after his early exit. "But I dodged the bullets and still had chips in front of me. That's how well I was playing. Now I'm out of the tournament. It's unbelievable. Welcome to Monte Carlo."
Although the 2000 WSOP Champion Carlos Mortensen advanced to Day 3, two other world championships failed to survive the day. Chris Moneymaker had a tough draw and busted out early. Greg Raymer was cruising along and picking up chips until he caught a wave of bad luck. His stack took a hit after two bad beats and was eventually knocked out by Richard Waters. Raymer lost a race when his 8-8 were run down by Waters' Big Slick. Waters caught an ace on the river to send Raymer home for the day.
Due to the numerous amount of eliminations late in the session, Tournament Director Thomas Kresmer made the executive decision to end Day 2 one level early. The top 64 places pay prize money and we're just 21 more bustouts until the money bubble.
Here's the prize information for the EPT Grand Finale Championship:
Total players: 706
Prize pool: €6,626,400
Payouts:
1. €1,825,010
2. €1,061,820
3. €610,550
4. €471,180
5. €391,550
6. €305,270
7. €238,910
8 .€159,270
9-10. €99,550
11-12. €66,360
13-14. €49,770
15-16. €39,820
17-24. €33,180
25-32. €26,550
33-40. €23,230
41-48. €19,910
49-56. €16,590
57-64. €13,270
Notable bustouts on Day 2 included: Patrik Antonius, Erica Schoenberg, Barry Greenstein, Phil Hellmuth, John Gale, Jan Boubli, Kevin O'Donnell, Bertrand "ElkY"Grospellier, Mark Vos, Harry Demetriou, Noah Boeken, Theo Jorgensen, Greg Raymer, Harry Demetriou, Nik Persaud, Victor Ramdin, George Danzer, Shane Schleger, Michaela Johansson, Alexander Stevic, Katja Thater, David Colclough, Martin De Knijff, William Thorson, Patrik Antonius, Bill Chen, Fabrice Soulier, John Shipley, Vicky Coren, Casey Kastle, David Benyamine, Chris Moneymaker, Anthony Holden, Isabelle Mercier, Jan Van Halle, and Carl Olson.
Top 10 End of Day 2 Chip Counts:
Andy Black (Ireland) 513,300
Josh Arieh (USA) 343,100
Antony Lellouche (France) 332,100
Johnny Lodden (Norway) 310,900
Simon Johansson (Sweden) 302,100
Christopher Ulsrud (Norway) 286,800
Philip Hilm (Denmark) 273,200
Oscar Blanco Carrasco (Spain) 245,900
Steve Jelinek (UK) 226,400
Biri Balazs (Hungary) 219,200
Noteworthy Stacks:
Chad Brown (USA) 212,900
Marc Karam (Canada) 196,700
Jonathan Little (USA) 176,300
Carlos Mortensen (Spain) 174,700
Pete Giordano (USA) 167,800
Thomas Wahlroos (Finland) 154,900
Ram Vaswani (UK) 141,900
Ricki Nielsen (Denmark) 138,400
Chris Bjorin (Sweden) 136,600
Peter Christiaan Dalhuijsen (Holland) 120,600
Lars Bonding (Denmark) 119,500
Gavin Griffin (USA) 111,200
Joe Beevers (UK) 82,800
Josh Prager (USA) 60,400
David "Devilfish" Ulliott (UK) 54,400
Patric Martensson (Sweden) 47,300
Ali Masterman (UK) 44,300
Ross Boatman (UK) 32,900
Day 3 of the EPT Grand Finale resumes at 2pm local time at the Bay Casino in Monte Carlo. Check back in with Poker News for live updates, chip counts, videos, and photos.